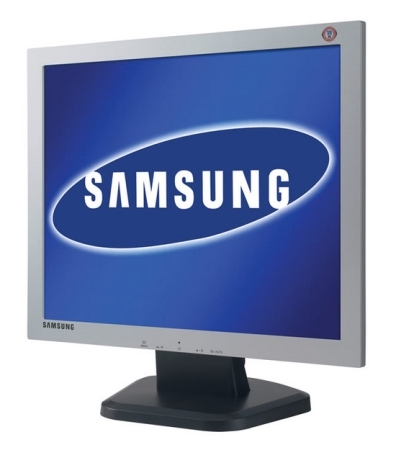 The coolest LCD ever!
Summary
This is one of the best LCD monitors out there…
Pros
Big display, light weight, and great picture quality…
My boss finally decided to retire our old CRT monitors and upgrade to the new LCD's (this Samsung SyncMaster 714V 19″ LCD Monitor) when he saw a great deal on one of the weekly ads from Circuit City last week (yes the thanksgiving weekend).
I set it up on Friday and was amazed at the picture quality and the bright and crystal clear display. My boss said that he paid about $200 for each after a couple of instants and mail-in rebates (I wish I could have gotten one for my home). And with a name like Samsung, I was just dying to push these to the limit.
DESIGN
The screen on this baby is 19 inches diagonally, and as everyone knows, the viewable area is also 19 inches. So you are getting the biggest size for the price. The maximum resolution for this monitor is 1280 x 1024 at 75 Hz. This particular unit that I have on my desk has a black front panel and a black rear panel. This whole unit matches very nicely with my Panasonic KX-T7433 Digital Phone System many other utensils I have on my desk that are black also. So there is no question that its looks will make your desk look ugly.
The buttons on the front panel are actually on the bottom side of the panel which is not easy to operate at first but once you get the hang of it, it will turn out to be very useful. There are two arrow buttons (up or down) that can be used to navigate the settings menu (to change the size, brightness, contrast, and more). There is a Menu button that shows you the whole menu of options that you can use to customize the look on the screen to your needs. The Enter button works hand in hand with the Menu button to help you get into sub-menu options. One additional button that is available only on Samsung monitors is the MagicBright (down arrow) button. This button allows you to change the brightness with just one button. The settings are named Custom (user-defined), Text (normal), Internet (medium), and Entertain (high). There is a Power button with a little green LED light. When the monitor is on, the LED is lit green and off when the power is off.
RESOLUTION
The maximum resolution this monitor can support is 1280 x 1024 at 75 Hz, but the recommended setting is 1280 x 1024 at 60 Hz for optimal performance. Mine is set to this setting and I have no problems with flickering or anything. I have an Nvidia GeForce 4 MX 440 video card to go with this monitor. I must say that the video card and this monitor work even better together than my old Samsung CRT monitor.
DIMENSION AND WEIGHT
This monitor weighs about 13 pounds only when it is out of the packaging. I am glad we got rid of those bulky and heavy CRT monitors from our desks. Now I will not break my back when I lift is now and then to clean my desk. It is 16.9 inches wide, 17 inches high, and 7.7 inches in dept without the packaging. Basically that is all I can say about the size because that is it. Oh yeah, there is a base that holds the monitor upright; it can also be mounted on the wall or one of those swivel things that on the wall.
QUALITY
The Dot Pitch for this monitor is 0.294 (mm). So far I have watched movies, looked at my digital pictures, and browsed the internet with this monitor, and I have not ever had a hard time seeing what I was seeing. The image quality is bright and excellent that is never extra blurry or extra sharp; it is always just right.
WARRANTY INFORMATION
Samsung provides a three (3) year warranty for all parts, labor, and CRT of this monitor. You can visit Samsung's website (samsung.com) for warranty repairs or call them on their toll-free phone number 1-800-SAMSUNG.
EXPERIENCE
It has been a few days now since we got these monitors and it has made my daily work much clearer and sharp. I used to get a blurry text when I was on the internet with my older Samsung but this new LCD is perfect. The auto adjustment feature is great; it automatically adjusts the size and color of the monitor for optimal display. It saved a lot of room on my desk also.
FINAL THOUGHTS
This is a new monitor is a quality product and there is one thing I have come to know is that brand names like Samsung, Viewsonic, and Sony will never disappoint you with their products. I have used all three of these for a long time now and will recommend them to anyone who wants a reliable and long-lasting monitor for either their home or office.