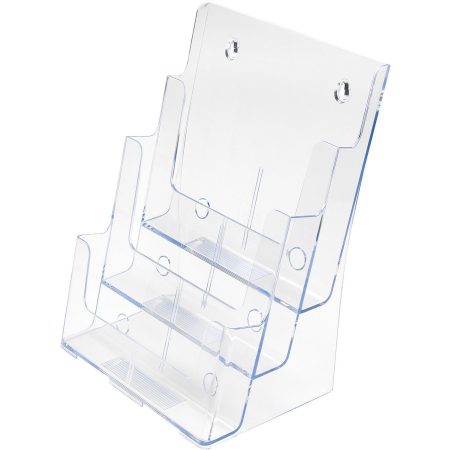 It is not made just for magazines... you know!
Summary
Great for daily incoming mail and perfect for magazines…
Pros
Saves space on your desk, light weight, clear…
I bought one of these Deflect-O Three-Tier Desktop Magazine Holder from Staples or Office Depot (do not remember where exactly) when I was tired of leaving all my mail on my desk. It all just piles up after a while. So I needed something to separate my mail and save space on my desk (you can hang this on the wall).
WHAT IS IT AND HOW IT WORKS?
This is a clear (plastic) three-slot magazine holder, but I use it to separate and hold all my incoming mail. It works well for me. You can also use it to store your magazine in your office or even your home.
I screwed it to the wall next to my desk to I have easy access to all my mail and also save space on my desk, but you can also have it sit on your desk as it has a base to hold it upright. I put all incoming mail in the first slot, bills that need to be paid in the second one, and whatever that needs to be filed in the last one. I sometimes wish there was a fourth slot for miscellaneous stuff.
This holder is about 9 and a half inches wide, 8 inches in depth, and a little more than 12 and a half inches high.
FINAL THOUGHTS
I have been using this for about six months now and I have not had any problems with it being able to hold your regular mail. It is big enough to hold large or over-sized envelopes. It is plastic so you can use your favorite label maker to stick a label there ever you want for each slot (I recommend the sides). If you have the same problem as I do, I would highly recommend this for your personal mail storage needs. Aren't you tired of putting your mail on the dining table or anywhere else for that matter? Save space and get organized with this multi-purpose holder.