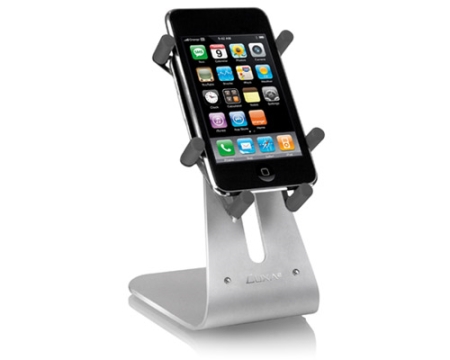 I was looking for something like this for a while!
Summary
Price is somewhat on the expensive side and may not hold smaller devices properly. But I am not complaining!
Pros
Holds many different devices securely and doesn't block any ports.
Cons
Locking at a certain position would be a nice addition.
I have always used things like wall mounts for phones or something similar as stands for my Blackberry devices because they do hold the devices well, but now this new Luxa2 H1-Touch mobile holder does it even better. This thing is literally awesome and it is just what I was looking for.
This H1-Touch is designed specifically to hold most mobile devices and it does its job very well. I don't know how I can work without this from now on.  Let's see what it's all about.
FEATURES AND USAGE
The Luxa2 H1-Touch comes packaged in a tough box so nothing gets damaged during shipment. There is a user guide included just in case you cannot figure out how to use this unit. While not wasting too much time talking about the packaging and what's printed where let's just get into what's inside and how it works. The mobile holder comes fully assembled and ready for use right out of the box. The H1-Touch is equipped with a 360-degree angle adjustable dock that allows you to get different points of view.  It moves vertically or horizontally and can flip to the other side as well.
There are six adjustable supports that can hold many mobile devices including but not limited to iPods, iPhones, Blackberry devices, many media players, and other similar devices. The supports are designed so that they do not interfere with any ports on your mobile device. The H1-Touch is made with solid aluminum so it will hold up to just about anything. It is also very lightweight weighing slightly under 0.5 lbs and is only 5.98 inches high. There is a pair of Swarovski crystals on the front of the unit that gives it a high-end look.
Yes, we have very competitive pricing plans and accept a variety of formats. Please contact us for more details.
Yes, you can. Just use the contact us form to send us a message and we will consider reviewing the product. It does depend on a few factors such as product availability, funding, and time.
Please provide as much of the following information as possible:
Manufacturer Name
Manufacturers Website
Product Name
Product Model / Serial Number
A link to the product itself
Unfortunately, we do not accept user reviews at this time. But feel free to voice your opinion in the comments section of recent articles.
We do, however, have plans to implement this feature in the future.
Yes, please contact us for more details.
Please note that we test and review all products fairly and will not change our review and rating of products.
No, we do NOT sell anything on BayReviews. And we will never sell anything on BayReviews. We do, however, display ads that may direct you to other sites that probably do want to sell to you.
We buy products we review because we review what we own first.
We do, however, sometimes receive review samples but we still test and review everything fairly. When a review sample is provided by a partner, they cannot dictate how the review will turn out.
Our review and ratings are always based on our testing and experiences with the products.
All reviews on BayReviews are written by the editor-in-chief and our very knowledgeable staff writers and editors.
PERSONAL EXPERIENCE
I personally use this at work to give a better resting place for my Blackberry Storm 9530. And as you can see in all of the photos it works very nicely and doesn't block any ports on the Storm. I like to have my Blackberry plugged in all the time so it is always charged. The mini USB port is not blocked so that is a plus. I also have it tilted so that when the phone rings or when I get a message I can easily see it. I can have it horizontally or vertically depending on my mood but I usually prefer it to be vertical. The only issue I have is that when I press on the screen of my Storm the whole thing tends to tilt down when I don't want it to (I have to click because the Storm has a touch and click screen). I wish there was some sort of locking capability that didn't allow it to be rotated or tilted when you have it the way you like it. But this would not be an issue on devices that have just touch screens like the iPhone.
FINAL THOUGHTS
The H1-Touch mobile holder is exactly what I was looking for and also exactly what I needed. I knew at first glance that this would be my mobile holder from now on. This unit provides a secure resting place for all your mobile devices while also providing the flexibility to charge and use the device. It also looks good too with the aluminum design and Swarovski crystals (that looks like diamonds) embedded on the front. In my opinion, the only downside is the $45 plus price tag but it is somewhat reasonable (although a very reasonable price would be something in the thirties in my opinion of course). I would highly recommend the Luxa2 H1-Touch mobile holder to anyone looking for a nice and classy home for their mobile devices (if you don't mind the price).