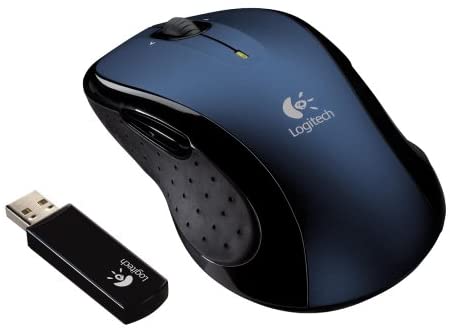 Easy to setup and plug n' play!
Summary
Very good mouse for the price and has nice features too.
Pros
Has zoom wheel, soft rubber grip, and scrolling wheel.
Cons
The right button can sometimes be pressed accidentally. Out of the box settings are a little rusty. No software CD included – have to download.
My old Microsoft wireless mouse started acting up lately. It would scroll down or to the right on its own while I would be in the middle of doing something. I finally got fed up and replaced it with this new Logitech LX8 Cordless Laser mouse.
This costs a mere $35 and works right out of the box without the need to install any drivers or software. As long as you have Windows XP/Vista/7 or Mac OS X and a USB port, this mouse will work for you without any issues. I use it at work and it does the job without any issues. Really didn't have a choice as this is all we had in stock and I really didn't want to purchase another one.
DESIGN AND PACKAGE
The mouse is designed so that right-handed or left-handed people can use it, but I usually prefer mice that are designed specifically for right-handed people (well because I am right-handed myself… duh!). This is not the first and definitely no the last laser / wireless mouse I have or will use so lets just cut to the good part.
There are a total of seven-button on or under this mouse. First are the left and right-click buttons and they work as expected. There is a track wheel that can be used to scroll up and down or left and right — you can also click with it (can change what buttons do use the optional SetPoint software that you can download from Logitech's website). Then there are two side buttons (left and right) that by default navigates back and forward on your web browser or explorer window. There are two buttons on the bottom of the mouse — one for Power and the other to Reset.
The package includes the LX8 cordless laser mouse itself, a mini receiver (that looks like a USB drive), a USB extension stand (allows you to have this closer to you, but I use it with my USB drive), 2 Duracell AA batteries and the installation guide. Unfortunately, it doesn't include a CD with the SetPoint software, but you can easily download it from Logitech.
WARRANTY
Logitech is nice enough to provide a 5-year limited warranty on this mouse, but I personally will go through the trouble of getting a replacement for this $35 mouse. For technical support or warranty information, you call 1-800-231-7717 or visit logitech.com/contactus.
INSTALLATION
To get this mouse installed and start using it, all you have to do is plug in the mini receiver to a USB port on your computer or to the extension stand that's plugged into your computer, install the 2 AA batteries on the bottom of the mouse, and power it up. Your computer will automatically detect the mouse and make it available. You can literally have it working in roughly 5 minutes. Optionally, if needed you can download the SetPoint software from Logitech's website to customize the mouse buttons to your needs. You can control what each button does except for the Power and Reset buttons. You will not need to reboot your computer either. If you do have trouble getting this mouse to work, it does come with an Installation guide that has step by step instructions on how to exactly set it up. It also has the link location to download the optional SetPoint software.
SOFTWARE
Once you install the software you can right away control what each button does. You can set the side buttons to Cruise up or down instead of going back and forward. The same applies to other buttons. On the scroll wheel click event there is a Document Flip option that will list all option windows and you can switch between them (just like if you press ALT + Tab), but you can change it to Zoom or AutoScroll.
PERSONAL EXPERIENCE
I have been using this mouse for a couple of weeks now and have gotten used to it. I no longer hit the side button accidentally — it just takes a bit to get used to. I have used many different kinds of mice in my days and this mouse is the easiest to set up and get up and running. Using the SetPoint software or the Mouse control (in your Control panel) I adjusted the move and scroll sensitivity to my liking. As for comfort when using this mouse — I would say it's on the decent side but not too comfortable. I use it daily for 8 to 10 hours at work and as of yet, I don't have a sore arm, palm, or fingers.
FINAL THOUGHTS
I am very happy with this very cheap and just a comfortable mouse. I would highly recommend this to anyone looking for a decent mouse for cheap. I wouldn't recommend this to gamers as you probably what something that does a little more than documents and internet browsing. But for the average home or office user, this will fit perfectly on any desk and in any budget. So, if you are thinking about replacing your old mouse, I would highly recommend this cheap and quality mouse.