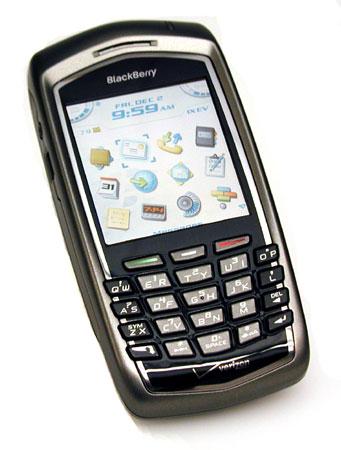 You are never offline with this Black-baby...
Summary
This is my first Blackberry but I am very impressed with its performance, quality, and the way it is built.
Pros
Broadband Internet capability, huge display, auto on/off, and Bluetooth…
Cons
Should come in a flip version too…
A month ago I start this new and exciting job as a Network Systems Administrator that requires me to carry a Blackberry with me at all times because they want to be able to get a hold of me whenever there is a need. So on my first day at work, they handed me this BlackBerry 7130e and said it is mine to keep (as long as I am employed with them). I was excited but also did not know how to use it because I had never owned or used a Blackberry before.
So the first thing I did was to go online to BlackBerry.com and download the user manual and get myself acquainted with the basic features of this new work-toy. It took me about a week but I have gotten used to it and love to play around with it. Oh yeah and I do use it for work (emails, calls, contacts, internet, etc).
THE PACKAGE
Blackberry 7130e handset
Travel Charger
Belt Holster
CD Installation Discs
Verizon CD Install Disc
Quick Reference Guide
Installation Booklet
WHAT IS IT?
In short, it is a smartphone that is capable of voice, email, and data communication all from this single easy to use device. It is ideal for anyone who needs their calls, emails, and contacts all in one place but also has the versatility to also have the same information available on a computer with wireless synchronization.
You can configure this device to work with your Outlook email via Microsoft Exchange messaging package. You will be able to send and receive emails, view your calendar, access your task list, and see all your notes from your Outlook right on this Blackberry.
Another feature I like about this device is that you can use it to connect your desktop (PC) or laptop to the Internet. No need to connect to those Airport wireless services and pay. And there is no need to steal your neighbor's WiFi connection anymore (yes… there still are people who do this even though the price of broadband Internet access has gone down significantly). All you have to do is add the "Tethering Feature" to your account and install the connection software from your provider. You should be good to go.
HOW AND WHAT I USE IT FOR?
Like I said before, I use this Blackberry for work to always have access to my emails and calendar. Now I just configured it to allow my laptop to get internet access so I will be connected where ever I go in the United States.
I set up the Auto On/Off feature that turns my Blackberry On every morning at 7 AM and turns it off at 7 PM every evening. Yeah, I don't want to be able to be disturbed after 7 PM. So the first thing I do is check my emails then see if I have any voice mails. When I am at my desk and have this device there with me, I noticed that when I receive emails, this device gets it a few seconds before Microsoft Outlook gets it.
Oh yeah, you can not only check emails, but you can also reply, forward, and send new emails too. I like the fact that I have access to my calendar all the time so I know what I have planned for the day even if I am out of the office. I also like to add tasks for myself when I think of them and they show up on my Outlook when I am at my desk at work.
I also use this 7130e to place and receive phone calls, believe it or not. But since I have my own Razr V3m, I only use this for work needs. I always prefer flip phones because I don't like the idea of locking the keypad. I have to lock the keypad on this 7130e because when I put it in my pocket, somehow it tends to dial out by itself.
BATTERY LIFE
You will be surprised by how long the battery lasts on this device. I took last Friday off so I had a long weekend and did not charge this Blackberry and they battery meter only decreased by a fifth (20%). This is with a lot of email and calendar checking, about ten short phone calls, and view some web pages.
THE SOFTWARE
There are two software applications that will very useful that come with this 7130e Blackberry. First is the Blackberry Desktop Manager, which allows you to load applications that you have downloaded from the Internet. You can also backup and restore your Blackberry with this utility too. This utility also helps synchronize your Blackberry with your computer.
The other software Verizon Access Manager (since our service provider is Verizon) helps us use our Blackberry as a broadband modem. Meaning, I can access the Internet anywhere Verizon's service is available with my laptop. All I have to do is plug the Blackberry into my laptop or desktop via USB (the one you use to charge the thing) and connect using the VZAccess Manager utility. But before you can do this, there is a service you have to get enabled for your account.
THE GOODIES
There are lots of websites that have games, themes, ringtones, and applications you can download for free and upload them to your Blackberry. So far I have found a few utilities very useful such as Plus (allows you to download modules like cheap gas finder, weather, and traffic info) and Berry Phone Lookup (allows you to reverse any landline phone number). I am pretty sure you can upload MP3 ringtones to this Blackberry, but I cannot say for sure because I haven't tried that yet. So just perform a Google search for "free blackberry applications" or something similar and you will be bombarded with infinite amounts of websites that provide free content for Blackberry.
FINAL THOUGHTS
So far I am very satisfied with this Blackberry 7130e and now I am even more excited because I just found out that I can port my existing Verizon number to my Blackberry and the company will pay for it. But the only problem is that I have to wait until my current contract expires and I have a Family plan so I have to get out of that. So I am looking forward to not having to carry around two different devices (personal cell and this Blackberry). This 7130e is very simple to use and manage so set all your employees up with one of these.