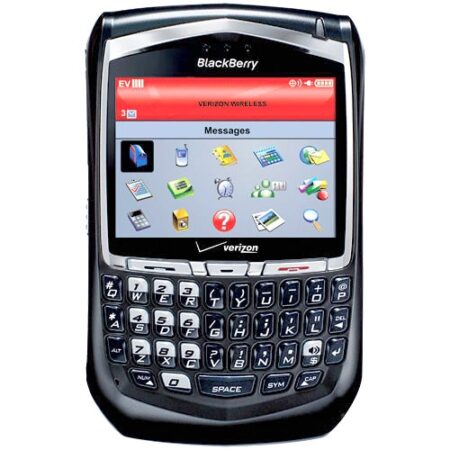 My Black-baby just got better...
Summary
This is my second Blackberry and I am very impressed with its performance, quality, and the way it is built.
Pros
Broadband Internet capability, bigger display, auto on/off, full keypad, and Bluetooth…
Cons
The device is a bit wide; this is more an annoyance than a con.
I have always wanted a chance to try out a phone with a full keypad and last month I got that chance. An employee of ours left and as a result, we had to collect their Blackberry 8703e. I got approval from my boss to switch from the Blackberry 7130e to this Blackberry 8703e. Without any delay, I switched my device.
Right after switching I went online to BlackBerry.com and download the user manual and get myself acquainted with the basic features of this new toy. It took me about a week but I have gotten used to it and love to play around with it. Oh yeah and I do use it for work (emails, calls, contacts, Internet, etc). I have also set up my personal emails to be redirected to this device also using Blackberry Internet Service.
THE PACKAGE
Well, since I didn't get the whole package with this, just the device and the charger I cannot tell you for sure what comes in the package. But since I work in IT and do set up these devices for other users, I can say that you may receive the following items in the package :
Blackberry 8703e headset
Travel Charger
Belt Holster
Software Installation CD's
Quick Reference Guide
Installation Booklet
WHAT IS IT?
Basically, this is a smartphone or PDA (whichever name you prefer) that is capable of making and receiving phone calls, sending and receiving emails SMS and pin messages, browsing the Internet, synchronizing contacts and calendar items (via Blackberry Enterprise Server or with your Yahoo or Google account), and much more.
You can configure this device to work with your Outlook email via Microsoft Exchange messaging package. You will be able to send and receive emails, view your calendar, access your task list, and see all your notes from your Outlook right on this Blackberry.
You can also use this Blackberry as a modem or in other words use the tethering feature to browse the Internet on your desktop or laptop computer. Now there is no need to connect to those expensive Airport wireless Internet services. And there is no need to steal your neighbor's Wi-Fi connection anymore either. All you have to do is add the "Tethering" feature to your account and install the connection software from your provider.
Since this device has a full keypad the number keys are on the left. It takes a while to get used to the new keypad layout but it is well worth it. To make a call just dial a number directly or dial from the address book. Once on a call, you can mute, put on hold, add notes, or make a three-way call, switch to speakerphone or a Bluetooth headset that needs to be pre-configured. The sound quality is a little better than what came out of the 7130e. I especially like the sound quality of the speakerphone because it doesn't get as distorted as you turn up the volume.
This device is wider than the 7130e so it is a bit of an annoyance to talk with it next to your face. This just a small thing that I don't like but I always use my Bluetooth headset with it.
HOW AND WHAT I USE IT FOR?
Like I said in my review for the Blackberry 7130e, I use this device for work to always have access to all my emails (work and personal) and calendar appointments. I have customized my Sound Profiles so that at night when I set it to Quiet mode, I don't get disturbed when messages come in. It will only vibrate when calls come in. Then during the day, I have it set to Loud so that I can hear it, well… loud and clear.
My work requires me to be away from my desk a lot (when I am helping users) so I keep this Blackberry with me all the time. Believe me when I say this; I keep this with me ALL the time (even when I am in the bathroom). So I can read, reply, or send messages and have all my appointments and reminders with me all the time. All this has been made easier because of the full keypad. I had not used a phone/PDA with a full keypad before so it took me a while to get used to it. But I cannot live without it now.
And last but not least, I also use this to make business and personal phone calls. Since my review of the 7130e, I had ported my personal phone number to my work Blackberry and disconnected my Razor. So I don't have to carry two devices all the time.
BATTERY LIFE
My boss used to have a Windows Mobile device and he always complained about the short battery life. But lately, he switched to the Blackberry 8830 and he is amazed at the 3-hour battery life. He says he will never ever go back to using the Windows Mobile devices.
I usually have my Blackberry plugged in when I am at work, but I really get to see what the battery life is during long weekends because I hardly ever charge it (since I like to carry it with me all the time). With normal use, this device lasts me three days without charging (four if I don't play any games). By the end of a three day weekend, I will usually have 1 bar in the battery icon left. I think this is way better than any Windows Mobile device.
SOFTWARE
There are two applications that come with this Blackberry 8703e which will make your life much easier (they are also necessary). First is the Blackberry Desktop Manager, which allows you to load applications that you have downloaded from the Internet. You can also backup and restore your Blackberry with this utility too. This utility also helps synchronize your Blackberry with your computer. In other words, install this utility even if you are not going to use it.
The other software is the Verizon Wireless Access Manager (since our service provider is Verizon) helps us use our Blackberry as a broadband modem (tethering feature). Meaning, I can access the Internet anywhere Verizon's service is available. All I have to do is plug the Blackberry into my laptop or desktop using a USB (the one you use to charge the thing) and connect using the VZAccess Manager utility. But before you can do this, there is a service you have to get enabled for your account.
THE GOODIES
I have come across lots of websites that will let you download games, themes, ringtones, and applications for free. Just have to do some Google searching. So far I have found a few utilities very useful such as Plus (allows you to download modules like cheap gas finder, weather, and traffic info) and Berry Phone Lookup (allows you to reverse any landline phone number). I also love to play the Magmic Texas Hold'em 2 games (I purchased it for $10). Blackberries are fun to have and customize, so why wait. Get one and experience it for your self.
FINAL THOUGHTS
I have been using this Blackberry 8703e for about a month now and I love this one more than my old 7130e, especially since it has a full keypad and a bigger LCD than the 7130e. I would recommend this device to everyone since I love to use it so much. It is light and thin so it fits perfectly in my pocket. Don't wait and starve yourself for a smartphone. Get one and experience it for yourself.