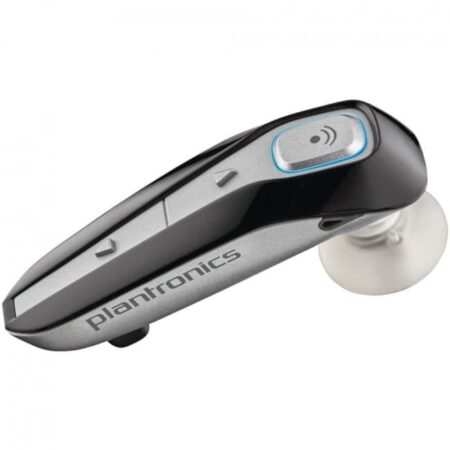 A very nice and light weight replacement!
Summary
This headset is a must for all who want or need to be mobile.
Pros
Extremely light weight, compact, and easy to use.
Cons
Ears hurt a bit during long hours of use. Other than that none.
After my old Motorola HS850 Bluetooth wireless headset broke, so I went to Best Buy to get a replacement. After much shopping around, I came across this Plantronics Discovery 665 Wireless Headset. It is small, lightweight, and easy to use. Just like my old Motorola. It cost me about $100 plus tax to own. I have no regrets what so ever about my decision to purchase this headset.
ABOUT THE HEADSET
The lithium-ion battery supports up to 3 and a half hours of talk time. Yeah I know, that's a pretty small number, but when you look at the size of this headset you will know why and understand that it is a reasonable amount of time for the size of the battery it has. The standby time is much lower compared to other headsets. It has a standby time of only 80 hours. I personally have no problem with the talk time or the standby time because I have this headset plugged into my PC at work daily, so it is always charged. The specifications say that the Bluetooth has a range of 33 feet or 10 meters on this device.
Now let's get to the goodies: it weighs only 9 grams (yup that's right, it is tiny). Even though it is so small, the headset also has some onboard controls like the Call Answer/End and Volume buttons. There is also a blue LED light that indicates incoming calls or connectivity with your mobile device. The Call Answer/End button can also be used to redial the last number. It can also be used with a mobile device that supports voice-activated dialing. Plantronics added this new AudioIQ technology that improves the experience on both ends of a call with this headset. It basically is an intelligent digital sound enhancement feature to improve sound quality. I think it works very well.
IN THE BOX
This headset comes with an ear loop, headset charging pocket, three soft ear gel set, a VPC Car mount (12-volt), USB charging cable. The charging pocket can fit the car charger and the USB cable without any problems, so you will be able to charge this headset at work and on the go. Just like me.
BLUETOOTH VERSION
Even though Bluetooth technology has been around for a number of years, it has just recently gained popularity when wireless phones and laptops required wireless connectivity. Throughout these years many different versions of Bluetooth have been developed as newer technology evolved. So far the most popular versions are 1.1 and 1.2; the HS810 is version 1.1 whereas the HS850 is compatible with 1.1 and 1.2. If you want more information on the latest Bluetooth technology please visit bluetooth.com to get detailed information. Version 1.2 is now the most popular version is the newest Bluetooth compatible devices and soon as technology progresses and this version number will increase resulting in a better faster wireless connectivity technology.
SOUND QUALITY
I can proudly say that the sound is crisp and clear as with the wired headsets (maybe even better). It is definitely much louder than the older HS850. A lot of users of the HS850 complained that the volume was not loud enough. Well, you won't have that problem with this headset. I have not to experience static or any other kind of disrupting noise while using this headset. The volume control helps adjust the volume to my needs and without the need to touch my phone.
WARRANTY
If your headset is defective in any way with the first year of your purchase you can contact Plantronics to either get it repaired or replaced free of charge. For more information visit plantronics.com/support or call 866-363-BLUE (2583).
EXPERIENCE
I have been using this Discovery 665 headset for about five months now and I have been absolutely satisfied with all of its features. I especially like the small and lightweight design so I don't hurt my ear or ears. It always comes in handy when I am driving; look out conference calls. This headset fits nicely on my ear (left or right) with the loop.
The specifications said that it takes about three hours to fully charge this unit, but mine always takes around one hour and a half to fully charge. It is also small enough to fit in my shirt pocket when I am not using it. Just today I was able to use this headset with my computer to listen to music and dictate this review on my Windows Vista PC that has voice recognition built-in. It works very well and I just talk normally. I don't have to shout or repeat myself too often to get it right.
Pairing is very simple too. Press and hold the Call control button for 10 seconds until the LED light flashes red and blue (the headset will be in this mode for 2 minutes). Now just use your mobile device to search for the headset and when prompted use 0000 as the password. You will only need to do this once for a mobile device. After that just press and hold the Call control button for a few seconds to pair and un-pair the headset with your mobile device.
Also when you get a call and if your headset is in its pocket, the pocket will light up too and it will flicker with blue and purple lights all over. I think that is a very nice way to get your attention. If you have your headset in your ear while the phone rings, you will get the ring in your ear. Now you can turn up the music in your car and still not miss a call.
FINAL THOUGHTS
The overall performance and quality of this Plantronics Discovery 665 wireless headset are excellent and without defects. The new AudioIQ technology improves audio quality dramatically. This headset is very simple to use and is designed to attach itself to your ears perfectly without any discomfort. I would highly recommend this wireless headset to all who have Bluetooth compatible mobile or non-mobile devices and who want to get rid of as many wires as possible from their lives. This headset does the job and goes beyond. It is very lightweight and small. You can use it with or without the ear loop. I would pick anything else over this.