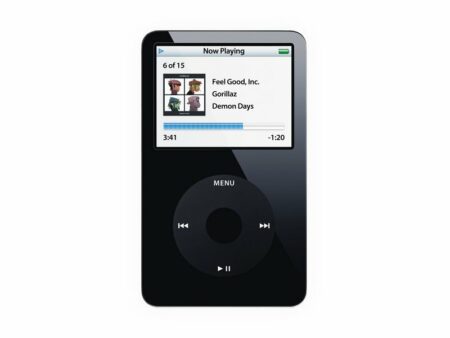 A playa who never quits!
Summary
A very good music player and photo slideshow viewer, but the video could have been better.
Pros
Looks, sounds, and performs perfectly…
Cons
Nothing major but it scratches very easily like all iPods.
It was our anniversary this past February, and I decided to get my wife a very nice (expensive if I may add — $500), and in return, she decided to get me this brand new 60 GB… Apple iPod Video (black). You will not believe how happy I have been these past few weeks. I have loaded it with videos, photos, podcasts, music, my contacts, and it still has room for more.
My wife took me with her to CompUSA to get me this iPod because she was not sure if she would get the correct one. It cost us $399 plus tax and then we added the additional two years (Apple Care) extended warranty from Apple; the sales associate said that if they come out with a new iPod and I want it, I can just say that I am having trouble with the wheel and they will replace it for free. Now the adventure begins…
DESIGN & CONTROLS
Like all the newer iPods this 60 GB one is equipped with a Click-Wheel for easier navigation through your vast media libraries. It is much thinner than my older 15 GB (3rd gen.) one and even my dad's 20 GB iPod Photo; it is the same size as my brother-in-laws 30 GB iPod Video (black). The only major difference I noticed so far was that it was black and much thinner than the older versions I had experienced before. Another thing I liked was that this baby can do photos, music, and video clips; best of all you can even put a whole movie on there if you wanted. I can finally put all the video clips that I take with my Olympus C-8080 8 MP digital camera. I had been waiting for that iPod settlement, but someone just had to appeal it and now there is even a longer wait for a mere fifty bucks, so I just decided to screw it (sorry about that, but I just had to put it that way) and replace the old guy with this newer, thinner, and much more talented candidate. I have listed the old one on eBay for $100 so I at least get money back for my iTrip and car charger.
I did feel that this new model is a bit easier to use than my older 15 GB one because of the newer Click-Wheel. But sometimes this new Click Wheel can be a bit too sensitive; when you lift your finger after scrolling or adjusting the volume the selection jumps ahead or back (so you have to go back and make the right selection again). But that is just a minor set back that anyone can get used to very easily or maybe it is just that I am not familiar with this new design. The black color makes it look very sleek and sexy which makes me want to brag (but I am not a bragging type of person). Oh yeah, your iTrip FM Transmitter will not be compatible with this one because they (Apple) moved the headphone jack and there is not power slot for it anymore; the only way you can use it in your car is with the newer iTrips or a different FM transmitter. Other than that, I did not notice any other differences from the iPod Photo.
FAVORITE FEATURES
I just admire the bigger two and a half-inch full-color LCD (Liquid Crystal Display) screen with back-light for increased entertainment. This new iPod Video and the iPod Photo just make all of the older generation iPods seem so ancient. You will be able to view your digital image library right on this iPod and best of all you can even have full movies or just little clips for portable fun. You will be able to view your pictures as slideshows with music if you like (took me a while to figure out the steps; maybe I should have read the manual… Nah).
The new Click Wheel design makes navigation faster and simpler, so you have no choice but to like it. Previously, I had to keep switching fingers to and from the touch wheel to the play/pause, menu, and skip buttons on my older iPod (can be a pain sometimes). With this newly improved design, I do not have to remove my thumb from the wheel at all. Apple's engineers are getting better and better at their job (I say they should get a raise).
Apple also claims that these 60 GB iPods have a longer battery life (20 hours) when compared to the 30 GB and the iPod Photos. I have yet to see how long it lasts; we are going on a long trip this weekend, so maybe then I can test its limit.
SOFTWARE INSTALLATION AND INFORMATION
Software-wise, there is not much you have to install; all you do is plug in the USB (Universal Serial Bus) cable to any USB 2.0 compatible port on your computer and transfer all your music to your new iPod with the free and easy to use iTunes software that will allow you to rip, burn, purchase, download, and transfer all your music/photos/videos/podcasts to your iPod quickly and easily. The CD-Rom that is included in the package has all of the software you need to make your iPod fully operational in minutes. By the way, you may have to format your iPod the very first time before you can use it (this is a one time process only). I also suggest you download the latest operating system for the iPod for better stability and reliability.
The iTunes software is easy to use and is extremely customizable to your needs. It allows you to create many different types of playlists (regular, smart, and more). Smart playlists are very nice because you can customize them to all your specific needs. You will be able to easily rip your music from CDs and copy them to your hard drive and your iPod.
EXPERIENCE
I have been using this new iPod Video for about a month now and I have not experienced any problems or disadvantages. I was upgrading from the 3rd generation 15 GB iPod (from the good old days) but I am happy I switched because this newer iPod Video has many more features to love even more.
I transferred about fifteen hundred high quality (MP3 and AAC) songs from my personal library and there is still room for thousands more. I have also transferred about five hundred high quality (8 megapixels) photos to it and some small video clips. I have yet to try putting a whole movie on there. I have used this iPod for hours and hours and the battery never lets me down.
The battery roughly lasts about 19 hours maximum because I just let it play through my whole library without any interruptions. I like to have it keep playing when I go on long trips. I always have it plugged into my car charger, but it is good to know that it will last me a while before it retires for the day.
You can pretty much put almost all your digital pictures on here and put those video clips that you download from the Internet (like those celebrity sex videos… joking). At first, I had to read up on how to work with the slideshow thing and do the podcast thing, but once I got the hang of it I was non-stoppable; I also read up on the video feature too. The photos are great as the screen is a little bigger than before but the video clips would be better if the screen was a little larger. Video playback is clear and bright; I think it is better than my computer video playback quality.
This iPod Video is just like the iPod Photo on the outside since it gets scratched just as easily. But the good news is that Apple included a white case for the iPod for storage (like in the glove compartment of your car); this case swallows the iPod so nicely that not even air could get it. So far I have no scratches on my new iPod, all thanks to this case.
The built-in equalizer is very nice and helpful, but it will cost you some battery life (which you do not need to worry about as you have roughly 19 hours off) when in use. Also, the back-light helps when in dark areas or in a car at night. One thing I will suggest is to set your back-light timer to 2 or 5 seconds (auto-off); it will just stay on long enough for you to see what you need to see and automatically turn off so you save battery life.
Apple-designed the headphones with comfort in mind, so they go on easy and hardly ever irritate your ears; you will not even notice they are there. On the other hand, some people say that it hurts their ears after a long period of use. It has a long cord so you can put the iPod in your pocket, backpack, purse, etc and it will not pull your head down as you walk or jog. The sound quality is clear and sharp through the headphones and even though the FM transmitter, I am using right now. Now, all I am waiting for a Bluetooth iPod so there will be no need for wires at all; hey maybe I should relay this idea to Apple and make some serious money (hmm); did I mention that this review was copyrighted?
FINAL THOUGHTS
Since I had been using the older version of the iPod, I have noticed some major and positive upgrades or changes in these newer models like the iPod Photo and iPod Video. There are a lot of things that were improved in this model that just makes listening to music and looking at photos fun and easy. Watching video clips and podcasts are fun and very entertaining. Best of all, it is all compact, lightweight, with huge capacity, and extremely portable. I have always recommended the Apple iPods to everyone I know and I will continue to do so until I find some major flaws. So if you were thinking about it, do not wait any longer, just go and get it; you will not regret it (believe me).