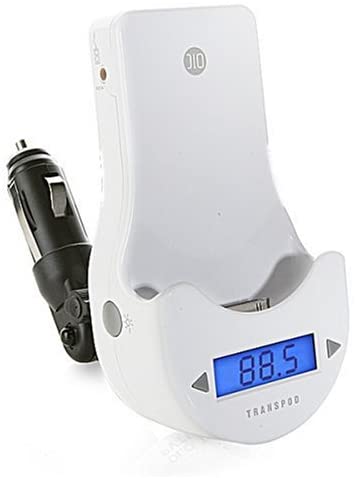 A little raw for my taste!
Summary
A really nice FM transmitter for your iPod with lots of features.
Pros
Built-in stations, LCD, clear, and can charge your iPod too.
Cons
A little big for my taste and the adjustable arm is a bit flimsy.
Recently my brother-in-law bought his very first Apple iPod Video 30 GB MP3 player and along with it, he purchased this Digital Lifestyle TransPod FM transmitter. At first, he wanted to get the iTrip and he did get it, but after he read the manual and played around with it that he discovered that the iTrip that he purchased was not compatible with the new iPod.
So he had no other choice but to go back to the store and get this instead as they did not have the iTrip that was compatible with his iPod. FM transmitters are great for wireless car integration, but at a cost of sound quality; the best way to integrate your iPod by far is to hardwire it.
DESIGN AND CONTROLS
First of all, let me tell you that it is a little bigger than I would like it to be, but my brother-in-law seems to have no problem with the size. The unit comes in three colors (white, silver, and black) and has a back-lit (one line) LCD (Liquid Crystal Display) screen in the middle; this LCD will show you the radio frequency and charging status. There two arrows on both sides of the LCD that allow you to scroll through radio stations; there are four preset stations to choose from. You can also turn the back-light on and off using the arrow buttons. And as a bonus, this cradle will charge your iPod while you are on the road. The overall design is new to what I am used to as I use the iTrip and also prefer it over any other. This FM transmitter has no rough edges and also has back support for the iPod.
WHAT IS IT & HOW TO USE IT
This FM transmitter looks almost like the iPod docking station that has an adjustable arm. All you need to do to use is to plug it into the car lighter adapter, plug in your iPod, and adjust the arm as needed. It is nice to have this right in front of your shifter for easy controlling. I always like to rest my hand on the shifter and they play around with my iPod while it is plugged into this transmitter.
Note: Do not turn the volume on your iPod higher than seventy percent (70%) as the sound will just degrade enormously if you set the volume any higher. If you keep it below seventy, you should have not a problem with sound clarity. You can always use the volume control on your stereo system to adjust the volume to your needs.
INSTALLATION
The installation was simple enough, but you may get overwhelmed by it when you first open the package as there are about ten separate pieces to put together for the arm. But you do not have to worry a bit about that as the detailed setup instructions sheet will guide you step by step with any problems. You may have to play around with the arm adjustments for the best comfort in your vehicle, but once you have it set up you simply forget about it.
The arm is made of some flimsy plastic that bends when you use the controls on your iPod, but with a little help from some adhesive Velcro tape I was able to hold it tight with the cup holder; you have to say goodbye to one of the cup holders as this cradle will block access to it. We also had an incident where we were driving on a bumpy road and this thing was swinging pretty well but the Velcro took care of that without much hassle.
EXPERIENCES
If you are like us and mostly drive in cities then you will not have any problems finding a clear radio station between 87.9 and 107.9. I always have mine set to 87.9 as it is the clearest station in my area. Another neat feature I notice on this unit is that it has an auxiliary output plug; to use with headphones or cassette adapters. This TransPod has had plastic inserts so it is compatible with any iPod (except for the iPod Shuffle; you can get an additional unit for that).
I used this transmitter over the weekend and I had no problems with the quality of the sound once I had it set at 87.9. My brother-in-law uses his iPod with this transmitter every day in his car and he just loves it. During the two days I spent with this unit, I experienced very little or no static. I only had to set the station once and never again. I chose to use 87.9 because it is one of the vacant ones in my area. The vacant station gives you better quality; if you choose a station that is already in use, the signal will be too weak to override it.
FINAL THOUGHTS
In the end, I was very impressed with this transmitter and the ease of use once I had it set up properly. With features like the auxiliary output, built-in charge indicator, and almost any radio station to choose from, this FM transmitter provides clear and static-free sound. If you are planning to get an iPod or already have one, then you need this FM transmitter to make your commute much more relaxed with music you love. All you have to do is set it up once and just plug in your iPod thereafter.