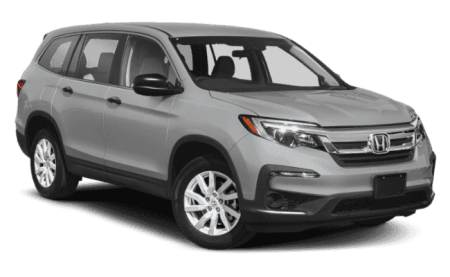 Still powerful, roomy and capable!
Summary
Big enough for a big or growing family to haul everything and everyone with safety and comfort in mind including technology to keep everyone entertained throughout the journey.
Pros
Includes a full suite of safety features, handles very well on and off road thanks to the awesome AWD system, comfortable for the whole family, reliable and powerful at the same time. The infotainment system is a huge upgrade from older models.
Cons
Build quality of the some of the interior panels can be better. Tow package is not standard as it was in my 2011 Honda Pilot. The rear tail gate speed is somewhat slow and the height is not adjustable.
I had the 2011 Honda Pilot for 8 years and when it started showing its age, my wife and I decided to upgrade to something more modern. We loved our old Honda Pilot because it was reliable, comfortable, and very roomy for our family of four. It was able to fit bikes, scooters along with groceries, and still had room for more. The maintenance was low, and it just kept going. It only had just over 76,500 miles (but we wanted more technology and a bit more efficiency) when we traded it in for the 2019 Honda Pilot SUV.
While my wife wanted another Honda Pilot, I wanted to check out other options. I had read a lot of reviews and watched all the review videos on YouTube on similar SUVs. This time around, we wanted leather seats (with heating and/or cooling), possibly a sun/moon roof, adaptive cruise control along with other safety features, and all-wheel-drive capability. I have owned this 2019 Honda Pilot for almost a year now.
COMPETITION
Since we were used to the size and driving dynamics of our 2011 Pilot, we wanted something that was similar in size. So that narrowed our search down to the Honda Pilot, Toyota Highlander, Toyota 4Runner, Acura MDX, Mazda CX-9, Kia Telluride, and Subaru Ascent. Our household is not a fan of Ford, GMC, Buick, Dodge, Hyundai, or Chevrolet so those brands were out of our decision making. This mostly because we don't see them as reliable brands — that is just our opinion but, in all fairness, they may be good vehicles.
After seeing and driving each of the 7 vehicles we narrowed the list down to the Honda Pilot, Toyota Highlander, and the Kia Telluride. Eventually, the Highlander was taken out of our list because of the overall size and some of the standard features that were standard on the Pilot and Telluride. In the end, we decided to go with the 2019 Honda Pilot because we didn't have any information regarding reliability on the Kia Telluride since it was so new. I didn't want to get a first-generation product because of the first generation issues with any product. And since we lived with a Honda Pilot before we knew exactly what we were getting into reliability wise.
AVAILABLE TRIMS
The 2019 Honda Pilot has 6 different trim levels to choose from (LX, EX, EX-L, EX-L with Navi/RES, Touring, and Elite). The base LX and the next EX trims include a lot of features that provide good value for the money, but like I said before that we wanted some more specific features this time. The EX-L, EX-L Navi/RES, and Touring trims are the feature sets I was deciding between. The Elite trim, to me, seemed a bit over-priced for my needs.
The biggest difference between the EX-L and Touring trims was the addition of the 9-speed automatic transmission. Honda says the nine-speed results in the best fuel economy so that was something to consider also. The Touring also adds roof rails and acoustic glass on the front doors along with the front windshield. One feature on the Touring that I am envious of is the full-LED headlight setup whereas the EX-L only has partial LEDs. The sound system in the Touring also upgrades to a 10-speaker 590 watts system compared to the 7-speaker system in the EX-L.
TRIMS
FEATRUES
PRICE
LX
280-horsepower, 3.5-litre V6 Engine
6-speed Automatic Transmissions
Honda Sensing safety feature suite
8-Passenger Seating
Tire Pressure Monitoring System
Bluetooth streaming audio and HandsFreeLink
Multi-Angle Rearview Camera
LED Headlights with Auto On/Off
60/40 Split, flat-folding 3rd-row bench seat
Push Button Start
Remote Entry
Rear Privacy Glass
Hill Start Assist
AWD available
$31,450 - $33,350
EX
Includes LX features, plus:
Apple CarPlay/Android Auto Integration
Intelligent Traction Management
Blind Spot Information System with Cross Traffic Monitor
Heated Front Seats
One-Touch 2nd-Row Seats
4-way Power front passenger's seat
Smart Entry with Walk Away Auto Lock
AWD available
$34.330 - $36,230
EX-L
EX-L Navi/RES
Includes all EX features, plus:
One-Touch Power Moonroof
Power Tailgate
Auto-Dimming Rearview Mirror
HomeLink Remote System
Leather-Trimmed Seats
2nd-Row Passenger Sunshades
Navigation and Advanced RES available
AWD available
$37,760 - $39,660
TOURING
Includes EX-L features, plus:
9-Speed Automatic Transmission with Push-Button Shifter
Hands-Free Access Power Tailgate
Heated Font and Rear Outboard Seats
590-Watt Premium Audio System
Full LED Headlights w/ Auto-On/Off
Mobile Hotspot Capability
AWD available
$42,520 - $44,420
ELITE
Includes Touring features, plus:
Panoramic Roof
Wireless Phone Charger
Heated and Ventilated Front Seats
Heated 2nd-Row Captains Chairs
Multi-Zone Audio
AWD standard
$48,020
OUR PICK
In the end, we chose the EX-L trim with AWD because it met most of our needs without putting a huge dent in our wallet. After all, the starting price difference between the EX-L and Touring trims is over $4,500. We also skipped the EX-L with Navigation and Rear Entertainment System because we didn't need it. Since the car has CarPlay and Android Auto, we can just use that for navigation. And our kids have their iPod's, Nintendo's, iPad's and books to keep them entertained and/or busy. I also didn't want to get the 9-speed transmission with the push-button shifter because all of the reviews had said that transmission wasn't as smooth as the 6-speed in the lower trims.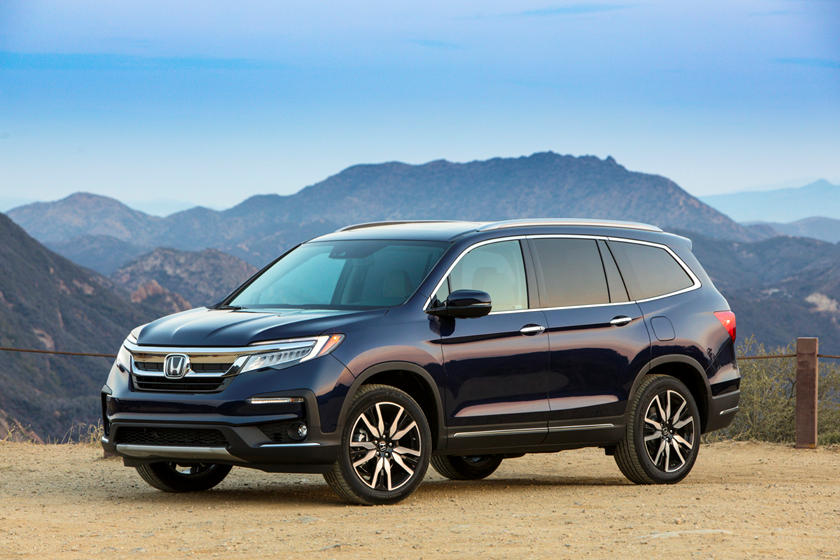 PURCHASING EXPERIENCE
The out of the door price was just over $41,500.00 because we decided to add the Stargard GPS tracking and the 7 year/80,00 miles extended service. This gives us peace of mind that if anything major goes wrong, we would be covered. GPS tracking also helps get a good discount on our insurance premium.
We also got a trade-in value of $11,000 for the 8-year-old 2011 Honda Pilot EX with close to 77,000 miles. The windshield had a small crack, the tires would have needed to be replaced soon and the transmission was also due for a flush. So, overall, I believe we came home with a very good deal at the end of the day.
We checked with multiple Honda dealers in our area but ended up purchases from Anderson Honda in Palo Alto, CA. We went there on August 28th, 2019 and the overall purchase experience was okay but could have been better. Since we made this purchase towards the end of the 2019 model year, the 2019 models were hard to find, or they were in storage for a while. As a result of this, the car was dirty, and AC wasn't working upon purchase.
Some Issues
Since this car was in storage we didn't really get to drive or even see the car we purchased until after we completed all the paperwork. When we saw the car, the detail job wasn't up to par as some of the panels still had dirt and mold. They detailed it a second time to get it ready for us to take it home. Then when we got in the car to take it home, the AC wasn't cooling as it was only blowing hot air. The salesperson said it might take a little bit since it was in storage for a while. So, we drove it home in the hot weather without AC.
It didn't start working, so we had to drop it off to get repaired the next day. Anderson Honda had the car sitting for a few days because their AC machine was out of order. We had to get them to send it to another dealership. Turns out the AC system was empty — either it was never filled properly from the factory or it leaked out. They tested for leaks but didn't find any, so they filled the system and gave it back to me because we had a 500-mile road trip to South Lake Tahoe that same weekend. It worked fine then and still continues to work to this day. Overall, the purchase experience wasn't good, and I wouldn't recommend Anderson Honda. Honda of Stevens Creek had much better service and better service. I regret not going there first.
INTERIOR AND COMFORT
This Pilot provides a lot of room for passengers and whatever they might bring with them. There are ample cup holders and storage bins and nooks to store everything from phones to tablets to books. The driver seat is 10-way power adjusting on pretty much all trims except for the LX. The EX-L and above add two-position memory for the seats and mirrors. Along with heated seats, we like having a nice sun-roof that helps us keep cool in the heat or get sunlight in the cabin.
The second-row seats 3 comfortably even though it seems a tiny bit narrower than the one in the 2011 model. Higher trims have the option to have two captains chairs instead of the bench seat in the second row. Most trims have a nice button that, when pressed, moves the second row forward to make getting into the third-row quick and easy (even if you have child seats). The third-row can fit kids or teenagers comfortably which is fine with us because we keep it folded and out of the way most of the time.
Behind the third-row, the Pilot has 16.5 cubic feet of space but in our case, we have 47 cubic feet since we fold down the third-row. With the second and third rows folded the Pilot has a maximum cargo capacity of 84 cubic feet.
While the materials on the front are nice and soft to the touch, they become slightly harder from the second row towards the back. With the acoustic glass windshield, the wind and road noise is low but I can still hear some minor wind noise at higher speeds. The active noise cancellation helps keep engine noise down also.
EXTERIOR
We loved the way our old 2011 Pilot looked — it's boxy look pleased my wife and the black color was nice too. The new pilot has a new design that my wife doesn't hate, but at the same time doesn't love like she did the old one. I don't mind the more rounded look because I always thought the boxy design was less efficient.
Overall, the new design is inoffensive and should age well just like the old one did. We still point out the older design Pilots when we see them on the road. One thing I would like to point out that I don't like is the unpainted black plastic accents to make it off-road ready. But they are hard to clean and keep clean. However, I found out that the best way to keep them shiny and clean is with tire shine sprays.
The look and feel of the exterior are subjective anyway, so some people will like it and others will not. And everyone is entitled to their own likes and dislikes which is a good thing.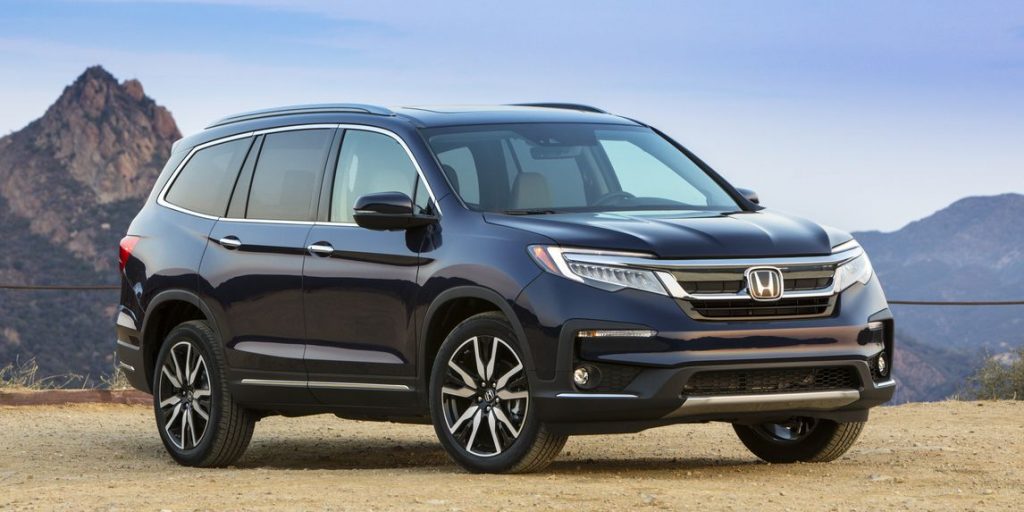 TECHNOLOGY
All the Pilot trims come with an 8-inch Display audio system except for the base LX trim. The new infotainment interface is clear, very responsive, and allows for a lot of customizations. Over-the-air updates are also included that help fix issues and add improvements. This version of the system includes a physical volume knob (everyone seemed to have complained about not having it previously). We don't want everything to be touch or capacitive because it makes you take your eyes off the road which isn't safe even with all the active safety features packed into this car.
The Touring and Elite trims also include a feature called CabinTalk that helps you communicate with your kids in the second and third rows. But since mine doesn't have the rear entertainment system, I don't have to worry about that — I just yell and get them to behave. There are plenty of charging ports for all sorts of devices. The EX-L has 2 USB ports in the second row that keeps the two kids at bay and their devices charged on long trips. I just wish there was a household plug in this trim like the higher trims.
Home Screen
The home screen is very customizable whereas you can limit the icons to the ones that are relevant to you. For example, I can hide AM radio, SiriusXM, Android Auto, etc since I don't listen to them. You can also organize the icons where you want them.
Apple CarPlay
Apple CarPlay works perfectly every time with an Apple-certified Lightning cable (cheaper non-certified cables have issues connecting). So be careful about which cable you are purchasing for Apple CarPlay. You can use Google Maps or Waze for your navigation, and it worked great. The only issue I had was when I went to South Lake Tahoe, there is a dead spot there for about a few miles with no LTE signal so that can be a problem. But if you use Google Maps' offline maps to download the maps beforehand, then you should be fine. The only downside to that is there will be no live traffic data. I found out the hard way when we were coming back home and the normal road to catch the interstate was closed. So, we had to recalculate, and it wasn't working — we had no choice but to follow other cars.
Backup Camera
I am so glad it is now required that all new cars have a backup camera. This single feature is literally a lifesaver. The multiple view angles help a lot when parking or just backing out. Yes, 360° view would have been great but coming from a vehicle with no camera, this is a welcome upgrade. The cross-traffic alert feature is spot on also and has saved me on multiple occasions.
Gauge Cluster
The gauge cluster has a large digital color screen in the middle that you can also customize. It can give you any number of information from MPGs, maintenance information, now playing data, AWD torque information, and more.
SAFETY
All Honda Pilot's now have a full suite of active safety technology along with great crash test ratings. This was a major factor in our purchasing decision. Features like adaptive cruise control, automatic emergency braking, lane keep assist and blind-spot monitoring are great and help a lot on long drives.
I like to enable to adaptive cruise control and lane keep assist on long drives so I just have to provide minimal inputs on the steering wheel. It might seem small but this helps reduce fatigue on those longer trips.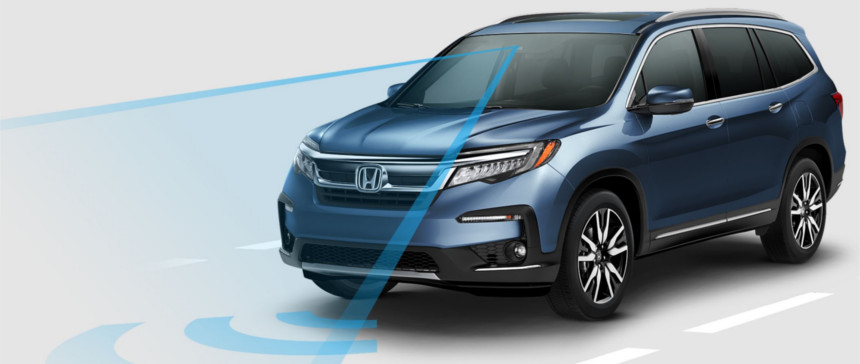 PERFORMANCE
All trims of the Honda Pilot continue to have the 3.5-liter V-6 engine that now makes 280 horsepower and 262 lb-ft of torque. That's 30 more hp and 9 more lb-ft of torque than the 2011 Honda Pilot. More power is always good but at the same time, the Pilot is now more efficient also. I have always thought the old Pilot was peppy enough and the new one doesn't disappoint either. I can't tell the with 30 extra horsepower but any improvement is welcomed.
The major difference that is noticeable is the 6-speed automatic transmission that is standard on the 3rd generation Honda Pilots (the Touring and Elite trims have the 9-speed automatic transmission). The 6-speed provides smooth shifting without being jerky or always hunting for the right gear. The EX-L (and lower) trim has a conventional gear lever that I prefer compared to the silly push-button interface in the Touring and Elite trims.
The pilot can tow 3,500 pounds in its standard FWD form and that increases to 5,000 pounds in all-wheel-drive configuration. But the towing package is no longer standard like it was in the 2011 version. So if I wanted to tow, I would need to purchase and get it installed which would set me back a few hundred dollars more.
Honda says the trims with the 9-speed transmission can go 0-60 mph in 6.9 seconds. That is nothing to brag about but it is still better than other competitors. Even though we didn't get the one with the 9-speed transmission, I don't ever feel like it is not fast enough.
DRIVING AND HANDLING
One of the first things that stand out is the fuel economy with the new Pilot. I was getting between 11-15 mpg in the old Pilot after 8 years. The new Pilot consistently returns 17-20 mpg with mixed driving. On long trips, I can easily get 28 or 29 mpg depending on driving habits and the roads (flat vs hilly). For example, we averaged 27 mpg going to South Lake Tahoe from the San Francisco bay area while returning we averaged 29 (all thanks to mostly downhill roads).
Compared to the 2011 FWD Pilot the 2019 AWD Pilot handles much better in all conditions. It never slips or skids even when I try to intentionally. The overall right is smooth and the AWD keeps it sturdy in turns. Even large bumps do very little to destabilize the ride but everything still stays quiet inside.
The steering is much lighter than it was in my older Pilot because of the electric-assisted steering. Some reviewers complain that because of this there is no steering feel, but the demographic that buys a vehicle like this doesn't need or even want that. Most of the drivers will be looking for the smoothest and comfortable rides they can get. Coming from the 2011 Pilot, I can say from experience that heavy steering can get old really quickly, especially on long road trips. Now, only if there was a way to adjust the steering feel on these Pilots.
OTHER NICE FEATURES
Keyless entry features are one of my most loved features. As long as you have the key in your pocket, just walk up and open the door normally and it will unlock and open. On the other hand, when you close all of the doors and walk away (again having the key in your pocket), it will lock automatically.
The infotainment system is a huge upgrade from the 2011 Pilot. It has Bluetooth, WiFi, CarPlay, and is a touchscreen. The backup camera is integrated which helps a lot when backing up this big SUV.
The digital instrument display is another that is a great improvement over the previous generation because it displays all of the details that a driver would need (such as tire pressure, oil life, trip, call and now playing, etc).
UPGRADES I HAVE DONE
In the first year that I have owned the 2019 Honda Pilot EX-L AWD, I have added all-season floor mats for all three rows and also an all-season cargo liner. I also bought silicone liners for the cup holders and storage bins that help reduce rattles and help to clean easily. Then I added an organizer in the cargo area that keeps the kid's toys for the park nice and secure. I added wheel locks as soon as I brought the car home for peace of mind.
Since the EX-L trim doesn't have full LED headlights, I bought some nice LED high-beam bulbs and replaced the halogen one's to keep everything consistent. I don't understand why Honda (and other manufacturers do this). I am also thinking about replacing the turn signal bulbs with LEDs also.
FINAL THOUGHTS
Overall, I love driving this Pilot just like the previous one. It is easy and comfortable to drive and park. It is packed with essential technology and safety features that are valuable and expected today. There is a lot of room for everyone and everything. It will keep all occupants comfortable on all trips. The family and I are very satisfied with this upgrade and would highly recommend it to anyone looking for a 3-row SUV for their family.