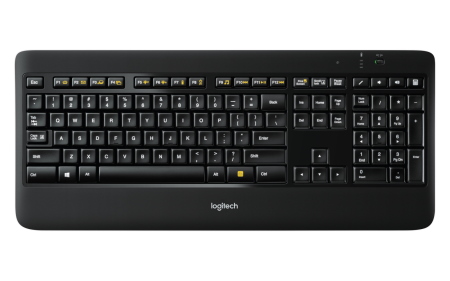 One of the best keyboards I have used...
Summary
The Logitech K800 wireless keyboard is one of the best keyboards available today. It gets regular updates and is able to work with the Unifying receiver with multiple Logitech devices. It is quiet, comfortable, customizable, and illuminates.
Pros
Comfortable, quiet, easy to install, easy to use, it lights up, and rechargeable.
Cons
Sometimes the hand detection sensor freaks out and starts blinking until you put your hand on the keyboard.
When I recently upgraded my desktop computer, I also decided to upgrade the mouse and keyboard. I had been using my trusty old Microsoft Wireless Optical Desktop Pro Keyboard. It still worked well, but some of the keys were starting to stick even after my multiple attempts at cleaning it. It also got noisier overtime — after all, it was about 15 years old.
After a lot of research and testing different keyboards out at BestBuy, Fry's, and Staples, I decided to go with the Logitech K800. I like it so much that I also had to get it for my work desk.
INSTALLATION
In the box, comes the K800 keyboard itself, a Unifying USB receiver, a USB extender cable, a Micro-USB cable for charging the keyboard, and user documentation.
Installation is straight forward because after you plug in the unifying receiver into an available USB port on your computer, you need to open the Logitech Options application. The Logitech Options app will allow you to add a new device once it is turned on and in proximity to the receiver. Once the keyboard is added in Logitech Options, you can customize some of the keys like the Home, Email, Search, etc. It will also let you customize illumination settings and upgrade the firmware.
One thing I would recommend is to plug in the unifying receiver in a USB extender cable or a USB HUB instead of directly into the back of your computer (unless it is in line of sight of your keyboard). In my case, my desktop sits behind two 27 inch monitors so I experienced some lag when it was plugged into the back of the desktop. But once I moved it to my Sabrent USB 3.0 Hub and Multi-in-1 Card reader, that problem went away.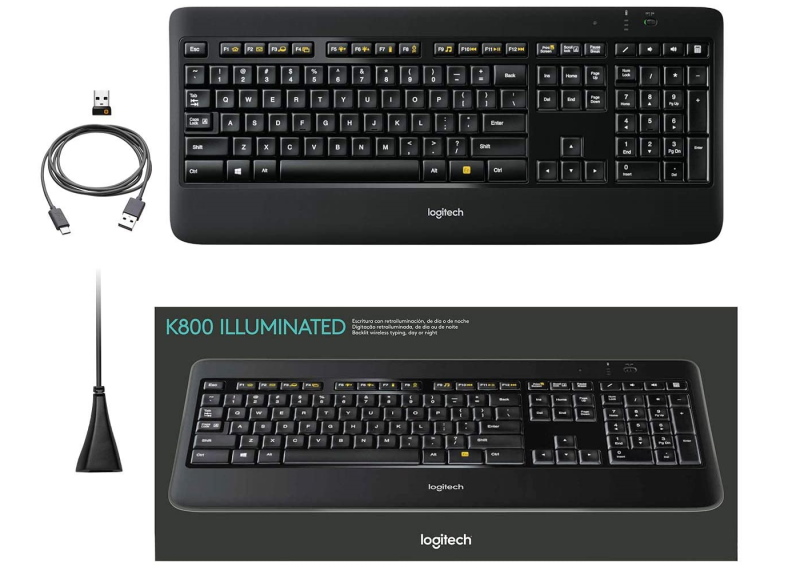 DESIGN
The best thing about the K800 is the normal size. I didn't want a keyboard with everything crammed into a small profile. It measures 18.4 inches lengthwise, and 8.2 inches width wise. It is made of plastic so it does flex and twists a little bit. I don't mind this because I don't sit here and do bend tests all day or take it with me. This keyboard is not meant to be portable so use it with your desktop computer and don't carry it with you.
Because the K800 is of decent size, the keys are also a good size so you don't fat-finger anything you are typing. It also has a full number pad and 12 function keys which can also be used as hotkeys (for music, search, and other functions). I personally like the overall design and think it is sleek and elegant for my home and work offices.
CONNECTIVITY
The K800 uses Logitech's 2.4GHz Unifying USB receiver that not only allows pairing the keyboard but other Logitech devices to your computer simultaneously. Meaning, you can pair multiple mice and keyboards to one computer. All you have to do is plug in the USB receiver and turn on the keyboard. It should pair automatically and start working right away.
But I recommend installing the Logitech Options tool so you can have more precise control over your paired devices. It will allow you to customize the hotkeys, update the firmware, control the illumination settings, and more.
ILLUMINATION
The main feature of the K800 is its illumination — it basically adds back-lighting to all of the keys. You can adjust the brightness using secondary FN (function) key along with F5 or F6 keys to increase or decrease the brightness. Also, there is a sensor that can detect when your hand is close or over the keyboard. It will adjust the brightness of the backlight depending on whether your hand is on/over the keyboard or not.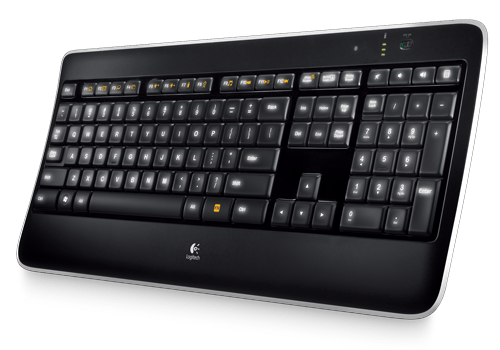 PERFORMANCE
Because the keyboard is full-size, typing is seamless. The keys are not sticky or too clicky. I prefer a quiet keyboard unlike the current trend in the gaming community of having loud keyboards. Type is very comfortable because of the PerfectStroke key design which enables key travel of 3.2mm. I personally hate typing on laptop keyboards, especially MacBooks because of their less traveling keys.
EXPERIENCE
Personally, I use this keyboard on my desktop at home, but these days it gets used for work and personal use. It gets used for writing emails, coding, and writing reviews of course. With heavy use, the battery lasts about a week and a half before the notification to charge comes up. I have never had anyone complain about my keyboard being too loud during conference calls. But the great thing about this keyboard is that you can continue to use it while it is charging so it really doesn't matter. I have mapped the secondary function key F9 to open iTunes (Yes, it is not the greatest, but I still use it to sync music to my iPhone XS and kids iPod's) instead of Windows Media player. Firmware updates are also quick and easy.
The only glitch I have noticed is occasionally the backlight will start blinking for no reason. But all you have to do is to put your hand on the keyboard for it to figure itself out.
FINAL THOUGHTS
With the current worldwide Covid-19 situation, working from home is the new norm. And with that comes a high demand for making your personal device and/or accessories more work-friendly. The K800 keyboard helps get work done quietly, comfortably, and even lights the way if you end up working late. It also stays quiet during those conference calls so as to not bother others. I would highly recommend the Logitech K800 keyboard for pretty much anyone — just don't expect it to be portable.