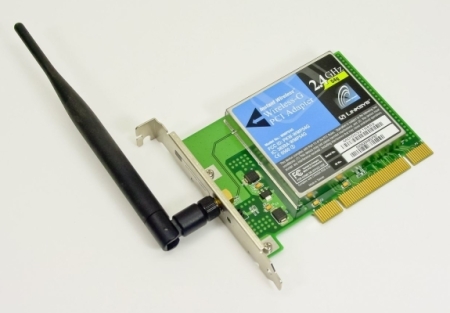 Go wireless--even you desktop pc needs freedom from wires!
Summary
Bottom Line: Compact, fast, and always on…
Pros
Fast wireless freedom for not a lot…
Cons
Other 2.4GHz devices may interfere with this adapter…
I have had a wireless broadband router for some time now, but my desktop computer was still wired in the old fashion way. So one day I thought to myself… why not make my DSL wireless and also share files wirelessly to and from my laptop and desktop computers. The idea sounded great to me, so off I went to my usual computer store; yes you guessed it right: CompUSA.
There I looked at several different types of wireless adapters in all shapes and sizes. Then I remembered that someone once told me that if you want to go wireless it is always best to have the same brand of products (routers, access points, adapters… etc) for greater compatibility. And since I already had my Linksys WRT54G Broadband router I went ahead and bought this Linksys Wireless-G WMP54G adapter. Now I was all set to convert my desktop from an external drive dependent machine to a fully wireless computer. It now has access to the Internet, files, and printers on my wireless network.
DESIGN
When I first opened the package I was shocked to see the size of this adapter. It was smaller and much thinner than some older wireless adapters I had seen. This card is only half the size in the width of other PCI cards in my computer and it is only a couple millimeters in thickness. It is so small and lightweight that it almost looks and feels like it is a toy or fake, but it's not. I mean wireless technology has progressed so much in so little time that I had not paid attention in the past year or so.
INSTALLATION
The installation was a breeze as all you have to do is follow the simple instructions in the quick setup guide and you will not have any problems. First, you have to turn on your computer and insert the easy setup CD-Rom that comes in the package and follow the instructions it provides. Once all the necessary files are copied and your computer is configured to accept the adapter, the setup program will ask you to turn your computer off and install the adapter properly. When you turn your computer on after the hardware installation, you will see that the setup program automatically continues and finishes the installation (automatically detects the card). If you already have a wireless network, the setup will detect it and connect to it automatically. If you do not have a network configured then the setup program will help you set that up also. Once the setup program finishes its job, your computer should have wireless internet or network configured and working.
EXPERIENCE
I had always wanted to make my desktop computer wireless just like my laptop so I can share my Internet connection and files to and from the two. Now that I have this adapter and my broadband router, I can take advantage of my DSL connection on my desktop and laptop no matter where they are located in the house. I can watch those television shows where they sell stuff and visit their website right here to find out more information. This is just amazing. Once I put my DSL modem and my broadband router in our garage just to test the signal strengths. The garage is about fifteen to twenty feet away from my room where my desktop is located. Amazingly, I had close to 90% signal strength when I turned everything on and connected.
I did not get the one with a speed booster because I did not want to spend that much extra cash on it. I just wanted a budget wireless system which works just fine for me. But if you do decide to get the adapter with a speed booster then in my test situation, I would have had over 90% signal strength easily.
My signal strength always says excellent and always at 54 Mbps when the modem and router are in the same room as always. So far I have had this adapter for over a week and I have not had any disconnections or weak signals. Well, this one time my wife was talking on our 2.4 GHz wireless phone and she was standing right next to me where the router is located. And the signal strength went all the way down to 10%. So what I did was change the wireless transmission frequency to channel 11 (or 2.4xx GHz I think). Now I do not have interference problems when someone is on the phone.
FINAL THOUGHTS
After over a week of satisfying experience with this adapter, I can proudly say that Linksys makes one of the best wireless devices out in today's market. I hear that NetGear makes some good ones also, but I have no experience with them yet. So as of now, I only have good things to say about all Linksys wired or wireless products. So do not wait any longer, go ahead and get out of those wires because it does not cost an arm and a leg anymore.