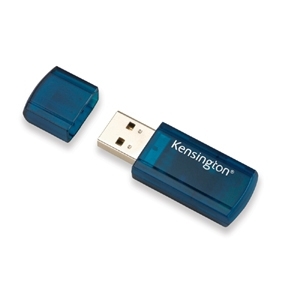 I think I have a Blue tooth...
Summary
A cheap and easy to use Bluetooth adapter…
Pros
Compact, easy to use, and no wires…
Cons
Some devices are a bit tough to configure…
After playing with all the other cool features of my new LG VX8100 mobile phone, I decided to test the Bluetooth capability. I already had my HP Pavilion ZT3280US which has Bluetooth built-in and I also bought my coolest new headset, the Motorola HS850. But I was not satisfied just yet; I wanted to be able to connect my phone to my desktop computer and backup the data on my phone for emergencies (which happened once already; I had accidentally reset my phone while playing with it). So I went to BestBuy and purchased this tiny Kensington USB Bluetooth adapter.
DESIGN
First of all, let me point out that the picture you see for this product is the incorrect picture but the specifications are correct. So let me describe the design of this unit. It is about 2 inches in length, about 3/4 of an inch in width, and just a little less than 1/2 an inch in depth; so it is very small. It will not disturb anything else plugged into your other USB ports. If you have some USB ports in front of your computer (like me), it would even be easier to use. It weighs between 5 and 6 ounces.
There is a very small FastLink button that allows you to connect your keyboard and mouse devices quickly. But I do not have a Bluetooth compatible keyboard or mouse so I will just not use it. It comes with a protective cap to cover the USB connector so no harm will come to it. This cap comes off easily but it does not fit on the back of the adapter like the pens we use or like the SanDisk Cruzer Mini 256 MB flash drive.
INSTALLATION
Well, it does not take much to install this thing and get it working. The instruction booklet says to remove any existing (Bluetooth) drivers from your computer and then install the drivers from the included CD. After the drivers are installed, just take the cap off and plug it into one of your computers available USB port. If the drivers are installed properly, your computer will automatically recognize the adapter. And if you have not noticed already, this is not a plug-n-play (PNP) device so you will definitely need the driver CD that is included in the package.
To install the drivers, just insert the CD in your CD-ROM drive and the driver installation program should start automatically (but if it does not, you can always browse to your CD drive and run it from there). Just follow the instruction on the setup program and complete the installation. If it requires you to restart your computer then do so without question.
CONFIGURATION AND USAGE
The first time is always the hardest because you are not sure what you are doing (Hmm?). No… seriously, once you have it set up properly the first time you will be all set thereafter. Since I wanted to connect to my mobile phone, it took me about 20 minutes to figure out how the whole thing worked. I also found a software program that downloads all data from my phone to my computer via Bluetooth.
If I wanted to connect to my mouse or keyboard then I would just use the FastLink button on the adapter itself to find, pair, and connect to the devices. But since I was connecting to my phone, I needed to use the Bluetooth Serial Port and configure the software to work with that port (COM3, COM4, etc).
Once everything is configured (found, paired, and connected), all you need to do is use whatever software you have to transfer, synchronize, and use the connected devices. When I am not using the Bluetooth, I unplug the adapter and store it. When I want to use it I just plug it in and the computer automatically detects and turns the service on.
RANGE, SPEED, AND COMPATIBILITY
The specifications say that this device has a range of up to 65 feet (20 meters), but it all depends on how much interference you have in the area between the adapter and the device you want to connect to. I get a good connection and speed when my phone is in the same room as my computer, but if I plug it in to charge in the next room (bedroom), I get half the strength and speed. I mean if I left my phone on the other side of the house, I would still get a connection but it would not be as strong. So for best performance, I would suggest keeping the device and adapter in the same vicinity.
The maximum transmission speed for this device is 723 Kbps (Kilo Bits per Second); that is faster than any dial-up, or some DSL connections. But I would not count on achieving this maximum speed because it all depends on the signal strength and the device you are connecting to (the device must be able to handle this speed too).
This adapter uses Bluetooth version 1.2 and it is also backward compatible with version 1.1 devices too. It can link up to 7 devices at once within its range. You can also do wireless networking with this adapter but I have not figured that out yet. I am in the process of trying to use my DSL connection (on my desktop) via Bluetooth from my laptop. I am pretty sure it is achievable; I just have to play around with it and figure it out. This requires time which I do lack.
WARRANTY
Kensington provides a 1-year limited warranty on this product. To obtain warranty service or more information, you can call their technical support at 1-800-535-4242 or 650-572-2700, or visit their website at kensington.com.
EXPERIENCE
I have been using this for about a month now and I have so far saved all my contacts from my mobile phone's memory to my computer. I can also download my pictures, video clips, and sounds too. Best of all, I can upload ring tones from my computer to the cell phone (I downloaded these from the Internet for free… don't ask me how).
I have not tried to use more than one device simultaneously because I just got too lazy. At one point I got my Motorola HS850 to work on my desktop to dictate an essay I wanted to write for my class. As of now, I am waiting for a Bluetooth iPod; just imagine the possibilities. That is a good idea; maybe I should patent this idea and make a lot of money. Well, let me finish this review while I work on that getting the patent.
FINAL THOUGHTS
I know that a lot of people do not know how Bluetooth works, but I did not know either until I tried it. I was skeptical at first too, but I tried it anyway. It beats plugging in wires to transfer files and data. So get yourself a Bluetooth compatible device and this adapter, and explore the endless possibilities.