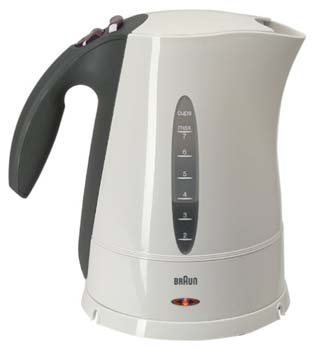 A warm cup of tea for the cold winter weather!
Summary
This electric kettle will heat up water quickly and easily.
Pros
Now you can make a quick hot drink without a microwave oven…
Two weeks ago my dad went to Sears and got this Braun Electric Kettle because he wanted a faster way to heat up water for his tea and other daily needs that he has. Now he can make his tea quickly in just two minutes.
WHAT IS IT AND HOW DOES IT WORK?
First of all, this is an electric kettle so you do not need a stove. Basically you can take it anywhere there is an available power outlet. It is perfect if you are in school or at work and want a really quick cup of tea. This unit will heat up water faster than your regular gas or electric stove. The specifications say that it can heat up a cup of water in just seventy (70) seconds. And since it holds a total of seven cups of water, you can literally heat up all seven cups in just about eight (8) minutes.
To use the Braun Electric Kettle you need to fill it with at most 7 cups of water, put it back on the base, and flick the switch to turn it on. Most of the time, you do not even have to open the lid to fill it up, but I would highly recommend it for faster fill. There is a button on top of the power button on the handle that pops open the lid. The lid opens towards you so it is easy to fill. After you have filled the kettle with the amount of water you want, just place it on the base and flip the power switch downwards to start the heating process. The red indicator light on the base will turn on to notify you that the heating process has begun.
That is all you have to do to get your water heated up because the unit turns off automatically when the water is at boiling temperature. In fact, it has a 4-way auto shut off feature. So if you empty the kettle, remove it from the base, open the lid, or when the water is boiled, the kettle will turn off automatically.
Another great feature I like is that when the kettle is resting on the base it can rotate all the way around (360 degrees) without any problems. So you do not have to worry about setting it on the base a certain way. Also, the water level indicator is designed so that you will be able to see how much water is in the kettle when the water is cold and hot (with steam) without any difficulty.
There is an Anti-Calcification filter attached to the lid to prevent limescale from being poured out of the kettle. The top of the kettle also has a large spout for easy filling without having to open the lid. The inside of the kettle is stainless steel which is covered by some kind of material so it is easy to clean.
EXPERIENCE
I have used this kettle extensively in the past two weeks to warm up water for my tea and coffee whenever I visit my mom and dad. My dad uses it to make his hot tea in just two minutes. My mom on the other hand uses it for cooking also. She uses hot water in some dishes she makes. The 1500 Watt power allows it to heat the water in the kettle really quickly (approx. 70 seconds per cup or about 8 minutes for 7 cups).
I have not had any disappointing experience with this unit as it always performs the way it should. I do not know if this unit is better or worse than any other because this is the first electric kettle I have used, but all I can say is that I would recommend this to everyone I know.
FINAL THOUGHTS
If you are like us and like tea or coffee fast, get one of these electric kettles and you will be all set. Get one for your office and another for your home. If you are a cook, you can speed up your cooking time with quick hot water. If you just want one single cup of tea, coffee, or hot chocolate it will literally take you about two minutes…