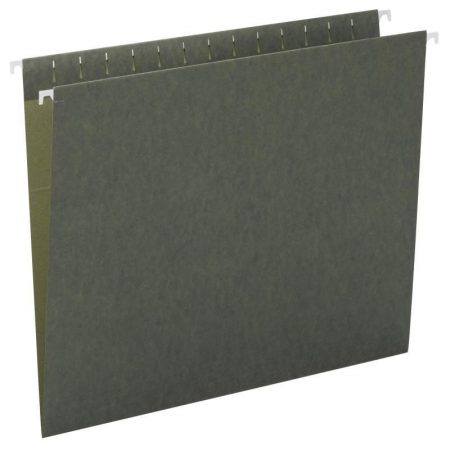 Simple Green File Folders...
Summary
One of the best hanging file folders for a price that almost anyone can afford.
Pros
Cheap, strong, and long lasting folders…
Cons
Sometimes the metal bracket easily bends or slides out…
After we finally ran out of our stock (acquired some 7 years ago from a closing business) of these Smead hanging folders, I had the chance to order more from officedepot.com. We use these folders for our customer fleet records; that means a lot of folders. I got these for about $6 a box of 25 folders which was a very good deal.
DESCRIPTION
These folders are letter-size hanging folders and are green in color. I mean for a small business like ours, we really do not care about the color if we can get these for cheap. These are about 11.5 inches in length and 9.5 inches in width. The inside and outsides of these folders are nice and smooth so whatever you place in them will not get damaged.
The folder paper on the top edges is folded in so that the metal bracket (hook) can slide through it and hold the folder while hanging. This metal is an inch longer than the folder so it sticks out about ½ an inch from both sides. These are designed so that they will fit easily over the rails of your filing cabinet or rack. The folded top edges also have grooves to insert the tabs (you can fit 5 tabs). A box contains 25 of these folders and clear plastic tabs to label the folders. Smead has also included an easy tear white paper insert to write your labels on.
EXPERIENCE
Our company has folders for each of our customers and their vehicles. We have a lot of customers at our locations so the number of folders being used increases. Even though we have come up with a way to reduce this by categorizing our customers as A, B, or C clients (A uses a lot of folders; B uses fewer folders; C uses less than 5 folders).
Last month we converted three of our big customers from B to A; which means adding a lot more folders. It took me two weeks to create all the folders and then I ran out. So after ordering more I finished the conversions the third week. We have so many of these folders that we are almost out of cabinet space because some of the folders are filled to the brim.
One thing I did notice with these folders is that the metal bracket that holds the folders when they hang tends to slide out sometimes when they get old. I think because they do not have any re-enforcements to support them like some of the newer versions.
We mostly store our work orders (about 2mm thick) in these folders and they fill up really quickly, but I have managed to get about a hundred work orders in there. After that, I have to join two or more folders with paper clips (yes our company is cheap) and split the contents.
I have never had the metal brackets break as a result of all the work orders stored in them. I think that is one of the best qualities of these hanging folders. Although, the ends of the brackets get bent easily; this is can easily be fixed with pliers or something.
I have staggered the plastic tabs on top so we can see the labels easily without them blocking each other. I use the included white paper tabs to make temporary labels for my folders, but then use Microsoft Excel to print labels and cut them out. I have also bought these Pendaflex Printable Tab Inserts that also fit nicely in these tabs. These inserts tear easily so I do not need to cut them out.
FINAL THOUGHTS
These Smead hanging folders are tough and cheap. So far I have never thrown away any of these folders because of damage or defects. These work great for all our filing needs because they are easy to set up and last a long time. They are also very cheap. Do not wait any longer; get a box or two for yourself or your company.