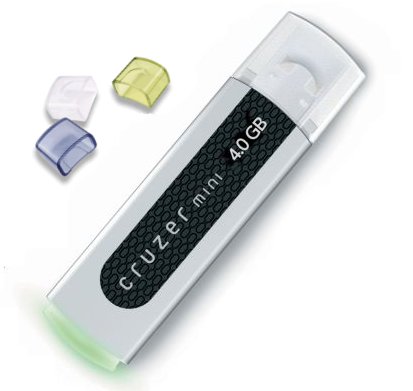 This cruzer will make cd's look obsolete!
Summary
This drive has all the space you need for all your stuff…
Pros
Compact, Fast, High Capacity, and Reliable…
After using the 128 MB and 256 MB Cruzer mini's, I finally got this SanDisk Cruzer Mini 4 GB flash drive just last week because wanted to have the ability to have some of my software utilities with me at all times.
I have an HP Pavilion ZT3280US laptop more than eight months ago for which I needed some way of installing the software I use without having to burn them on CDs. I just did not want to burn it on CD's and use it once. So that is where this flash drive comes in to play. I also use this to save my documents, songs, and other files. Since I shop at newegg.com a lot, I purchased this Cruzer Mini there for $256; I also had some discount coupons so I did save a few bucks.
WHAT IS IT?
The SanDisk 4 GB Cruzer Mini is a tiny storage device that plugs into your computers USB (Universal Serial Bus) port and behaves like any other removable storage drive. Since it is a plug-n-play (PNP) device, your computer will recognize it instantly and you will be ready to use it without needing to install any drivers or restarting your computer.
It works just like the floppy disk, but with a lot of improvements. Floppy disks can store 1.44 MB of information, but this Cruzer Mini holds 4 GB or 4096 MB. And unlike floppy disks these are small and your information is secure in the drive. Oh one more thing, these flash drives are much faster than any floppy disk or drive.
WHY I BOUGHT IT?
Since my laptop does not have a floppy disk drive, I have to use some other means to transfer information and data to it. I configured my laptop to connect to my home network which works very well, but I also needed something to store data on the go like at school or work.
Imagine if my laptop dies or the hard drive crashes, I will lose all data on it. But if I save all my important information, software, data on this Cruzer Mini, I will still have my information but will have to get the laptop fixed. Don't you just think that is a good idea? My laptop does have a CD/DVD-RW drive, but who wants to wait ten or maybe fifteen minutes to burn a disk to transfer information from one computer to another? I just use this flash drive and transfers are done in just about a flash.
DIMENSIONS
The SanDisk Mini Cruzer is about half an inch wide, two inches long, and less than a quarter-inch thick. Yeah… it is small enough. It only takes up enough space for one slot; you can plug in two of these flash drives side by side if you had the need for it. It comes with two different colored caps to protect the USB connector. There is a light in the back that notifies you that there is power passing through the flash drive when it is plugged in. Mine also came with a long strap to wear this flash drive as a necklace when I am on the go.
THE PACKAGE
The package includes the Cruzer Mini, two additional color caps (greenish and bluish), a neck strap, and a book of additional fun toys you can purchase that are made by SanDisk. I personally like the clear cap better because the other colors are crappy.
EXPERIENCE
I have used this flash drive for about a week now and I have a copy of a Microsoft Office Pro 2003 and I even put all my security software and all my documents on there. I still have enough room to install a whole operating system on it (even though it might not work). I have not experienced any trouble with this drive and nor have I lost any data. I think all my information, data, and software will be safe on this drive for a long time.
FINAL THOUGHTS
This Cruzer Mini is easy to use because it does not require you to install drivers, and it is faster than any floppy drive (47x). The drive compact size also makes it easy to store and plugin without disturbing anything else plugged into your USB ports. Best of all, you can almost use the Cruzer Mini on any computer with a USB port. If your computer has USB 2.0 compatibility than the transfer rate will be even faster. So do not worry a bit about these drives, just go and get one for yourself.