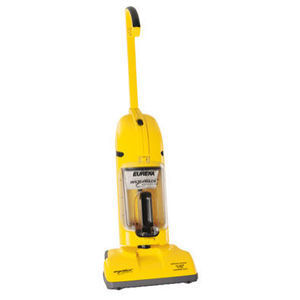 A bit loud but also powerful...
Summary
A very powerful, light weight, and compact vacuum cleaner…
Pros
Compact and light weight bag-less vacuum…
Cons
A lot of dust when cleaning the filter and a bit loud…
We used to have an old Eureka vacuum that died a few weeks ago and so we were out looking for a replacement. My wife and I went to K-Mart where we saw this Eureka 402A Bag-less vacuum on sale for about $40. I thought that was a very good deal and purchased it right away. And the rest is history…
WHY I BOUGHT IT?
There are usually a couple of things I look at before buying anything. The first and most important for me is the price. As for this unit, the price was just right for all the suction power that it provides. I mean if I did not like it, I could always return it and get all my money back. Secondly, I wanted a compact vacuum that had a lot of power and one that did not use any bags.
INSTALLATION
There is not really much to install or assemble because everything is pretty much assembled. All you have to do is insert the handle into the slot and unwrap the power cord. Now you are ready to vacuum…
USAGE AND CONTROLS
The Boss allows you to choose from two different settings: one is for carpeted floors and the other for bare floors (hardwood, vinyl, tile, etc). Like always I was excited to try it out just as I brought it home. Even though I hardly ever vacuum the house, my wife was pleased that I actually did some work around the house. I mean she does not know that I always want to be the first one to use a new product (that is just my lust for new stuff). To be honest, I did notice that it was a bit louder than the older vacuum I had, but I soon started to neglect that noise when I saw how powerful it was. After all, it has 16 amps.
The clear dust cup had lots of dirt just after vacuuming two rooms. I was surprised to see that much dirt, but I was also glad that this vacuum took those away from our dirty carpet. I mean, my wife used to vacuum our house every two to three days, but with this unit, we can go without vacuuming for a week (sometimes when we are lazy).
If you have allergies, I recommend you not cleaning the dirt from the dust cup because when you bang the filter against your garbage can there be some dust flying up in the environment. So for our health sake, I usually take the dust cap outside to our big garbage container to clean it thoroughly. I usually have to hold my breath to clean the filter.
There are no other attachments for this vacuum since it is just a simple upright vacuum. And for this amazing price, I have no complaints at all. I would have liked one of those hoses that can reach where this unit cannot. But I do not need it that bad.
FINAL THOUGHTS
I have used this vacuum for a little more than two weeks now and I can happily recommend it to everyone. This unit is small and very light so you do not have to struggle in tight spots around your house. I mean, have you ever tried to maneuver those bulky vacuums? This unit is very easy to lift and use than those other upright vacuum cleaners and on top of all that it has all the power, you need to get every single particle of dust out of your home. This is an old vacuum, but since it is popular, I have still seen it on store shelves selling for about $35. So do not wait any longer, go ahead and get one of these for your self.