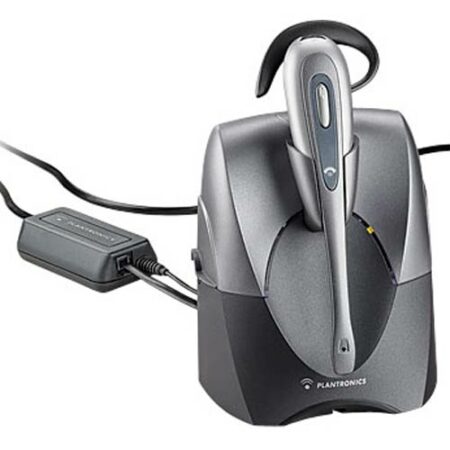 Life-saver for any Helpdesk...
I have been using this Plantronics CS-55H wireless headset at work for about two years now and it beats using the handset for any desk phone any day. I work in an ITS (Information and Technology Services) department and believe me when I say this: no one in IT can work without a wireless headset for their phone.
If you are in IT you will get tired of answering long phone calls from users complaining about just about everything. I didn't buy this headset, but my company did. I have been with my company for about two years now and this headset is still working without any problems. I answer helpdesk calls daily and sometimes I am on the phone for hours at a time; that's where this wireless headset comes in handy.
SETUP
The setup is a breeze for this headset. At work, our desk phones are IP Phones that have two handset jacks on the side. One can be used to plug in a regular wired handset and the other can be used with this wireless headset. So all I did was plug one end of the supplied phone line to the underside of the wireless headset base and the other on the side of my desk phone. Then I connected the AC adapter to the bottom also and plugged it into the wall. I chose the medium-sized ear loop and clipped it on the wireless headset and docked it to the base to charge. That's it. Once it is fully charged you can start using it.
QUALITY
The sound quality is noticeably better than what you would experience if you were talking with the regular handset. The voice quality is crystal clear and loud enough so you can hear the caller clearly even in a noisy environment. Believe me, I know – I work in a helpdesk environment. The headset is designed to fit comfortably on your ear so you won't have a sore ear at the end of the day. The volume control and mute feature are positioned conveniently so you can adjust the volume or quickly mute the conversation if you are away from your desk phone.
EXPERIENCE
During my work hours daily, I use this headset for about 6 hours. And being in IT, I am always on the phone and my hours vary daily. This headset works without a hitch and works every time. I sometimes walk to the restroom (more than 30 feet away from my desk) with it on and I can still hear the caller clearly. I usually mute myself when I do go to the restroom. But you can be on a call and go get some coffee and not be drowsy without your morning coffee to wake you up. There is no interference of any kind with this headset. The only thing I don't like about it is that the power button on the headset cannot be used to answer calls on our desk phone (it probably can be used this way on other phone systems). You have to purchase a separate lifter to do that. Otherwise, I am happy with everything about this headset.
FINAL THOUGHTS
I have been using this headset with our ShoreTel phone system at work and I have no complaints about quality or range for this wireless headset. Plantronics has lived up to its reputation once again and I believe they will keep up the good work. These are somewhat expensive but are worth every dollar. These are great for small to large businesses and they should also work well for at home too.