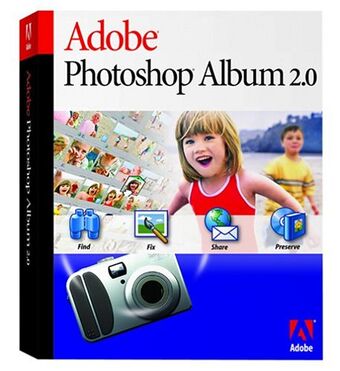 Your digital photo library at its best...
Summary
There may not be anything better than this…
Pros
Very easy to use and manage your photos with..
I came across Adobe Photoshop Album 2.0 when I purchased my SanDisk ImageMate 6 in 1 Card Reader and later my SanDisk ImageMate 8in1 Memory card reader. The software came with minimal functionality in the driver CD for the card readers. I installed it and tried it out for about six months and decided to purchase the full version to take advantage of the advanced features.
WHAT IS PHOTOSHOP ALBUM
Photoshop Album is a software package that lets you organize stored digital photos on your computer. It is very easy to use with a very user-friendly graphical interface. For example, if you want to organize some pictures from your hard drive all you do is, start the program up, tell the program where your pictures are stored, and that's it. Importing pictures is just as easy – clicking the "get photos from camera/card reader" menu option, and with a click or two, you have your pictures on your computer and in the albums library. I have used a lot of other software in the same category to manage my photos better, but so far I have only liked using Photoshop Album from that list.
Being a programmer, I could have written a program that did all this, but why waste time and effort when someone has already taken the time to create something that does the same job exactly the way you need it to.
SOME FEATURES EXPLAINED
Editing a photo is easy as well; just double-click on any photo and it will open the basic Photoshop Album editing tools (or you can even associate a link to have it open with Photoshop for more flexibility) which lets you change brightness/contrast, get rid of red-eye, and a few more nice features. It is not meant for professional quality image editing, but for everyday use for everyday people like me.
The slide show option and web gallery exporting are a huge plus. One of the nicest features for me is the calendar which allows you to view a monthly calendar for each date with your photos that you took during that period in time. If you have a website and want to post some of your pictures, just use the web gallery exporting feature and post it to your web site. The only downside to this is that it does not have that many nice looking templates for the website export. I have not yet tried creating one of my own, but I am pretty sure it will be fairly easy to do (if you know how to create a web page that is).
Version 2.0 addresses a lot of problems that were visible in version 1.0 if you look at the "What's New" link at Adobe's website. Some of the new features will allow you to move pictures to another part of your computer, and rename the folder easily and quickly. Photoshop Album will not make you manually find these pictures. You can also rename the high-level tag categories to whatever you wish.
FINAL THOUGHTS
I paid about $50.00 for the full version, but if you upgrade from version 1.0 you will only have to pay about $25.00. I would easily recommend this package over anything else in the photo organization category for this low price tag. If you want to give it a try before you buy it go to the following link and download the "Starter Edition" and see if this program can help you organize your pictures better.