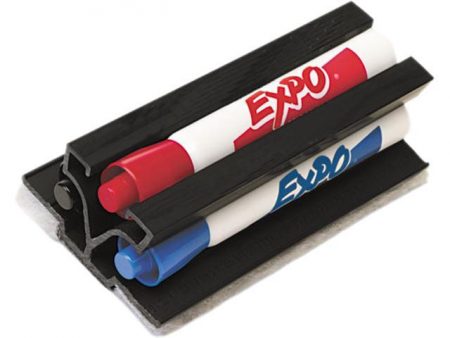 There really are great ideas floating around, you just have to find them!
Summary
This is one of the greatest ideas for the white-board technology!
Pros
Compact, light weight, self-adhesive, and on-board caddy.
I used this Sanford Expo Markaway3 marker and eraser set in at my old job almost every day. It is a quick and easy tool to use on a white-board when in any fast-paced business environment.
The on-board marker caddy that stores three markers is convenience; it does come with three markers (black, red, and blue). The eraser is easy to grip and use and you can also use the self-adhesive mounting strip to hold the eraser with all the markers on the board. The erasing pad is made of nylon so it scrubs away all the stains without scratching the board. The soft pile pad picks up dust and marker residue quickly and easily.
I checked online and they cost anywhere from $5 to $10. This is not bad because these will last a long time; you just have to replace the markers as they run out of ink. It is not much you need to do after you take it out of the packaging; you just unpack, and use it… that's it! Nice and simple!
THE MARKERS
The markers that come with this eraser are the regular Expo Bold Color Dry Erase markers. They have a protective cap that keeps the ink from drying and the nice and thick barrel makes a great grip. They usually last a long time with normal everyday use. The colors are bright and highly visible. And when they do run out, just replace them with new ones because they are cheap. Staples has them for around $1.25 each or about $5 for a four-pack. The cap on each of the markers will tell you the color of the marker; this is very helpful.
FINAL THOUGHTS
I personally think that this is one of the great ideas that make your job at the office a little less stressful. I mean who wants to worry about if the eraser will work during a presentation or a meeting. You do not want to look like a fool, do you? I guess not! So just get this and forget about it.