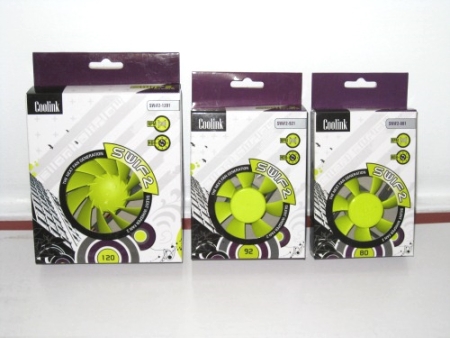 Name of the game is power!
Summary
Cheaper alternative to powerful and quiet cooling fans.
Pros
Very quiet, five year warranty and ultra inexpensive.
The best computer systems have the best cooling system. It takes multiple case fans and a powerful CPU fan to keep your system efficient. I am taking a look at three cooling fans from Coolink today to see how well they cool my case. The Coolink SWiF2 80, 92, and 120 are the cooling fans to be tested today.
LOOK AND FEEL
These fans are packaged in eye-catching and compact boxes so they don't take too much space and look good at the same time. The green, purple and black design is also cool looking. These fans have innovative 11-blade design with high-performance hydro-dynamic bearings, protective cable sleeving and also includes anti-vibration bolts and screws (as Coolink puts it). The overall build of the fans is strong and sturdy–they do not feel cheap and flimsy. Another thing worth mentioning is the impressive 5 year (or 60 months) warranty for these fans that cost you no more than $15. What that tells us is that Coolink cares a lot about its customers and is committed to providing excellent service (nothing loose anywhere).
TEST SYSTEM AND INFORMATION
I have installed all three of these fans in my Thermaltake Element S full tower case that houses the Asus M2N-E motherboard with the AMD Athlon 64 X2 6000+ processor and the Noctua NH-D14 CPU cooler. We don't have any sound/noise level monitor that we can use to accurately measure the dB rating when installed in the case. So we really can't go into any more details about the noise or sound levels. I will compare the sound level to that of some other fans we have tried and tested just so you get a feel of the differences.
TESTING AND EXPERIENCE
The performance of the SWiF2 801 (80 mm) is great and the noise is at a minimum. I was expecting it to be louder as smaller fans usually have to spin faster to push more air. It spins at 1500 rpm and pushes a lot of air but as quietly as possible (Coolink's unique blade design is responsible for that). As for the SWiF2 921 (92 mm) fan, it also performed great while pushing a lot of air and keeping the noise down. It also spins at 1500 rpm but is not as quiet at the 80mm (probably because of its larger size). Now the SWiF2 1201 (120 mm) fan is very impressive because it pushes a lot of air and keeps the noise down while only spinning at 1200 RPM. I can directly compare this to the Noctua NF-S12B FLX cooling fan. The 1201 pushes a little bit more air than the NF-S12B but keeps the noise level at around the same (maybe a little louder). I installed the 1201 at the back of the Element S case (exhaust) and the 801 and 921 on the front to cool the hard drives (intake). These fit fine without any issues in any of the spots. The overall noise output is a lot less with these Coolink fans (compared to the supplied case fans from Thermaltake). The Element S case is quiet but now it is even quieter with these new cool and quiet fans.
FINAL THOUGHTS
I had been waiting to see if I can find fans that can compare to the Noctua FLX series and I finally found them. These Coolink fans are quiet, very good at pushing air, and also costs less too. Coolink probably is a very big name in the cooling industry but I think all that is about to change. They are very quickly going to be counted with the big guns–their cooling fans speak for themselves. This is an excellent choice if you need some additional cooling in your system without noise. Now if we could just add some LEDs (maybe green), gamers and enthusiasts would adapt it quicker. The 801 costs about $11, the 921 is about $13 and the 1201 is around $15 so don't wait any longer make your system quiet and cool now. We highly recommend this fan to anyone looking for exceptional cooling power with the packaged noise as with other cooling fans.