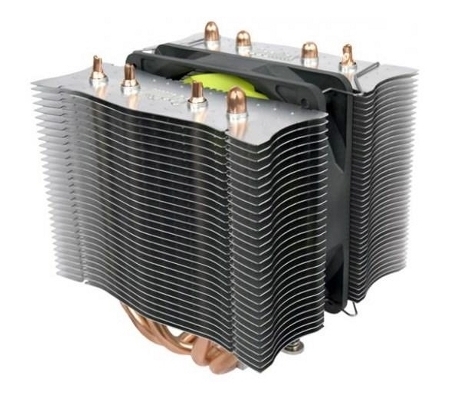 Another great CPU cooler!
Summary
Very good CPU cooler that doesn't cost an arm and a leg with very good performance.
Pros
Very good cooling, inexpensive and not huge.
Cons
Installation takes some time. Somewhat hard to find in the US.
We all know that heat is our computer's worst enemy, so having a better CPU cooling solution can help improve your CPU's life and allow for better overclocking. We try to test as many CPU coolers as we can so you can compare and decide for yourself on the one you want or need. Today, we will look at the Coolink Corator DS CPU cooler that has four heat-pipes and a SWiF2 120mm high-performance fan.
This CPU cooler is designed to fit on AMD or Intel-based motherboards (like most other aftermarket CPU coolers) and also in most cases without any issues. So we installed this in our Thermaltake Element G case on the Asus M2N-E motherboard running the AMD Athlon 64 X2 6000+ CPU (overclocked to 3.35 GHz). So let's see how this cooler holds up against other cooling solutions in the industry from Noctua and Spire. We will compare all our results with these other coolers and also the stock AMD cooler as usual.
LOOK AND FEEL
The Corator DS is also one of the slightly big CPU coolers but it is not as big as the Noctua NH-D14. It's made up of a copper base and heat-pipes, but aluminum cooling fins. There are a total of four heat-pipes that run through the cooling fins and end up at the base to cool the CPU. Coolink included their high-performance SWiF2 120P 120mm fan to go with this cooler. That fan is pre-install in the middle of the two stacks of cooling fins. You can use different fans if you wished because the fan is easy to remove. The fan has a 4-pin motherboard power connector.
My Asus M2N-E mobo has a built-in cool and quiet feature that automatically adjusts the CPU cooler fan speed depending on the CPU temperature. This keeps the noise level to a minimum at all times. Unlike Noctua, Coolink doesn't include Low-Noise adapters that lower the fan speeds, but the fan is PWM controlled so you can easily change the speed using various utilities and/or the bios. The four heat-pipes run throughout the heat-sink. From the base, they form a U form or shape so they go through both sets of cooling fins. A tube of the Chillaramic thermal compound comes with this CPU cooler but is not pre-applied on the cooler. There are spring-loaded screws pre-built on the base that will be used to secure the heat-sink to the motherboard.
THE INSTALLATION
The installation is very similar to that of the NH-D14–it basically comes with similar (if not the same) installation parts. Since I had already installed the NH-D14 and the Corator came with the same mounting bars, I just used the Noctua parts and installed the Coolink heat-sink on top of it. Like I said, I installed this on my Asus M2N-E motherboard and AMD Athlon 64 X2 6000+ CPU. But you would have to remove your motherboards retention module but don't lose the back-plate. Then you would install the curved mounting bars with the plastic spacers making sure the curved sides of the mounting bars are pointed inwards (towards the CPU itself). Once you have the bars install, just apply the Chillaramic thermal compound or any other compound of your choice on the CPU (as recommended) and place the cooler/heat-sink on it with the fan removed. Make sure the plastic cover for the base is removed before placing it on the CPU. Now, screw the heat-sink to the mounting brackets with the built-in screws. Make sure the screws are tight, but no too tight (you don't want to break your board). Once the heat-sink is secure, you can attach the fan back on but make sure that the airflow arrow points outwards or towards the back of your case. Now plug in the 3-pin power connector to your motherboard and you are done.
TEST SYSTEM
| | |
| --- | --- |
| Motherboard | Asus M2N-E |
| CPU | AMD Athlon X2 64 6000+ |
| RAM | 4 x 1GB Kingston |
| Graphics Card | PNY Verto GeForce GTS 250 1GB |
| Storage | Western Digital 320GB SATA |
| Power Supply | Arctic Cooling Fusion 550R 500W |
| Thermal Compound | Coolink Chillaramic |
| CPU Cooler | Coolink Corator DS |
| PC Case | Thermaltake Element G |
| Operating System | Microsoft Windows 7 Enterprise 32-Bit |
TEST METHOD
First, I will test the system at idle by leaving it idle for 30 minutes. Then I will perform a load test using CPU Burn-in v1.01 for 30 minutes also. I will use SpeedFan v4.40 to measure the temperatures. I will then compare the results with Spire TherMax II and Noctua NH-D14 CPU cooler results to see which performs the best. If time permits, I will also test the AMD stock fan and compare all results together.
PERFORMANCE
So, looking at the results, we can clearly see that while the Coolink Corator DS didn't beat the Spire TherMax II or the Noctua NH-D14, it did come very close performance-wise. But as expected we did see a huge improvement over the stock AMD heatsink. The Corator has potential and can do better (maybe with a better performing fan) but in any case, it does come very close to the big guns. Even with one fan, the results are very close when compared to the NH-D14. As for noise, it is not as quiet as the Noctua fans, but it is way quieter than the TherMax II. It's neither loud nor quiet — well-balanced noise levels.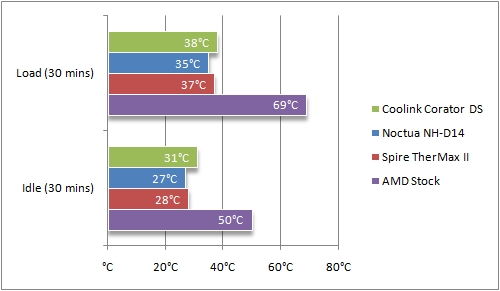 FINAL THOUGHTS
The Coolink Corator DS CPU cooler is a very good choice for any computer setup, especially a budget system. The performance is really good and the fan is very quiet. The overall installation was fairly easy but not as easy as one would expect (not tool-free installation). The fan provides awesome cooling even if you overclock your CPU (which I did). The cooler performed very well in all our tests and it beat the AMD stock and Spire TherMax II coolers. While it didn't beat the Noctua NH-D14 cooler, it did come pretty close even with only one fan. I would highly recommend this CPU cooler for anyone looking to replace their stock heat-sink with something that can handle a lot more without making a huge dent in your wallet. This cooler can also beat some of its competition easily. The MSRP for this is around $60USD (I can't give you the lowest price because I couldn't find it online) which is around $25 cheaper than the Noctua. I am giving this CPU cooler 4.5 out of 5 because of the performance and low noise.
Yes, we have very competitive pricing plans and accept a variety of formats. Please contact us for more details.
Yes, you can. Just use the contact us form to send us a message and we will consider reviewing the product. It does depend on a few factors such as product availability, funding, and time.
Please provide as much of the following information as possible:
Manufacturer Name
Manufacturers Website
Product Name
Product Model / Serial Number
A link to the product itself
Unfortunately, we do not accept user reviews at this time. But feel free to voice your opinion in the comments section of recent articles.
We do, however, have plans to implement this feature in the future.
Yes, please contact us for more details.
Please note that we test and review all products fairly and will not change our review and rating of products.
No, we do NOT sell anything on BayReviews. And we will never sell anything on BayReviews. We do, however, display ads that may direct you to other sites that probably do want to sell to you.
We buy products we review because we review what we own first.
We do, however, sometimes receive review samples but we still test and review everything fairly. When a review sample is provided by a partner, they cannot dictate how the review will turn out.
Our review and ratings are always based on our testing and experiences with the products.
All reviews on BayReviews are written by the editor-in-chief and our very knowledgeable staff writers and editors.