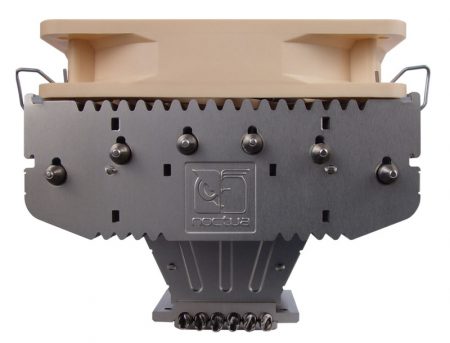 Compact Design with Excellent Cooling Performance!
Summary
Very good cooling, ultra quiet with 6 heat pipes and a 6 year warranty.
Pros
Very silent performance, easy installation, six heat-pipe design and comes with L.N.A and U.L.N.A adapters.
If you are building your computer or even just upgrading your CPU, it's very important to pick the right CPU cooler that will not only keep your CPU cool but also keep the noise level to a minimum. Because who needs extra noise from their computers if you don't have to have it? Not me!
That's where Noctua cooling fans come into play. They not only perform great but also keep the noise level down. So it's just a no-brainer to use Noctua fans to cool your CPU. Better yet, use a Noctua CPU cooler with a Noctua cooling fan and you have an excellent combination there. I have tested many Noctua products and they are always high quality. Noctua always focuses on less noise and better performance and it shows. Today we are taking a look at the Noctua NH-C12P CPU Cooler which is the younger sibling of the Noctua NH-U12P. Want to see how it performs?
LOOK AND FEEL
Unlike other CPU coolers I have tested from Noctua and other manufacturers; this one is much more compact so it will fit in almost all cases. The base and heat-pipes on the NH-C12P are made of copper, the cooling fins are aluminum and have soldered joints and nickel plating. The six heat-pipes run through the aluminum fins from one side to the other and goes all the way down to the base of the cooler that comes in contact with the CPU to cool it. Noctua included an NH-P12 (120mm) cooling fan along with this CPU cooler. This fan is designed to provide excellent cooling at low to ultra-low speeds (RPM). The fan has the standard 3-pin motherboard power connector. Noctua also includes Low-Noise and Ultra-Low-Noise adapters to run the fan at lower speeds and reducing the noise even more. So you have noise issues, I would suggest trying the L.N.A first and the U.L.N.A adapter if needed to reduce case noise. I don't use the adapters because the noise does not bother me at all. The NT-H1 thermal paste is also included in the package but is not pre-applied on the heat sink, but that's no biggy.
INSTALLATION
As always with any/most Noctua CPU cooler, you need to change the backplate on the motherboard to use their CPU coolers, so the installation is not as easy as you would like it to be. I installed this on my Gigabyte GA-870A-UD3 AM3 motherboard which has an AMD Phenom II X4 965 processor installed on it.
First, you need to remove the retention module by unscrewing it from the top but making sure that you don't lose the back-plate. Then you will need to attach the curved mounting bars (with the plastic spacers) supplied by Noctua for AMD boards. Just make sure that the curved sides of the mounting bars are pointing inwards (towards the CPU).
Now, just apply the NT-H1 or any other thermal compound of your choice on the CPU and place the cooler on it with the center fan removed (oh, make sure the plastic cover is removed from the base of the heat-sink). Now, comes the tricky part of screwing the heat-sink to the mounting bars. You have to secure the two screws to the screw threads of the mounting bars (tightly, but not too tight). Once the heat-sink is secure, you can attach the center fan back on (just clip it back on exactly as you removed it). Connect the power connectors to the fan power connectors on your motherboard or you can use the Y split cable to connect both fans to one CPU fan power connector on your motherboard. That's all, you are done.
TEST SYSTEM
| | |
| --- | --- |
| Motherboard | Gigabyte GA-870A-UD3 AM3 (USB 3.0) |
| CPU | AMD Phenom II X4 965 Black Edition 3.4GHz (4 cores) |
| RAM | G.Skill Ripjaws Series 4GB (2 x 2GB) 240-pin DDR3 PC3 12800 |
| Graphics Card | PNY GeForce Verto GTS 250 1GB |
| Storage | Seagate Baracuda 320GB SATA (3.0 Gb/s) |
| Optical Drive | Sony CD/DVD RW |
| CPU Cooler | Various Intake and Exhaust Cooling Fans |
| Power Supply | Thermaltake Thoughpower XT 775W |
| PC Case | Thermaltake Element G |
| Operating System | Microsoft Windows 7 Enterprise 64-Bit |
TEST METHOD
First, I will test the system at idle by leaving it idle for 1 hour. Then I will perform a load test using CPU Burn-in v1.01 for 1 hour also. I will use Gigabyte's EasyTune 6 (ET6) utility to monitor the temperatures. I will then install the Noctua NH-C12P CPU cooler and perform the above tests again. Then we will compare the Stock heat-sink and NH-C12P test results along with some other CPU coolers to see how much improvement we actually get. I will not be able to compare it with any other CPU cooler because this is a totally different test system.
RESULTS
Looking at the results, we can clearly see that while the NH-C12P is way better than any stock cooler and also better than the Evercool Transformer 4, it cannot beat the higher-end Noctua NH-D1 or the Spire TherMax II in performance. This is expected because this is a smaller cooler with only one fan while most high-end CPU coolers have two for greater airflow and thus resulting in better overall cooling performance. Just like the NH-D1 the NH-C12P is much quieter than other CPU coolers in the market because of the higher quality fans they use.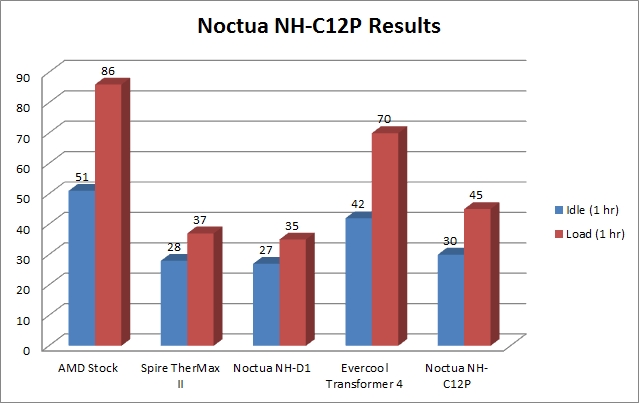 At idle, the stock AMD CPU cooler ran the CPU at 51oC, Spire TherMax II at 28oC, NH-D1 at 27oC, Transformer 4 at 42oC, and the NH-C12P at 30oC on average after one hour. At full load, the stock AMD CPU cooler ran the CPU at a boiling 86oC, Spire TherMax II at 37oC, NH-D1 at 35oC, Transformer 4 at 70oC, and the NH-C12P at 45oC on average after one solid hour. While the NH-C12P is not the greatest at cooling, it will, however, keep your computer cool for average everyday use. For overclockers, I would always recommend getting high-end air coolers or water coolers.
FINAL THOUGHTS
The Noctua NH-C12P CPU cooler is an excellent choice for any average computer setup. Performance is excellent and the fan is ultra-quiet. The overall installation was fairly easy but not as easy as I would have expected (not tool-free installation). The fan provides awesome cooling even but I wouldn't recommend this for overclocking. The cooler performed very well in all our tests and it beat the AMD stock and Evercool Transformer 4 coolers without any issues. Overall, the Noctua NH-C12P is a smaller cooler which is also ultra-quiet and provides very good cooling. I would highly recommend this CPU cooler for anyone looking to replace their stock heat-sink with something that can handle a lot more. This cooler can also beat some of its competition out of the water. The lowest price I found online for this was around $50 USD which might be fit the budget of the everyday user. I am giving this CPU cooler 5 out of 5 because of the performance and no noise and I would also like to present it with our Highly Recommended award.