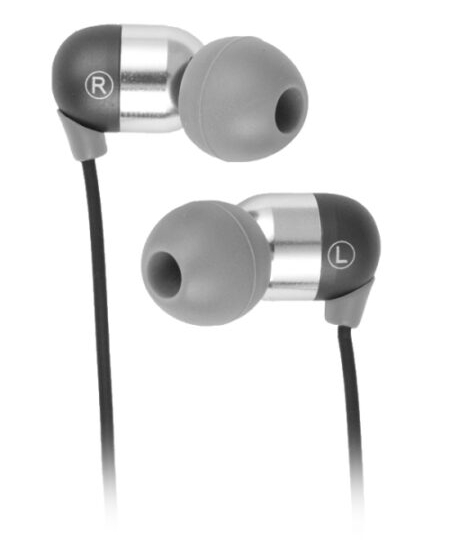 All I Gotta Say is Boom Boom Pow!
Summary
Very good sound quality, comfortable fit and endless compatibility.
Pros
Great headset with tons of bass.
Cons
Hard to find in the US.
I recently had a chance to check out these headphones by Arctic Cooling and I have to say, they are awesome. If you like bass, this is a must-have. It also has outside noise cancellation so you can enjoy your music even more.
THE PACKAGE AND DESIGN
The package contains a carrying case, the headphones, and the two other sets of silicone caps (with the medium set already attached to the earbuds). Also included are the "Y" split adapter that allows the use of the microphone (it splits the mic from the audio), a small clip to keep the microphone against your shirt, an Arctic Cooling sticker, and a ten-language product manual.
These headphones look slightly different as the earbuds are curved for a better fit. The carrying case also a very nice touch as it looks good while keeping your valuable headphones safe. It is small enough to fit just about anywhere. Looks like AC wanted to stand out with their design and they did a very good job. The three sets of silicone caps give you the flexibility and comfort you for long hours of use. The "Y" split adapter comes in handy when you need to plug this into your computer to separate the audio-in from audio-out.
THE SETUP
Well, there really isn't anything to set up. All you have to do is take the headphones out of the box, hook it up to your iPod, MP3 Player or computer and attach the silicone cap that's most comfortable for you and plug the earbuds in your ear and you are all set.
USAGE AND TESTING
I had a chance to test this headset with my work computer, my home computer, and my iPhone. I now carry this headset (in the provided carrying case) everywhere I go because this is a great headset. I've tried other headsets and it doesn't match up to the sound and quality of this headset. (You may need to adjust the equalizer on your media or mp3 player if the bass is too much or not enough).
You will be surprised by how much bass this headset has. I also use some cheap headsets and I can tell you that these are worth every penny. I had never expected this kind of bass from these tiny headsets. The quality of the sound coming out of these earbuds is also crisp and clear. There is also a built-in mic that you can use, well as a mic to record stuff or as a hands-free system with your phone. You are going to get excellent sound quality with minimal background noise. You will not notice any static or echoes during phone calls with the E361. The earbuds are soft and comfortable so they won't irritate your ears with long hours of usage.
FINAL THOUGHTS
After using this headset for a few days, I am very pleased to say that the sound, quality and not to mention the bass are very impressive. The soft silicone caps make the headset comfortable so you can enjoy your music with whatever you doing and don't have to worry about having sore ears or anything. I am not sure how much these cost in stores, but the Arctic Cooling website says the MSRP is around $52 (if you do a little research, you may find better deals). I would recommend this headset for anyone looking for a good quality headset with tons of bass.
Yes, we have very competitive pricing plans and accept a variety of formats. Please contact us for more details.
Yes, you can. Just use the contact us form to send us a message and we will consider reviewing the product. It does depend on a few factors such as product availability, funding, and time.
Please provide as much of the following information as possible:
Manufacturer Name
Manufacturers Website
Product Name
Product Model / Serial Number
A link to the product itself
Unfortunately, we do not accept user reviews at this time. But feel free to voice your opinion in the comments section of recent articles.
We do, however, have plans to implement this feature in the future.
Yes, please contact us for more details.
Please note that we test and review all products fairly and will not change our review and rating of products.
No, we do NOT sell anything on BayReviews. And we will never sell anything on BayReviews. We do, however, display ads that may direct you to other sites that probably do want to sell to you.
We buy products we review because we review what we own first.
We do, however, sometimes receive review samples but we still test and review everything fairly. When a review sample is provided by a partner, they cannot dictate how the review will turn out.
Our review and ratings are always based on our testing and experiences with the products.
All reviews on BayReviews are written by the editor-in-chief and our very knowledgeable staff writers and editors.