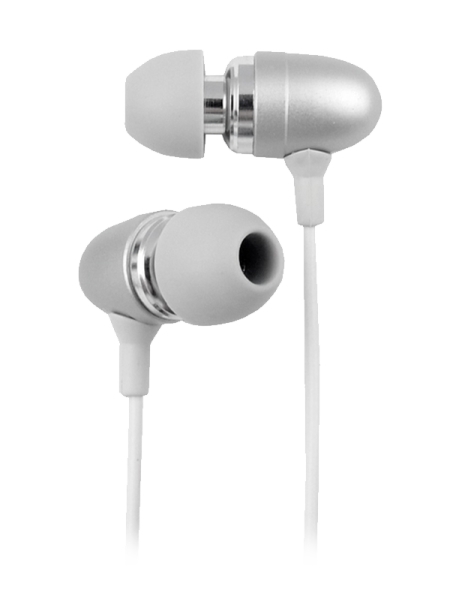 Mind-Blowing sound and a great fit!
Summary
Very good sound quality, comfortable fit and endless compatibility.
Pros
Comes with 3 sets of buds. Built-in mic. Good bass.
Cons
Hard to find in the US.
When it comes to listening to your favorite music through earphones, you want the best possible sound quality, a comfortable fit, and minimum background noise. So try the Arctic Sound E351-WM earphone (by Arctic Cooling) now and forget about sore ears later.
Arctic Cooling boasts that their headset delivers strong, deep bass better because of its unique aluminum chassis which transfers precise and dynamic sound to give you a life-like experience. They put in large driver coil leads that result in better bass performance from small earphones. So let's see what it's all about and what it can do.
THE PACKAGE AND DESIGN
The box includes the Arctic Sound E351-WM earphone, three sets of silicone caps or buds (small, medium, and large), a carrying case, and a 'Y' adapter cable that will split the mic and audio for PC use. The package also includes a little clip that you can snap on the earphone wire and clip it on your shirt or top so the mic stays in place. And there is also an Arctic Cooling sticker that you can stick on your computer or media player if you really like this earphone.
THE SETUP
Besides taking it out of the box, you do have to plug in the earbuds (silicone caps as they call it) to the earphones. Once that's done, you can plug it right into your phone or media player and start listening to your music or making calls. But if you want to use it on your computer, then you will have to use the 'Y' adapter to split the audio and mic and plug them into each of their respective port. Then when you are done, just wrap it up in the carrying case and you are ready to go anywhere with the E351.
USAGE AND TESTING
I personally use this earphone with my Blackberry Storm I, my work laptop (Lenovo Thinkpad X301), my iPod classic 60gb and my desktop computer at home. I carry it in my work bag so I can use it at work during the day so I don't get bored and then I bring it home so I can listen to my music while I test and review products. I sometimes use this in my car with my Blackberry Storm to make phone calls. When I travel, I like to have my iPod with me to pass time and a good set of earphones is a necessity.
So I carried this around with me for a few days (in the provided carrying case of course) to see what it is capable of. And I am stumped to tell you that this earphone has got some wicked bass. Bass is a very important part of any sound system for me and for you as well I assume. I have used a lot of earphones, headsets, and headphones in my days (not that I am old or anything). But the sound quality and the bass you get from this is unbelievable. I mean, you wouldn't expect such kind of bass from these little earbuds. You will be surprised by the quality and clarity of the sound coming out of the E351.
Now, this earphone also has a built-in mic that will allow you to use it as a hands-free system with your phone or use it on your computer to record your voice. Either way, you are going to get great sound quality with minimum background noise. There will be no echo when you make calls and your voice will be crystal clear (clear as a whistle). I leave this on my ears while I drive and I also have it on all day at work. Usually, I get sore ears if I have headsets, earphones, or headphones on for too long, but I had no such issue with this E351. The soft silicone caps help in making the earphones comfortable so you can wear them and not have to worry about anything.
FINAL THOUGHTS
So after my extensive testing with my daily routine for a few days, I am very impressed with the quality of sound that comes out of these earphones. The very comfortable fit also helps me relax and enjoy my music and not worry about my ear itching or paining. The bass is another thing worth mentioning because you will not get enough of it. Well, if you like bass that shakes other people's brains out then this might not be for you, but if you are normal as the rest of us then you can appreciate the quality, clarity, and the bass. I am not sure how much these headsets cost but Arctic Cooling's website says the MSRP is around $42 (though you may be able to find it cheaper). I would like to recommend this to anyone looking for great quality and very good bass on little earphones that you can carry anywhere with you.