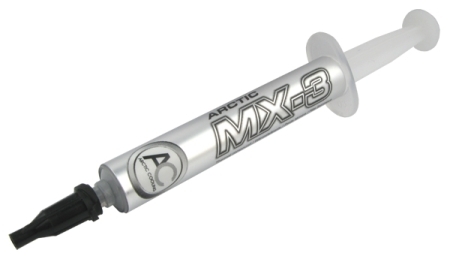 Excellent Cooling Choice!
Summary
The best thermal compound we have tested so far.
Pros
Excellent performance, easy to apply and take off and long lasting.
After testing the Arctic Cooling MX-2 last time, we wanted to see how if the MX-3 thermal grease was really better or not. Thanks to Arctic Cooling for sending us a 4g syringe of their MX-3 thermal compound for testing. Although thermal compounds are a very small part of any cooling setup, they are extremely crucial. They help to better connect the heat-sink with the CPU to transfer heat effectively out.
If you don't use the right thermal paste/grease/compound, you may not be able to achieve the cooling power that you would with it. The MX-2 did really well in our tests so let's see how the MX-3 holds up against it and the Noctua NT-H1 compounds.
TEST SYSTEM
We will test this on the same system that we tested the MX-2 and NT-H1 on for consistency :
| | |
| --- | --- |
| Motherboard | Asus M2N-E |
| CPU | AMD Athlon 64 X2 6000+ |
| Cooling | Spire TherMax II CPU Cooler |
| RAM | 2 x Corsair 1GB PC3200 DDR |
| Storage | Western Digital 320 GB SATA |
| Graphics Card | PNY Verto GeForce 7600 GS 256MB PCI-e |
| Power Supply | Dynex 400 Watt |
| PC Case | AZZA Helios 910R Mid Tower Case |
| Operating System | Microsoft Windows 7 Enterprise |
TESTING
We have already tested the Arctic Cooling MX-2 and the Noctua NT-H1 thermal greases on the same system so this time around we will only test the Arctic Cooling MX-3 thermal grease and then compare it with our previous results.
To test the MX-3 thermal grease, we will measure the temperatures of the CPU at both idle and on load with SpeedFan v4.40. To test at idle, we will leave the computer running for an hour without running anything else and then take the temperature measurements. To test at load, we will use CPU Burn-in v1.01 for an hour to load the CPU to 100% and then record the temperatures. Now before we get to the results, I would like to say that I do expect the MX-2 and MX-3 results to be very close. I don't expect to see a huge difference in temperatures at all.
RESULTS
So as I had expected/predicted, the MX-3 did perform a little better than the MX-2 and the NT-H1. So the MX-3 absolutely improves on the MX-2 technology and keeps your CPU running even cooler. At idle, there was only a difference of 2 degrees between the MX-3 and MX2–3 degrees between the MX-3 and NT-H1. But at load, there was only a difference of 1 degree between the MX-2 and MX-3 and the NT-H1. The MX-3 even performed better than the Tuniq TX-3 (34oC) at idle, but the load temperatures were the same.
I am very impressed with how the MX-3 performed against its predecessor (the MX-2) and the competitor (Noctua NT-H1). I would personally use the MX-3 for all my setups from now on since it is the best performing thermal compound (between all of the thermal compounds that I have tested). Now all I need is to test the Arctic Silver 5 and compare it against all of these.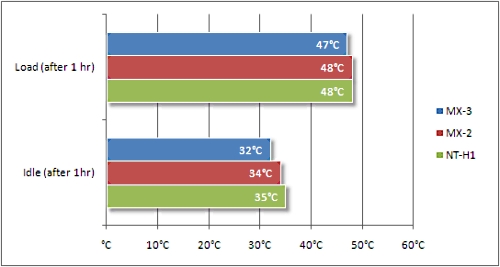 EXPERIENCE
The Arctic Cooling MX-3 has a very smooth texture that allows easy application, just like the MX-2. All you need is a thin layer to allow the heat to escape quickly from the CPU. But you don't have to apply a thin layer, just drop a blob of it in the middle of the CPU. No need to use anything but the syringe that it comes in to apply. Then, install the heat-sink on it and you are good to go (though you may need to wiggle it a little bit so the compound spreads evenly under it). It is also very easy to clean off, unlike the Arctic Silver grease that I used to use back in the days. Just make sure that when you do apply or clean off, to not get any thermal compound on the CPU pins (believe me it happened to me). Anyways, I got very good results with the AMD Athlon 64 X2 6000+ processor. The 4g syringe of MX-3 costs about $10 online.
FINAL THOUGHTS
The test results came out as expected–the MX-3 indeed performs better than its predecessor, the MX-2, but not my very much. Nonetheless, winning is winning whether it's by a mile or by a foot. Therefore, I would highly recommend this MX-3 thermal compound to anyone wanting something that goes on easy, works great, and lasts long. I would also like to present this thermal compound with our Best Buy award because it is worth every penny that you would pay for it. You seriously don't have anything to lose with the MX-3.