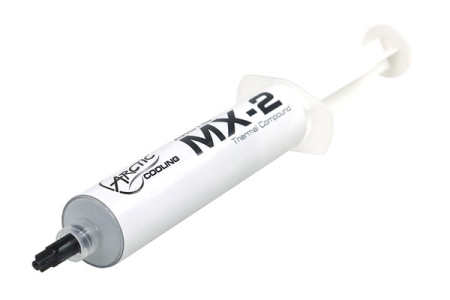 Another one of the best!
Summary
Worth every penny you spend on it.
Pros
Easy to apply/clean, not expensive and long lasting.
Cons
Still has room for improvement.
Thermal grease increases the thermal conductivity between your CPU and the heat-sink. Each thermal compound is different and choosing the right one will keep your CPU running a few degrees cooler. It may not mean much, but if you are an overclocker or modder than you know how precious each degree or even a fraction of a degree is.
A good thermal compound should be easy to apply, take off but should also perform at its best in all conditions. It should also last for a long time and should not harden or glue the heat-sink to the CPU. Now, to see what the Arctic Cooling MX-2 can do, we put it to the test against the Noctua NT-H1 thermal grease. Let's see how they perform.
TEST SYSTEM
| | |
| --- | --- |
| Motherboard | Asus M2N-E |
| CPU | AMD Athlon 64 X2 6000+ |
| RAM | 2 x Corsair 1GB |
| Graphics Card | PNY Verto GeForce 7600 GS 256MB PCI-e |
| Storage | Western Digital 320 GB SATA |
| CPU Cooler | Spire TherMax II CPU Cooler |
| Power Supply | Dynex 400-watt |
| PC Case | AZZA Helios 910R Mid Tower Case |
| Operating System | Microsoft Windows 7 Enterprise |
TESTING
To test the MX-2 thermal grease, we will measure the temperatures of the CPU at both idle and on load using SpeedFan v4.40. To test at idle, we will leave the computer running for an hour without running anything else and then take the temperature measurements. To test at load, we will use CPU Burn-in v1.01 for 1 hour to load the CPU to 100% and then record the temperatures. We will also test the Noctua NT-H1 thermal compound the same way just to be able to compare and see the differences. I would have liked to have tested the Tuniq TX-3 thermal compound along with these two but I had run out of that one. I will probably post results for that in my later reviews.
RESULTS
Wow, what a surprise this was! The results turned out to be very similar. I had thought that this one was going to at least beat the other by at least a few degrees, but here the temperature readings were almost identical. When at idle, there was only a difference of 1 degree where the NT-H1 was 35oC and the MX-2 was 34oC. But at load, there was no difference to be noticed. Both readings were at 48oC surprisingly. For a little bit, I thought I had made a mistake and used the same compound for both tests, so I had to re-run the tests to see if I was wrong or the results were really identical. But to my surprise again, they were identical. So, I averaged the temperature readings out that got the results as mentioned.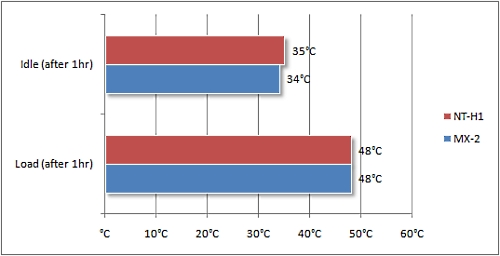 EXPERIENCE
The MX-2 has a very smooth texture that allows easy application. All you need is a thin layer to allow the heat to escape quickly from the CPU. But you don't have to apply a thin layer in this case. All you need is a blob or a drop in the middle of the CPU. No need to use anything but the syringe that it comes in to apply. Yes, you can throw away that little piece of cardboard that you used with the Tuniq TX-3. Then, install the heat-sink on it and you are good to go. It is also very easy to clean off, unlike the Arctic Silver grease that I used before.
Arctic Silver grease is very hard to wipe off and it gets all over your hands and sometimes on the processor itself (any thermal compound is hard to clean off of the pins of the processor, so make sure you don't get any on there). I got very good results with the AMD Athlon 64 X2 6000+ processor. The MX-2 costs about $30 online for the 30g syringe. 30g will last you a very long time. You can apply it to many different computers.
FINAL THOUGHTS
The test results were very surprising and the only difference was at idle by only 1 degree. Therefore, I would highly recommend this MX-2 if you want something that goes on easy, works great, lasts long, and comes in a very big syringe. This 30g syringe even comes out to be cheaper if you take the cost and divide it by the number of regular 4g syringes. So it turns out to be roughly $4 per 4g which is about $2 cheaper. You seriously don't have anything to lose here.
Yes, we have very competitive pricing plans and accept a variety of formats. Please contact us for more details.
Yes, you can. Just use the contact us form to send us a message and we will consider reviewing the product. It does depend on a few factors such as product availability, funding, and time.
Please provide as much of the following information as possible:
Manufacturer Name
Manufacturers Website
Product Name
Product Model / Serial Number
A link to the product itself
Unfortunately, we do not accept user reviews at this time. But feel free to voice your opinion in the comments section of recent articles.
We do, however, have plans to implement this feature in the future.
Yes, please contact us for more details.
Please note that we test and review all products fairly and will not change our review and rating of products.
No, we do NOT sell anything on BayReviews. And we will never sell anything on BayReviews. We do, however, display ads that may direct you to other sites that probably do want to sell to you.
We buy products we review because we review what we own first.
We do, however, sometimes receive review samples but we still test and review everything fairly. When a review sample is provided by a partner, they cannot dictate how the review will turn out.
Our review and ratings are always based on our testing and experiences with the products.
All reviews on BayReviews are written by the editor-in-chief and our very knowledgeable staff writers and editors.