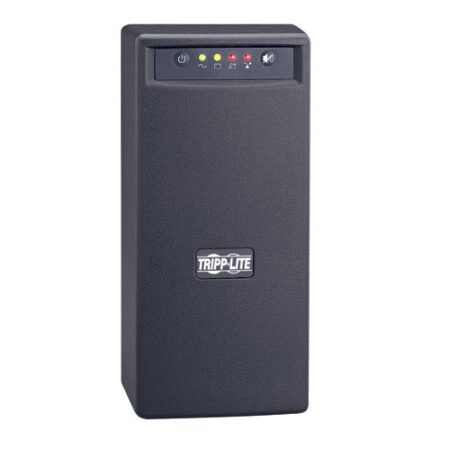 How does Tripp Lite 750VA UPS Perform?
Summary
Tripp Lite SmartPro USB UPS System 750VA is the only battery backup that I will ever use to power my SQL Server administration console!
Pros
Offers uninterpretable power protection for three 120VAC devices, free auto shut down software via USB.
Cons
Supports a maximum of 400 watts for 4 minutes.
My office is situated along a busy thoroughfare in a suburban neighborhood on the outskirts of a large industrial complex. The power lines in our business park are susceptible to the occasional outage from falling limbs or auto accidents and I must keep my office computer running as part of my role as a software engineer for a national retail chain.
The Tripp Lite Smart Pro USB 750VA UPS System was my product of choice for its rugged design and extended up-time in product advertisements. Looking deeper at this battery backup revealed a lot more about the protection it offers which caused me to ask the following questions. How long will the SmartPro USB 750VA UPS System function without receiving power? How can you monitor the system's status from within Microsoft Windows Server 2003?
A UPS is an essential back up power source for your computer and monitor. In the event of a power outage, the electronics and battery inside will take on the power load automatically and keep your equipment operational for a limited amount of time, depending on the size of the battery. You can keep your computer or LG 32LD350 32-Inch television operating for up to 6 minutes with this UPS. The real benefit of a UPS is its ability to act as an uninterruptible power source. If you experience a brief surge of power loss of power for a brief amount of time then this product can keep those appliances running without harm to their electronics.
SHIPMENT AND PACKAGING QUALITY
I ordered the Tripp Lite SMART750USB from CDW.com. The package arrived just three days later as the original product box. The large cardboard box measures approximately 10.25" tall x 8" deep x 14" wide and weighs about 20lbs. The box was quite sturdy and is not taped but rather glued shut to ensure the battery backup is shipped intact.
WHATS IN THE BOX?
Inside the box for this battery backup product, you will find it is held securely in place with two large Styrofoam pieces. A telephone cord, USB cable, owner's manual, and Tripp Lite pamphlet are inside the box along with the unit itself that is wrapped in heavy-duty plastic. Surprisingly, you only have to plug in this UPS system to a wall outlet and press the power button on the control panel to get started.
The Owner's Manual provided by Tripp Lite Power Protection is printed in gray-scale and is 24 pages long. More booklet than notebook, the SmartPro USB UPS Systems manual covers several safety warnings about the use of your new Smart Pro 750 USB system. Notably, for inexperienced users, you should install the UPS away from any heat sources and give it adequate ventilation. A UPS can get almost 20 degrees Fahrenheit warmer the room air temperature due to the sensitive electronics inside. I have seen many UPS systems fail because they overheated within the first few months of use due to being stuffed under a table or left covered by paperwork in a busy office. In addition to English, you will also find this manual includes sections in both Spanish and French.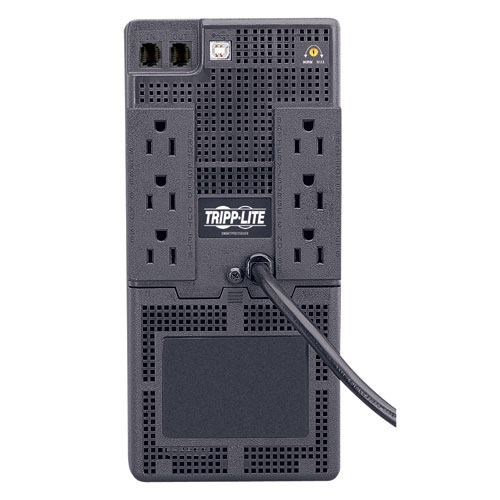 INSTALLING MONITORING HARDWARE AND SOFTWARE
As a test of what the PowerAlert USB monitoring software system can do with the Tripp Lite SmartPro 750 UPS system, I installed it on a spare Microsoft Windows Server 2003 computer. To do this, I first connected the supplied USB cable to the UPS and the computer. The SMART750USB UPS does not come with drivers. Instead, you must visit the Tripp Lite website and look up the appropriate software for your computer. In this case, I downloaded PowerAlert Local UPS monitoring software 12.04.0049 for Windows Server 2003. The software suite was a total of 18.9 Mb and took approximately 15 minutes to install while navigating through the wizard interface. Once installed, you may discover that the PowerAlert Console icon does not work when clicked. The reason is that it requires Java to be installed on your computer before use.
Once the PowerAlert software and USB interface have been plugged in, you can look at various facts and figures about the Tripp Lite 750VA UPS system. PowerAlert Agent Console first appears in the Summary menu. Here you are shown four icons: Input, Output, Battery, and Miscellaneous. Each of these icons offers vital statistics about the current function of the UPS. The Battery section records the time the system has been operational and offers your IT department the ability to proactively replace the battery with statistics about its current performance level.
The software did affect the operation of my Microsoft Windows Server 2003 operating system. Mostly because JAVA was running, it did not mesh well with SQL Server 9.0 and seemed to cause my system to freeze while working with it remotely. In the end, I wound up uninstalling PowerAlert Agent Console and the JAVA package from this computer.
PERFORMANCE TESTING
I mostly bought this UPS to keep my computer monitor operating during a power failure at my workstation. I use a Dell E207WFP LCD 20" monitor which draws 32 watts during normal operation. While testing this product, I had enabled the auto shut down feature. Much to my surprise, as soon as I unplugged the UPS, my computer went into shut down mode just 5 minutes later. Yes, the PowerAlert Agent Console really does work.
To gauge how long this product could support the load of Dell E207WFP LCD 20" monitor and to test its efficiency, the Tripp Lite Battery Backup SmartPro 750 USB was plugged into a P3 International P4400 Kill A Watt meter with the monitor itself connected to the battery surge plugs on the back. I let the UPS recharge for a day and then began testing.
First, I got a reading of 35 watts with the Dell E207WFP LCD powered on in Microsoft Windows Server 2003 at a resolution of 1280 x 1024. Next, I unplugged the Tripp Lite UPS. The monitor stayed on without a single blink during this operation. The battery alarm came on but using the button on the front panel, I was able to quickly cut it off. For the next 115 minutes, the monitor displayed the desktop of my server.
Once the battery was completely drained, I plugged it back into the P3 International P4400 Kill A Watt meter and got a consistent wattage reading of 75 watts for the next 3 hours as the SMART 750 USB struggled to recharge the lead-acid battery inside. After a total of eight hours, the battery charge level had risen back to 95% of capacity and the Tripp Lite UPS was ready for use again.
It should be noted that I tried running the HP ProLiant DL165 G7 Opteron 6172 server on this product but the moment I disconnected the power from the wall, the server proved to be too much load for the inverter and battery inside the Tripp Lite SMART750USB UPS. As a result, the server shut off immediately.
WARRANTY AND REGISTRATION
Even though I trust Tripp Lite products to offer me reliable service for years to come, I still submitted my warranty registration for this UPS. Right now, if you submit your registration online, you will be entered into a drawing for a chance to win a Tripp Lite ISOBAR6ULTRA.
FINAL THOUGHTS
The Tripp Lite Smart750USB impressed me with all of its features like automatic voltage regulation, Ethernet surge protection, and USB communications. The PowerAlert UPS monitoring and USB connectivity allow me to safely turn off my computer before losing any critical data. I now have several monitors plugged into this battery backup so that I can keep running even when the power goes out. The fast recovery time, just 8 hours, shows that Tripp Lite has built a solid product that will serve my needs for years to come. I only gave this product 4 stars because of the interface software that comes with it. I believe the reason it was unreliable is that it was JAVA based.