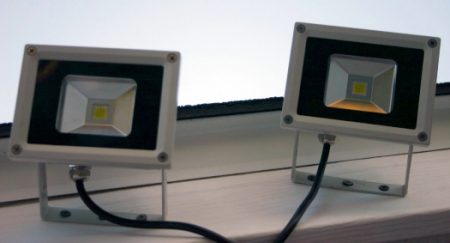 Outdoor Flood Light Replaces any 50W Halogen Fixture!
Summary
The SatisLED SL-FL10 10 Watt LED Waterproof Outdoor Flood Light effectively replaces any 50 watt halogen fixture with the reliability and efficiency of solid state technology.
Pros
12VDC and 120VAC versions available, efficient lighting, no noticeable heating of case, multiple colors available.
Cons
Ideal for lighting a small back porch with equivalent light of a 50 watt halogen.
The SatisLED SL-FL10 10 Watt LED Floodlight is an incredibly unique product on the market for 2011. No one I know has ever seen one of these devices and the goal of this review is to introduce you to both the efficiency and numerous mounting possibilities that it offers. I have had a lot of fun adding these lights to my home over the past few months because the low power demand means the cabling cost is minimal.
The light emitted by this light is comparable to a 50-watt 120VAC halogen incandescent bulb. The area you can light up is about the size of a small back porch if the light is placed about 8 ft above the ground. The light it produces is very different since it can be a clean blue-white or even a deep red for offshore fishing use. As soon as the unit receives the power it comes on at full brightness. You no longer have to wait for your outdoor lights to come on which is a great security feature for family homes. If one of these lights is not enough, you can order two or even four to spread the light out across a broad area. In my home, I use four of these 10-watt LED floodlights.
HOW DOES IT WORK?
Instead of using multiple LED bulbs to create a floodlight, SatisLED has created a microchip that contains an array of micro LED chips. When power is turned on the multiple chips activate and pass the power to each other using microelectronic pathways. The LED has array offers multiple benefits over traditional LED bulb design. The individual lights are now packed closer together so they can generate a denser beam per square inch. Since this engineering design takes less space than normal bulb systems, it also generates less heat so its efficiency is increased. Finally, the high lumen output in a small space also allows placement of these LED arrays in high strength metal housings that both protect and serve to focus the light beam.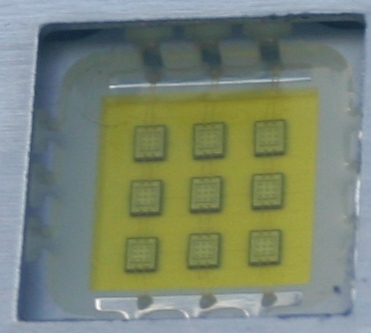 LED EMIT COLOR CHOICES
When you purchase these innovative lights, you will be given several choices to customize your 10-watt LED light. The first choice is the LED emit color. You can choose from Cool White, Warm White, Red, Green, Blue, Yellow. Each of these colors is natively reproduced by the chip inside the light so there are no bulky film blocks on this system.
ENCLOSURE COLOR OPTIONS
The high strength aluminum enclosure comes in two colors: white and black. You can tailor this to suit the mood of the area installed or even enhance security by hiding these lights in dark areas until an intruder triggers a motion sensor. Remember, these units have instantaneous on states so you can use them as a camera flash for security video installations.
WEATHER RESISTANCE
The SL-FL10 LED Floodlight comes rated as IP65. Just being able to have a product certified as this high, should be wonderful news to any person looking to install lighting outdoors. You can use these systems outside in rain, ice, or snow without the worry of water compromising the interior. In the past, weak outside halogen light fixtures have burnt out when rained on after just a few days.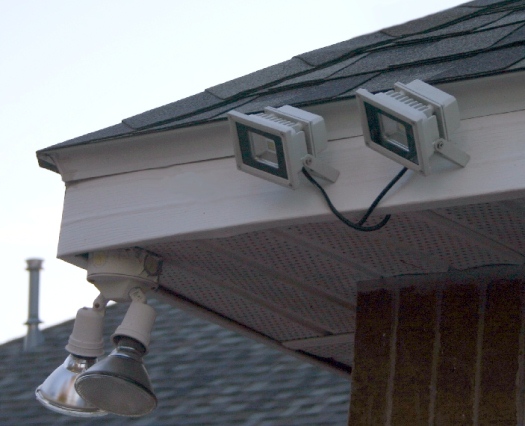 INSTALLING THESE FLOODLIGHTS
When installing a new floodlight on your home or business, you want to first pick an elevated location that has an electrical feed. If there isn't one nearby, make sure that you can run the cabling to it and have it installed. For these lights, you can power up to five of them using a single 100ft 18 AWG power cord or similar weatherproof cabling.
Now that you have power, the next task is to remove the mounting cradle with a Phillips screwdriver. The cradle will act as your guide for mounting the light fixture. On the bottom of the cradle are three holes. Grab a power drill and simply drive three 2" wood screws into the wood to create a solid place to hang the LED floodlight. Finally, replace the screws removed earlier from the cradle to attach the floodlight. Once tightened, you can adjust the angle of the light a full 360 degrees to get the desired position.
POWER CONSUMPTION OF THE 10 WATT LEDs
The power consumption is as low as 10W while the lumen output is effectively equivalent to a 50W halogen bulb. You can use an Input Voltage 85-265V AC or 12-24V DC/AC with this fixture. If you feel uncomfortable running another 120VAC line outside, you can instead power this whole system of a battery and 50-watt solar panel.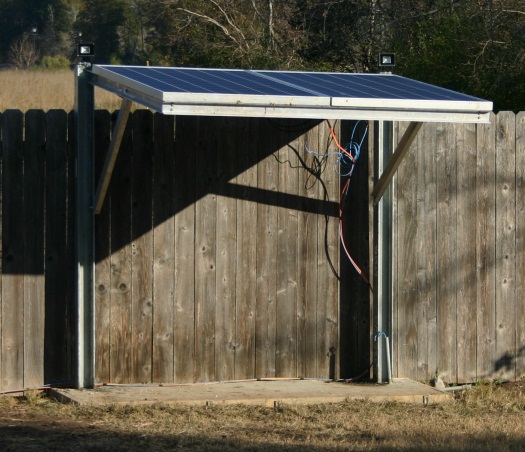 ORDERING AND SHIPPING FROM STATISLED
The website uses a standard modern interface and accepts credit cards as a form of payment via secure transaction. Once you have placed your order, they will send you an email receipt and about a day later a tracking email. My package came just three days later via UPS and was in great shape. They put a generous amount of bubble wrap in each box to protect your purchases.