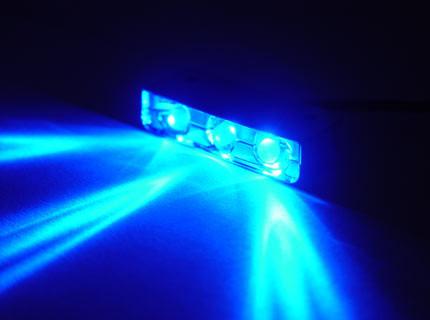 Let there be Light in your PC Case!
Summary
Compared to the other LED products offered by Logisys, the LAZER MDLED1BL only has three lights which makes it difficult to notice any significant effect in a large computer case like the Thermaltake Armor A90.
Pros
Long lasting LED bulbs, low heat output and low power draw.
Cons
Minimal amount of light.
I recently purchased the Logisys Laser LED LL-B blue light to accent the interior of the Thermaltake Armor A90 SECC ATX Mid tower computer case. Due to the vast interior in this Thermaltake product, I was having trouble viewing all the corners when the system was powered on in Windows 7 Ultimate x64.
Adding a LED-based, Lazer light to your computer is a relatively simple task that can take less than 15 minutes with the proper tools and accessories. The only difficulty is choosing the right LED lighting product since they have varying degrees of light or lumen output. How bright is the Logisys Lazer Blue LL-B LED? What is the best location to mount a LED light in a computer case? Keep reading to find out.
PACKAGING
The packaging for this product is really easy to open. At the top is a single staple that holds the clam-shell style plastic case together. Once, you remove the staple, it folds open to give you access to the LED light and Velcro mounting tape. The case plastic is clear and strong enough to survive almost any damage incurred while shipping so you can be secure in knowing that this light will arrive in one piece.
The three blue LED bulbs are encased in a thick, chrome plastic shell that looks rather attractive to even the most critical eye. A black and red wire pigtail extends from the base of this computer case lighting product which is terminated with a 4-pin power supply connector that allows you to supply 12VDC power to the three LED bulbs inside. The power cord is over 20" long so you will be able to mount this light in a wide variety of positions inside your system case.
INSTALLATION
Before you physically place these blue LED lights inside your computer case, I suggest plugging the light into a spare 4-pin PSU connector to see how it will look. You will see that in an already decently lighted room, the Logisys LED has little effect on the area around it. Indeed, the true purpose of this product is to reveal features in the dark recesses of your system case.
The Logisys Laser LED LL-B comes with some short pieces of Velcro that you can use for mounting. I normally set my accessory lighting with the Velcro tabs for about two days and then use a small amount Gorilla Glue to permanently set the light in position. The Gorilla Glue will take about 24 hours to fully cure and bonds very well to metal or plastic surfaces.
Another favorite trick of mine is to create dancing light patterns inside a computer case. To get this effect, you first need to find a large, clear case fan, preferably a Thermaltake AF0026 120MM or larger. Next, place the Logisys Laser LED about 6 inches away but pointed at an angle towards the case fan. When both the 120MM fan and Laser LED come on, the blue light will be scattered by rapidly spinning, clear blades. To enhance the effect, you can add a Logisys Laser MDLED5BL 5 LED light pointed from another position as well.
PERFORMANCE
I was not overly impressed with the lumen output of the three blue LED lights in this Logisys light. I do agree that they are better than nothing in my Thermaltake Armor A90 case but that is about the extent of praise that I would offer. The small size of these LED lights and low heat output allowed me to place it in a confined space so that you cannot see it when viewed from the side.
Pictures really do tell the story with this Logisys product. I used this light to illuminate the Evercool HPH-9525EA Aluminum Base CPU Cooler that is resting on top of the Intel Celeron E1400 Socket 775 processor in these photos. The light is just strong enough in a dark room to make out the fan resting on top of the heat sink but the aluminum fins are not easily visible to the eye.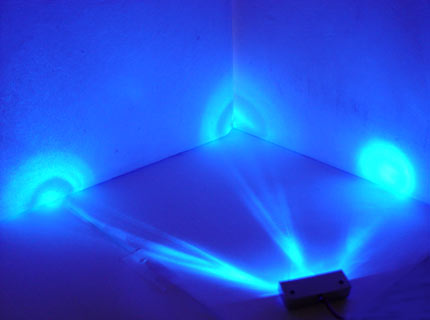 FINAL THOUGHTS
The Logisys Laser MDLED1BL only has 3 blue LED lights which makes it hard for it to have any real effect on the lighting in a computer case unless viewed in extremely low light conditions. Since most of us use our computer with at least one light on in the room, I would recommend looking at other Logisys products that offer more LED lights and get a little more bang for your dollar at the same time.
However, if you have the money to buy more than one of these Logisys Laser blue LED lights then you can stack them together or place them side by side to create an intense lighting effect in your Thermaltake Armor A90 computer case. I settled upon using this 3 LED Lazer light and a Logisys Blue 5 LED Laser Light to brighten the front of the ASUS P5QL-VM on my computer. Since these lights can be mounted in almost any position, the possibilities are endless for what you can do with this Logisys product. What will you illuminate today?