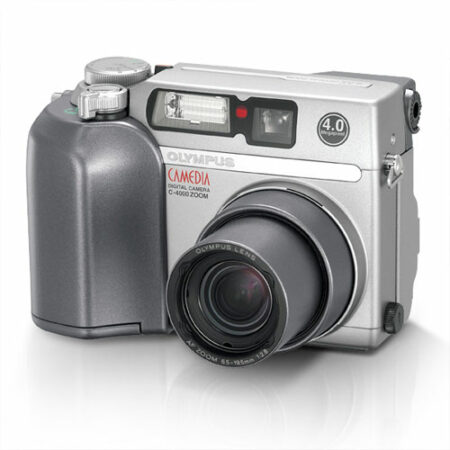 Nice Little Camera...
Summary
A great digital camera for a reasonable price with great features.
Pros
Great picture quality, light weight, and compact size.
Cons
Takes a while to get used to it.
I bought this camera just a while back because I was going on vacation and I needed a good, compact, lightweight, with good picture quality, and not too expensive digital camera. That is how I stumbled upon this Olympus Camedia C-4000 Zoom Digital Camera. I have used this camera for two years and I just love it. But just for new buyers, buy 128 MB, 256 MB, or 512 MB SmartMedia flash memory cards with your camera because they only include a 16 MB with this camera (only takes about 24 shots).
PICTURE QUALITY
The picture quality is very sharp and clear. You will definitely not be disappointed with the print quality if you have a good printer. Resolutions include: 3200 x 2400, 2288 x 1712, 2048 x 1536, 1600 x 1200, and 1280 x 960. This camera takes great colorful pictures.
VIDEO QUALITY
Although there is no audio support, video resolutions are available in QuickTime Motion JPEG format and the resolutions include 320 x 240, 160 x 120. This camera takes the best video that I have seen among some of the Digital Cameras. You won't be disappointed with the results. Hmm.. if it only had audio; imagine the possibilities.
BATTERY
This digital camera comes with two CR-V3 lithium battery packs and can also be used with 4 AA batteries which allow for about 3 hours or 600-700 shots. The battery life is great if you do not use the LCD monitor or flash that much, but if you are like me and use the LCD a lot then battery life is of concern. There is no battery charger included so you might want to include this in your purchase also.
COMFORT AND HANDLING
This camera fits very nicely in your hands and seems to just be an extension of your arm. The buttons seem to be placed in comfortable locations so you do not get cramps in your fingers while taking lots of pictures. The compact size and lightweight are also very nice.
LCD AND VIEWFINDER
This camera has a 1.8" color LCD screen. This screen shows some very useful about exposure, battery life, memory status, etc. The C-4000 also has an optical viewfinder which is useful when in very bright environments. This amazing C-4000 also has a histogram display feature when it is enabled in the options. This is useful when looking at over or underexposed areas of an image. The LCD can also be used to view saved images and you can also zoom in on displayed images.
THE FLASH
This camera has a built-in flash that turns out to be a very nice standard lighting feature. I like to use the Redeye Reduction mode when I know I want to reduce red-eye or when I want to get people's attention for a picture. An additional hot shoe allows you to add another flash to the camera for more light. I read on some reviews that you can use both the on-board and external flash at the same time or separately. Another flash feature I like is the flash intensity adjuster. This can be helpful when you want to limit the amount of light produced by the flash or increase the intensity.
SOFTWARE
The Olympus Camedia software that comes bundled with the C-4000 is a bit confusing if you are a beginner at digital photography like me when I purchased this camera. When I used the software to transfer pictures it did not usually end up where I intended it to be. So I would suggest using Adobe Photoshop Album instead if you want the ease of use and reliability.
MEMORY
I usually liked to use 512 MB SmartMedia flash memory cards with the C-4000. At medium, to high quality, it holds anywhere from 75 to 125 pictures. There is not much of a lag when saving right after a picture has been taken, but when you are in a hurry to take multiple pictures it does slow you down.
EXPERIENCE
After using this camera for two years, I keep falling in love with it over and over. The pictures are turning out brilliantly and the camera is performing outstandingly. Even if I do not use the flash in a dark room, it automatically lights the picture, but sometimes it is a bit blurry without the flash. One feature that I use almost all of the time is the "Quick View." Every time I take a picture I want to see what it looks like so I use this button to review it. The video clips are of decent quality. With the starter 16 MB SmartMedia card, I can take about 16 high-quality pictures and about 32 pictures with lower quality. The two CR-V3 lithium battery packs lasted for over 330 pictures with and without flash. When reviewing the pictures the only thing that is unusual is the placement of the navigation arrow keys. It would be better if it was where your thumb is when you hold the camera. Olympus will probably update that in later models.
FINAL THOUGHTS
This is a great camera to invest your money into; it will be around for some time. It will allow you to share the greatest moments of your life with your loved ones. At the same time, if you want to take pictures for your business and your postings on eBay.com, you will be able to do all of that and more with this great camera. So hurry and get this now or if you have the funds get the latest model (the C-8080 8 MP).