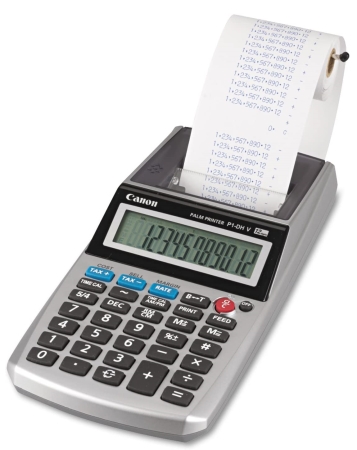 Great tool for any desk!
Summary
You can never go wrong with Canon!
Pros
Great design, good price, fast, and efficient…
I have been working for a not so large GSE (Ground Support Equipment) Repair company for about two years now and my job is to take care of all of the paperwork. This means I am at a desk all day reading and writing reviews. On my desk, there are several very helpful tools that I use every day to make my job easier and faster.
There are those usual items like a stapler, stapler remover, scotch tape, paper clips, pens, a Panasonic KX-T7433 phone (check out my review), my computer, of course, this Canon P1-DH III (tax & business) calculator, and other useful office utensils. Now, like other outdated products, there is a newer and much more powerful calculator out in the market today which will be the best choice since this model is probably discontinued by now. You can see what it looks like at the following site: canon.com.
DESIGN
Canon's P1-DH III palm printing calculator is not only stylish but can also perform advanced calculations right in the palm of your hand. The nice sleek design is attractive, compact, and easy to use all at the same time. The grey buttons are placed in such a way with does not irritate your fingers or leave you searching for the right button. The LCD screen displays clearly and big bold lettering so you have no difficulty seeing. It can show a total of 12 digits and that is more than enough for me.
BUILT-IN FUNCTIONS
Business and sales functions can be calculated with the touch of a few keys. Tax rates can be stored and recalled whenever needed. And this calculator may be small, but it's big on getting the job done. I mostly use the tax rate and percentage functions on this calculator because when I do invoice I have to add markups and taxes to parts totals and this calculator makes it easy to get the job done quickly, easily, and accurately.
PRINTER
The best feature this calculator has is its ability to print on any 2-inch paper roll. The printing process is not that fast but is acceptable; hope Canon improved this feature in the next model, the P1-DH V. The sizes of the prints are, from what it looks like, 12 points in size and with clear font.
Loading new rolls of paper are easily done by sliding open a hatch on the rear of the top cover and sliding the paper in from the back. It took me no more than two minutes to figure it out; no biggie. I have not replaced the ink "cartridge" (if you can call it a cartridge) as of yet because it is still working fine. The "cartridge" is a small one-inch long stick with a sponge roll with ink on it. I am not sure how it lasted me so long, but Canon did a good job on it.
BATTERIES
It takes four double-A (AA) batteries that will last you at least a couple of years as it did me. My company had this calculator before me and it still works with the same batteries. I asked my supervisor and he only remembers changing the batteries once.
FINAL THOUGHTS
Like you, I said already, I use this calculator almost every day and it has never failed me yet. From what I have experienced, you can never go wrong with Canon calculators, cameras, and other nice products. I would highly recommend this model and the latest model of this calculator from Canon to anyone who needs calculations done quickly, easily, and correctly. You can never go wrong with Canon.