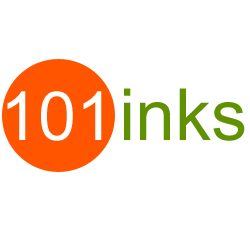 I use this 101inks.com online store every time I want to buy more ink for my HP OfficeJet 7310 All-In-One because they have the best prices and the best quality cartridges plus I get free shipping if I buy in a lot. I came across this site when I was searching online for a cheap ink retailer for work. It was about six months ago and I have made two purchases so far from this site.
DESIGN & FEATURES
101inks.com is designed so you can find and purchase the ink cartridges you want quickly and easily. All you have to do is select the manufacturer of your printer from a list and then your printer model; then you will see a list of all the cartridges that are compatible with your printer. Just add the cartridges you want to the shopping cart and checkout. Right now, when you make a purchase over forty-nine dollars, you will get free shipping on your order; and if the total of your order is more than seventy-five dollars, you will get a free gift (a travel mug).
As soon as you log on to this online store, you will notice eight links (Home, View Cart, Checkout, F.A.Q, Tech Support, Customer Service, Return & Exchange, and Can't find your cartridge?) on the very top and three main columns on the whole page. The leftmost column has the list of all the manufacturers that the site has ink cartridges for. The middle column shows all the new and featured items (cartridges), and the right column shows you their contact information (and some other useful information). The Home link is automatically selected so you will see the three main columns on the home page.
To shop: if you are looking to buy ink cartridges for an HP OfficeJet 7310, you will simply have to click on the HP from the left-most column. As a result, you will be taken to a page with all printers by HP. You then have to find the OfficeJet section and click on OfficeJet 7310 to see a list of all ink cartridges that this printer supports with price and availability information. You then simply fill in the quantity for the cartridges you want and click on the Add to Cart on the top and bottom of the page; this will take you directly to the shopping cart with your selected items in there. When you click on the Checkout button, you will then have to enter your billing, shipping, payment, and contact information to complete the transaction. You can also enter any coupon codes you have for discounts.
EXPERIENCE
I completed my purchase at 101inks.com in just about ten minutes because this site is really easy to use. I did not encounter any problems with the site's ability to perform its duties or any design flaws. I personally think the site is designed so almost anyone can use it without a lot of difficulties; although you may spend a lot of time trying to find the exact cartridge for your printer when it is your first time with them.
After I added the cartridges that I wanted to the shopping cart all I had to do to complete the purchase was click on the Checkout button. I then provided my billing, shipping, contact, and payment information and completed the transaction. You can use most major credit cards like Visa, Master, Discover, and American Express cards; they also accept money orders. When I placed my order, this site had a free shipping option if the order total was over $49 and I received a free gift (a mug) as my order total was over $75.
After the purchase was completed, I received a confirmation email with detailed information about the product I had purchased and shipment tracking information. You can also track your order by using the supplied UPS tracking number. My package arrived on time as promised without any problems and the product was packaged properly so there were no damages.
FINAL THOUGHTS
My experience at 101inks.com was a pleasant one and I did not have any problems before, during, or after making the purchase. The site allowed me to find what I was looking for quickly and easily and to complete the order without any hassles. The prices are always lower than most retail and wholesale stores, and some other online stores. So I would highly recommend this online store to everyone for all their ink cartridge and toner needs. The confirmation email I received had customer service contact information if there was a need to contact them; you can also visit the site for contact information. Overall I had a pleasant experience with the 101inks.com.