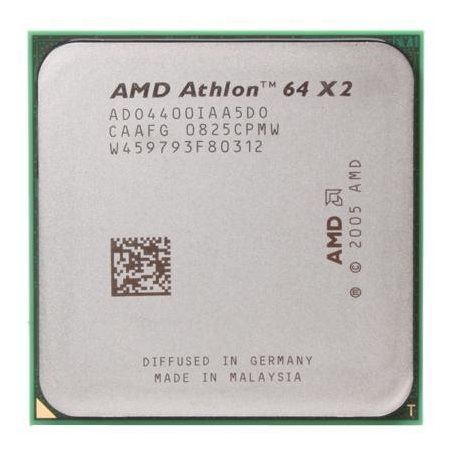 The Two-In-One CPU!
Summary
Very fast, but could have been faster…
Pros
Fast, reliable, powerful, and dual core…
Cons
May not be compatible with older software and drivers…
After reading a review about this AMD Athlon 64 X2 4400+ processor, I was restless to upgrade my already upgraded processor. I just needed one good reason to buy it, and I got that reason this just last month. It was thanksgiving and there was a big sale at my favorite computer store, CompUSA. They were giving away laptops for just three hundred dollars and other great stuff to prices like these. This was just too much motivation for me to stop myself.
INSTALLATION
Since I already have a motherboard (the Asus A8V Deluxe), I was all set for this upgrade. I did not need anything else. As usual, the installation was a breeze because I have been doing this for some time now; plus these are fairly simple to install if you follow the simple instructions in the quick install guide. The easy installation guide comes in handy if you are doing this for the first time or even the second time (you get used to it after that). Unless you are using a different heat-sink and fan, you will have no problem if you follow the instructions in the setup guide. If you are going to use a different heat-sink and fan (like me), then use the instruction that came with the fan and heat-sink to install it properly.
If you choose to install the stock heat-sink and fan, I would highly advise against overclocking this processor (plus it is already fast enough for my needs, but will OC it later when I get used to the new speed). One tip I would like to give you if you are planning to install it yourself; use Arctic Silver thermal grease when installing the heatsink. This will help keep your processor cooler or make it cooler faster.
When you boot-up for the first time with this processor, you may probably have to clear your CMOS settings to make sure you start out with a clean system, but if you are like me and are just replacing the processor, you may not have to. Then just install your operating system or if you already have an operating system install, just boot up. One thing to keep in mind when booting for the first time is to keep an eye on the processor and memory (RAM) temperatures (especially if you used a different heat-sink and overclocked the CPU). Also, make sure the memory sticks you have are compatible and can overclock without problems.
WHAT'S HOT?
First of all, let me tell you that the rated speed of 2.2 GHz is the main reason I purchased this. It does not look like much but when you use it, you will notice a big difference in overall performance. Your Windows operating system will boot up faster and applications will startup quicker. Even I noticed a speed boost after upgrading from my recently old AMD Athlon 64 4000+. I have read and heard a lot about dual processors in one, so I was just dying to give it a try.
Before there were motherboards with dual CPU slots, but they do not come anywhere near these X2 processors because the motherboards with dual slots were slower (because the system bus was not fast enough). These new dual-core X2's allow system bus speeds of over 1 GHz (compared to 200 MHz or even slower). This new two processors in one are called HyperTransport by AMD. These new processors use the same 939 pin design but may change in the future to increase speed. This new technology also increases the amount of memory and the speeds of the memory you can have on your system.
The 2-megabyte L2 cache memory will run the 2 GHz of FSB with some to spare also. Now if you can get a motherboard that will speed up your DDR memory will just add to the performance of your new system. You will be able to run almost anything many times faster than older dual-core technology.
AND WHAT'S NOT?
I have read that some software or games cannot handle this much power and will crash occasionally. This can easily be corrected by upgrading the software or applying new patches to the games. Personally, I have not experienced any of this as I always have up-to-date software, drivers, and game patches. I do not like to take any chances with my system. I would recommend you check for driver and software at least once a month.
SYSTEM SPECIFICATIONS
Motherboard
Asus A8V Deluxe
Processor
AMD Athlon X2 64 4400+
Processor Speed
2.2GHz (normal)
HeatSink
ThermalTake Silent Tower
Video Card
PNY Verto GeForce 6800GT
Memory
3 x Kingston PC3200 CL2.5 512MB (1.5GB total)
Hard Drive
1 x 40GB
1 x 160 GB
1 x 200GB external firewire
CD/DVD Drives
2 x Sony CD/DVD-RW/DL
Power Supply
500W ULTRA X-Connect Modular Power Supply
Operating System
Microsoft Windows XP Pro/XP 64-bit
Yes, we have very competitive pricing plans and accept a variety of formats. Please contact us for more details.
Yes, you can. Just use the contact us form to send us a message and we will consider reviewing the product. It does depend on a few factors such as product availability, funding, and time.
Please provide as much of the following information as possible:
Manufacturer Name
Manufacturers Website
Product Name
Product Model / Serial Number
A link to the product itself
Unfortunately, we do not accept user reviews at this time. But feel free to voice your opinion in the comments section of recent articles.
We do, however, have plans to implement this feature in the future.
Yes, please contact us for more details.
Please note that we test and review all products fairly and will not change our review and rating of products.
No, we do NOT sell anything on BayReviews. And we will never sell anything on BayReviews. We do, however, display ads that may direct you to other sites that probably do want to sell to you.
We buy products we review because we review what we own first.
We do, however, sometimes receive review samples but we still test and review everything fairly. When a review sample is provided by a partner, they cannot dictate how the review will turn out.
Our review and ratings are always based on our testing and experiences with the products.
All reviews on BayReviews are written by the editor-in-chief and our very knowledgeable staff writers and editors.
EXPERIENCE
I have had this processor for just about two weeks now and it has not given me any problems what so ever. It does not overheat (I did not overclock yet, but plan to in the future) ever. I did notice a good deal of speed and performance boost compared to my AMD Athlon 64 4000+ that I upgraded from. This processor comes extremely close in performance to the single-core AMD Athlon 64 FX-55 processor. I originally wanted to buy the FX-57 but did not like the higher price.
I performed some benchmarks with 3DMark 05 and 03. I got a score of 5914 with 3DMark 05 and 12811 with 3DMark 03 (actual data). My new/old AMD Athlon 64 4000+ used to get around 12657 for 3DMark 03 and 5885 on 3DMark 05 (actual data). These benchmarks are accurate as of December 2nd, 2005, and were performed on my new system (see specs below).
My computer runs faster than it used to with the 4000+ processor installed. I have installed Windows XP Pro SP2, and Windows XP 64-Bit on my computer and even with two Windows installations on one hard drive, this processor does not even blink. I want to give Linux a try on this also.
FINAL THOUGHTS
I did not see a major difference in speed and performance but I also do not regret purchasing this processor. I also like this because I now have a dual-core processor instead of a single core. Some months ago I upgraded to 2.4 GHz (the AMD Athlon 64 4000+). And now I have this dual-core 4400+, which is technically slower than the 4000+ but does not feel slower. Actually it feels faster and more powerful. I have noticed some speed enhancements since I upgraded. My computer boots up a bit faster, most applications startup quicker, and games run smoother. If you want a faster computer that is also ready for the future, then get this processor without question. If you just want to upgrade from a 4000+ like me, then get the FX-55 or FX-57 if you want major speed and performance boosts.