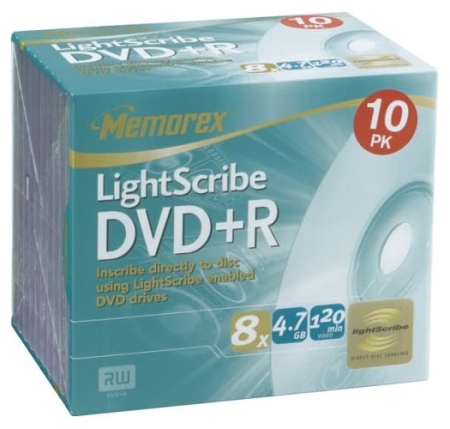 Want Inkless and Effortless CD/DVD Labels?
Summary
One of the best media for LightScribe label printing and burning…
Pros
Same great quality, newly added benefits, and faster burning…
Cons
May not be compatible with older players or drives…
When I purchased my new I/O Magic LightScribe DVD±RW Dual Layer burner I decided to buy these Memorex LightScribe DVD+R Storage Media so I could try the labeling system. I have burned three or four disks so far and the quality and speed are superb and the labels are cool. I like making my labels now because I do not use any ink. Even though the Memorex brand costs a bit more than what I would be willing to pay without hesitating, I still went ahead and purchased it because I knew that this brand would not let me down.
ABOUT THIS MEDIA
This particular 8x DVD media I purchased was priced a bit higher than I hoped, but since it is Memorex, I just could not resist. I paid about $18 (plus tax) for this 10 pack; I also got the jewel case too. My new Sony DVD-DL and I/O Magic LightScribe DVD-DL burners are rated to burn dual-layer discs at 2.4x (pretty slow but good enough for now), so I was all set to go.
EXPERIENCE
All of the disks I have burned using both of my new drives performed well and without any problems. So far I have only burned movies on this media, and I have not noticed any loss of quality in movies, but I did notice the disk did not play in my kind of old Sony DVD player. I had no problem playing this on my computer. So if you are looking for compatibility then I would not recommend using these LightScribe disks. You probably will not notice the difference between the original and the backup.
There are no prints or logos on the label side of these disks and unlike regular disks, you will notice a gold-colored die on it; this die turns black or a shade of black when the laser light hits it (that is how LightScribe works). The disks also have special information on the center of the disk so the LightScribe drive can detect if it is the correct disk for printing labels.
The dye (on the burning side) is dark purple like most other regular DVD media. Unlike some of the cheap media I have seen, these look very high quality. Usually, Memorex media is somewhat higher in price than other media with similar features, but I wanted high quality and a good brand of media for my home movies and backup needs. So I just had to go with this brand even with the high price tag; I would also consider purchasing Sony or TDK if they made LightScribe media (I have not seen any from them yet).
I mostly use Nero Burning Rom to burn and copy my CD's and data DVD's, but for movies, I always use DVD Shrink (a freeware application that can copy all movies, even copyrighted one's) which allows me to copy a regular high-quality movie to any 4.7 GB or 8.5 GB (DL) DVD+R media. Both of these applications allow you to choose the appropriate speed at which you want to burn the disk. Actually, DVD Shrink uses Nero's burning features to write the movies to the media, so you really need both if you want to backup movies.
FINAL THOUGHTS
I have used these Memorex brand DVD media for about a week or so now and I have not experienced any problems while burning or after burning with them. The quality is superb and always perfect. I would highly recommend this particular brand of media if you want to be sure your content will be secure and safe. Another advantage of this media is that it is compatible with LightScribe technology which allows you to make labels without printers or ink. If the price is not an issue for you, then do not wait any longer. But if you want a good deal, I would suggest other brands with similar features and speed.