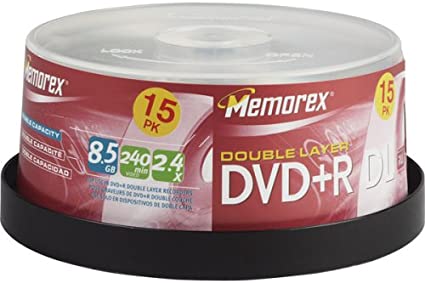 Sayonara you low quality movie backups...
Summary
One of the best dual layer DVD media available…
Pros
High quality / capacity, reliable, and secure…
I finally decided to buy these Memorex Dual Layer DVD media because the price went low enough that I can now consider even look at them. I have burned about 10 disks so far and the quality is superb because there is no compression (for movies). When I went to Fry's Electronics I was looking for a brand of dual-layer DVD media that was reliable and would not cost too much (less than $50). Even though the Memorex brand costs a bit more than what I would be willing to pay without hesitating, I still went ahead and purchased it because I knew that this brand would not let me down.
ABOUT THIS MEDIA
The particular 2.4x DVD media I purchased was priced a bit higher than I hoped, but since it is Memorex, I just could not resist. I paid about $50 (plus tax) for this 15 pack spindle. My new Sony DVD-DL Burner is rated to burn dual-layer discs at 2.4x (pretty slow but good enough for now), so I was all set to go.
EXPERIENCE
All of the discs I have burned using my new drive have performed very well and without skips and stops. So far I have only burned movies on this media, and I have not noticed any loss of quality in movies. You probably will not notice the difference between the original and the backup.
There are a Memorex logo and some other text on the label side of the disc, but they are light enough so that it can be fully covered by your custom labels or writing easily. The label also clearly specifies that it is a Double Layer disk you do not mix it with your regular DVD±R media.
The dye (on the burning side) is the darkest purple I have seen so far (maybe because of the two layers). Unlike some of the cheap media I have seen, these look very high quality. Usually, Memorex media is somewhat higher in price than other media with similar features, but I wanted high quality and a good brand of media for my home movies and backup needs, so I just had to go with this brand even with the high price tag.
I mostly use Nero Burning Rom to burn and copy my CDs and data DVDs, but for movies, I always use DVD Shrink (a freeware application) which allows me to copy a regular high-quality movie to any 4.7 GB or 8.5 GB (DL) DVD R media. Both of these applications allow you to choose the appropriate speed at which you want to burn the disc. Actually, DVD Shrink uses Nero's burning feature to write the movies to the media, so you need both if you want to backup movies.
FINAL THOUGHTS
I have used these Memorex brand DVD media for about three weeks now and I have not experienced any problems while burning or after burning with them. The quality is superb and always perfect. I would recommend this particular brand of media if you want to be sure your content will be secure and safe. If the price is not an issue for you, then do not wait any longer. But if you want a good deal, I would suggest other brands with similar features and speed.