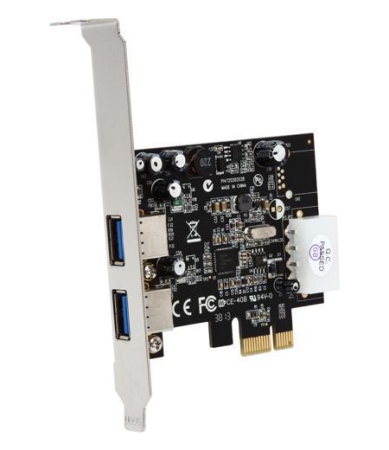 Small form factor with explosive speed!
Summary
A very affordable USB 3.0 PCIe adapter that gets the job done!
Pros
Easy to install and setup, fast and inexpensive.
Cons
4-pin Molex connector a little lose!
USB 2.0 has been around for a very long time but it's about time we switch to a much faster and more efficient specification. In recent years, we have seen a lot of new technologies taking advantage of the USB 2.0 specification but the need for something faster is now. We are dealing with larger files as home videos can now be recorded in high definition (HD) and photos have a lot more megapixels resulting.
Transferring these files from one media or drive to another can be very time consuming and tedious. This is where USB 3.0 comes in to play; it is supposed to be ten times faster than USB 2.0. Where USB 2.0 maxes out at around 480Mbps (megabits per second), USB 3.0 on the other hand can handle up to 5Gbps (gigabits per second). There are other alternatives such as Firewire or eSATA that are good but are limited to data only. USB 3.0 also known as "SuperSpeed" is supposed to replace USB 2.0 soon. So let's see if it really is a replacement or not!
WHAT IS USB 3.0?
We first saw USB 3.0 in consumer products starting January 2010 thought it was announced in November of 2008. Basically the major new feature is the "SuperSpeed" bus that can provide up to 5 Gbit/s data transfer rate, but it is normal to achieve around 3.2 Gbit/s.
CLOSER LOOK
The front of the box tells you everything about the card and has a nice picture of the card itself. The back of the box is mostly advertising other product offerings from StarTech. They do have a wide range of products so feel free to check out their website. Inside the box, you will find the user guide, an installation CD, the card itself, and a half-height mounting bracket. The half-height mounting bracket can be used to install the card in smaller cases (think micro). There are two USB 3.0 ports on the card and you will also notice a single 4-pin Molex power connector on the rear of the card. This is used to provide power to devices that need them (900mA per port I believe). The card itself does not come with a USB 3.0 cable, but that is expected as USB 3.0 devices usually do come with one.
INSTALLATION
Installation was very simple. All you have to do is install the card in a PCI Express x1 or x16 slot (I installed it on an x1 slot as we didn't have an x16 slot available) and plug in a 4-pin Molex power connector. One thing to keep in mind while plugging in the power connector is to not push it in too hard as it has a tendency to get un-clipped from the PCB (hold on to it when plugging the power connector). Then power up your computer and use the included CD to install the drivers. But I had issues when installing drivers from the CD on Windows 7. So went to StarTech's website and download the latest drivers that worked fine.
TEST SYSTEM
Motherboard
Asus M2N-E
CPU
AMD Athlon 64 X2 6000+ dual core
RAM
G.Skill Ripjaws Series 4GB (2 x 2GB) 240-pin DDR3 PC3 12800
Graphics Card
PNY GeForce Verto GTS 250 1GB
Storage
Samsung HD501IJ 500GB SATA 3.0GBps 8MB
Optical Drive
Sony DVD-RW drive
PC Case
Thermaltake Element G
External Cases
Sunbeam Tech USB3.0 Airbox Enclosure
EagleTech ET-CSTSU3-BK Enclosure
Operating System
Microsoft Windows 7 Enterprise 32-bit
TEST METHOD
I will use a Samsung HD501IJ 500GB SATA hard drive in two different hard drive enclosures and test the data transfer rates using HD Tune Pro 3.5. I will also use the same hard drive on the Thermaltake BlacX Duet eSATA/USB docking station to get eSATA and USB 2.0 transfer rates. Then I will compare all of the results to see how much faster USB 3.0 really is (for us anyway).
RESULTS
As you can see from the results below that USB 3.0 is clearly faster than both eSATA and USB 2.0 as expected. Looking at the chart, USB 2.0 uses the most CPU when transferring data and eSATA uses the least, but USB 3.0 CPU usage is a huge improvement overall. I saw average transfer rates of 25.25 MB/s (maxed out at 26.9 MB/s) with USB 2.0, 29.38 MB/s (maxed out at 37.57 MB/s) with eSATA, and 64.4 MB/s (maxed out at 82.75 MB/s) with USB 3.0. So with some of these real-world tests, we can see what USB 3.0 has in store for us. We will not be disappointed at all. I have feel we will start seeing more and more USB 3.0 devices in the market soon, so keep an eye out.
FINAL THOUGHTS
I have used this USB 3.0 PCIe adapter card for a few weeks now and it does not disappoint at all. Now all I need to do is a test with some motherboards that have USB 3.0 controller built-in to compare the differences. And you can bet on the fact that we will test them out. This card is inexpensive for the performance it delivers; you can probably find it for less than $30 online. I would assume that it would deliver to the fullest of its abilities if you install it in an x16 PCIe slot. The installation is fairly easy and simple once you download the latest drivers. USB 3.0 will definitely not disappoint at all and it will be around for a decade if not more (just like USB 2.0). I would rate this card 4.5 out of 5 and present it with our Best Buy and Highly Recommended awards.