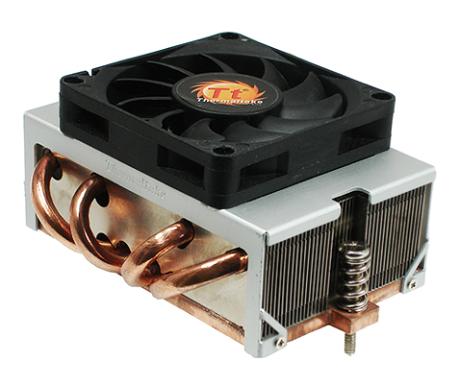 With the pending release of the 16 core AMD Opteron Interlagos processor, now is definitely the time to consider building a new dual CPU workstation. Until recently, the only problem for computer enthusiasts was finding a reliable CPU cooler for these elite AMD 6100 series processors.
Thanks to the Thermaltake CLS0017 CPU cooler, the wait is finally over. What are the peak AMD 6128 CPU temperatures that you can expect from the Thermaltake CLS0017? What sort of upgrade options are there for the 70MM fan?
APPEARANCE AND DESIGN FEATURES
Your new Thermaltake AMD Socket G34 CPU cooler comes packaged in a sealed brown box. Inside the cooler is resting on a plastic tray and its 70MM fan is already attached.
The CLS0017 CPU cooler is considered a 2U active solution, by this, it is implied that air is driven across the fins by a fan directly mounted on top or the side. A passive solution relies on air to drive from a fan inside the case but not directly. Servers use passive coolers but these are not intended for use in workstations or desktop computers.
The cooler comes with four heat pipes radiating from the copper base to the upper portion of the fan assembly. Each of these pipes is elbowed in the middle and has been soldered to the base for increased thermal conductivity. The pipes are 6MM thick and made of copper.
The bottom of this Thermaltake product comes with a thick layer of thermal grease pre-applied. You will find this saves a tremendous amount of time when installing the cooler because it eliminates the hassle and guesswork of putting the correct portion of the Arctic Silver 5 thermal compound.
The following chart shows all the CPU coolers that Thermaltake offers for the C34 socket (6100 series Opteron). You should use this chart to find the appropriate CPU cooling device for your workstation or server application.
THE INSTALLATION
The length of these AMD Opteron 6100 series processors will make your task of setting the socket challenging. Carefully insert it into the socket and activate the locking mechanism. Once completed, it should look flush as seen in the photo below.
If you are placing the Thermaltake CLS00017 on an ASUS KGPE-D16 motherboard then your install is going to be a simple three-step process. One, place the heat-sink on the AMD Opteron processor, two, tighten both bolts with a Phillips screwdriver until at least 10nm tight, and three, plug in the 4 pin power connector to the CPU fan header for the appropriate processor. Here is how your Thermaltake CLS0017 coolers should appear on an ASUS KGPE-D16 Dual G34 motherboard.
PERFORMANCE TESTING WITH AN AMD OPTERON 6128 CPU
As the initial review in an ongoing series for BayReviews, with this article, we are mostly seeking a general basis from which to compare other Socket G34 heat-sinks as they appear on the market. The heat-sinks required for these AMD processors must be rather large and as a result, cooling them efficiently is quite a challenge when you consider the total surface area involved. the AMD Opteron 6128 eight-core processor is shown in the photo below. Notice the overall length of the chip.
TEST SYSTEM
| | |
| --- | --- |
| Motherboard | ASUS KGPE-D16 Dual Socket G34 |
| CPU | AMD Opteron 6128 8 core |
| RAM | 16x Crucial Technology BL25664BN1608 2 GB Ballistix Tracer 240-pin DIMM DDR3 PC3-12800 8-8-8-24 Unbuffered NON-ECC DDR3-1600 1.65V 256Meg x 64 |
| Graphics Card | 2 x NVIDIA GeForce GTX 550 Ti; 1x NVIDIA GeForce GT 430 |
| PC Case | Cooler Master HAF 932 Advanced |
| Operating System | Microsoft Windows Server 2003 x64 |
NOISE LEVELS
With both of the processors at 100% load and the BIOS fan settings set to maximum, I still had trouble hearing the Thermaltake CPU cooler fans over the noise of the NVIDIA video cards in the computer.
TEMPERATURES
To test the performance of this CPU cooler, I subjected the processors to a load with an outside computer case room temperature set to 72°F with the help of two 16,000 BTU air conditioners. Two applications were then used to monitor the average CPU core temperatures of both processors with the Thermaltake CLS00017 coolers installed in the Cooler Master HAF 932 Advanced case.
No CPU Activity in Windows Server 2003

CPU 0: 80°F peak core temp
CPU 1: 80°F peak core temp

BOINC Project Prime Grid PPS LLR 6.09 on 16 Cores

CPU 0: 116°F peak core temp
CPU 1: 107°F peak core temp

POV-Ray V3.7 Benchmark.pov 1920×1080 AA 0.3

CPU 0: 98°F peak core temp
CPU 1: 98°F peak core temp
UPGRADING THE CLS0017 CPU COOLER
At BayReviews, we seek to get the most out of any computer hardware that we review. In the case of the Thermaltake CLS0017, the CPU cooler was seemingly locked into the limited 70MM fan design that had very limited upgrade options on the market today.
Rather than contending with these small 70MM fans, we ordered a specialized adapter from Frozen CPU. The FrozenCPU 70mm to 120mm Blue UV Reactive Fan Adapter will allow you to mount a larger 120MM fan and looks great at the same time.
To bring some real cooling power to the AMD Opteron 6128, we installed the venerable Thermaltake Thunderblade AF0030 120mm 4 Led Case Fan on top of the Thermaltake CLS0017 CPU cooler. The Thunderblade brings 70 CFM of airflow which is much more than the 47 CFM stock output of the 70MM fan.
We ran the BOINC PrimeGrid PPS LLR stress test again to look for any temperature changes at peak CPU usage. Here are the results.
BOINC Project Prime Grid PPS LLR 6.09 On 16 Cores with Thermaltake Thunderblade 120MM fans
CPU 0: 95°F peak core temp
CPU 1: 93°F peak core temp
To be fair to Thermaltake, they never intended this CPU cooler design for use with overclocking or keeping a processor below 100°F while under a full processing load. However, we knew that the upcoming Interlagos 16 core Opteron would increase the thermal demand on these heat-sinks and that a possible upgrade option would be desired by many computing enthusiasts. I hope you agree that this is an effective upgrade that should help anyone seeking to build their own BOINC computing, 32 core, powerhouse!
FINAL THOUGHTS
I would like to see Thermaltake create an aggressive looking CPU cooler for the AMD G34 socket but also understand that until we can overclock these processors there will not a high demand for these heat-sinks. Until then, I am more than pleased with the operation of these low profile heat-pipe coolers from Thermaltake. You can find this AMD Opteron 6100 series CPU cooler for less than $50 at most online retailers right now which is a great bargain compared to what other vendors charge!