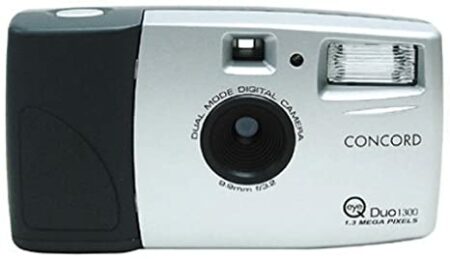 Good for Beginners
Summary
Good camera with good picture quality for a very low price.
Pros
Takes decent clear pictures.
Cons
Takes too long (few seconds) to save pictures to memory card or built-in memory.
I bought this Concord Eye-Q Duo 1300 digital camera because I wanted a digital camera, but most of all I wanted a webcam and this camera had both. I never had a digital camera before and this was perfect to just get my foot in. I am also planning to buy an actual digital camera that does a lot more than this.
PICTURE QUALITY
The pictures turn out to be great and clear. If you just want reasonable quality pictures this is the camera for you. The pictures are only 1.3 megapixels, so it produces what it promises. There is no optical zoom or auto/manual focus so you have to position yourself appropriately to get the best shot. It has a 2x digital zoom if you need to get a closer shot, but you will have to sacrifice some quality. This camera can also capture high quality, full motion 320 x 240 AVI video clips
BATTERY LIFE
The two double-A (AA) batteries last for about 175 shots (give or take a few if you use the flash), but overall they last a long time. This saves time if they had rechargeable batteries, but you have to pay for batteries.
MEMORY
With the built-in 7 MB memory you can take between 14-17 pictures. I also use a 64 MB MMC memory card and I can take up to 145 pictures total. The only downside is that when it saves the pictures to the memory it takes a couple of seconds. That's all I needed.
BUTTONS AND OPERATION
There are four major buttons on this camera which are:
Power – To turn on the camera
Menu – To toggle between the menu items
Select – To select menu items
Trigger – To take pictures
FLASH
The flash works automatically in most cases when it is turned on. If you don't have the flash the picture is dark in dark areas. But sometimes when you really want the flash to work even though the lighting is good, it will not. So there's not a lot of manual settings you can change.
WEBCAM FEATURE
This camera can also be used as a webcam. The only problem with this feature is that the webcam feed is really dark and you need a bright lighted area that is currently in focus. I found out that normal room lighting is not sufficient to make the image bright enough. Even though the image is dark it is still manageable. Other than that it works great.
VIDEO CLIP FEATURE
The video clip feature works like a charm but the clip quality is not that great. There is usually some noise in the clip. Sound is not supported in this camera, but you can always add it in if you have the right tools.
EXPERIENCE
I have used this camera for about six months and it is not that bad. I used it to take pictures of items to sell on eBay and some pictures for my sister's wedding, but I bought an Olympus C-4000 Zoom for the wedding later. The specifications say that this is a point and shoot camera but sometimes it is had to get the right quality you want with it. For instance, if you want to take a picture indoors in a cloudy day and you have all the lights on, the picture will either be too light or too dark. So the best thing to do it, in this case, is to take about five or six pictures from different angles and different lighting.
Besides that, the only other not so good experience with this camera was the time it took to saved the picture you just took to memory (internal or removable). It takes about 10 to 20 seconds (give or take a few seconds) to save or write the picture taken to memory.
Transferring pictures to your computer is fast, but it will be a bit faster if you use a memory card reader. Saves time it takes to plug in the cables and waiting for the computer to recognize the camera. When you press the shutter button to take the picture, it takes about 2 to 5 seconds for it to take the picture and another 10 to 20 seconds to save it.
FINAL THOUGHTS
If you just need a camera to practice or play around with, this is the camera for you. Also if you are a beginner like me, you can get your foot in with this camera. But if you want something more exciting, I would recommend spending a little more money and getting a name brand digital camera with at least 4 or 5 megapixels.