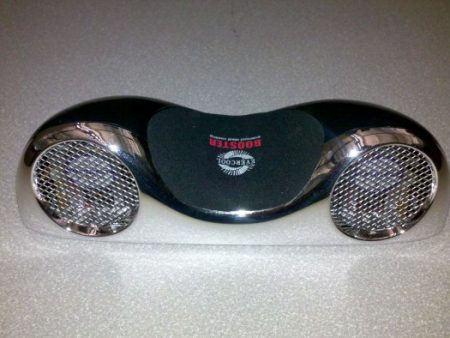 Sweaty mice - not anymore!
Summary
Overall this is a very good product that works as a wrist pad with a bonus cooling feature.
Pros
Keeps the palm of your hand cool and sweat free at all times.
Cons
The fan might be a bit loud for some.
Do you get sweaty hands after long hours of sitting in front of your computer or do you have to wipe your hands often to keep your mouse from drenching? Well, there is a product that can help you. The Evercool Booster Cool Wrist Pad acts as a wrist pad and has two fans to keep your hand cool so you don't perspire.
I can already see you gamers out there drooling over this because you know you want your good hand to be nice and dry during your hardcore gameplays. With any wrist pad, you want it to support your, well wrist properly and be mobile enough to move all over the place with your mouse (not slowing you down). The fact that the Booster cools your palm while providing support is a bonus. So let's see how well it performs when we put it to the test.
LOOK AND FEEL
The Booster comes in a clear plastic packaging with the usual cardboard printed background. The pad itself is clearly visible without opening the package so you know exactly what you are getting. When you open the packaging, you will find the wrist pad obviously and a USB power cable. There is no instruction manual because frankly, you don't need one. If you do, then this product is not for you (seriously). The Booster itself is not as big as I was expecting it to be — it is only around 7 inches in length, around 3 inches wide, and about 2 inches high.
As you can see from the, there are two 40mm fans on either side of the little groove where your wrist goes. The groove itself has some padding so you don't hurt your wrist. The power ports are on both sides of the Booster so you don't have to have a cable sticking out from the wrong side. Plus you can use this without the fans on if you just need a wrist pad. The base of the cooler has four plastic feet that are super slippery and help the pad glide easily when you are moving your mouse around.
EXPERIENCE
I used the Booster for a while week at work where I do most of my writing, surfing, playing, goofing off, etc. I think you can relate to the fact that when you have stressful moments at work, you do tend to rush and in the process perspire from any and all possible places and your palm is no exception. So I thought it was a very good test for this pad/cooler since I don't do that much gaming. So after I removed it from the nice packaging, I placed the pad where I usually place my writing when playing with my mouse and tested it out without plugging it in to use the fan. It seemed to glide without much friction or effort along with my mouse. Then I plugged the USB power cable in and connected it to an available USB port on my Cooler Master NotePal ErgoStand Notebook Cooler and the fans started.
The fans themselves are not too loud but loud enough so you can hear them spinning away and cooling your palm. It was not at all annoying for me but some people might find it so. If you want some quiet time for thinking let's say, you may want to unplug it for a little while. If you work in a noisy environment, then you will not hear anything. I think the fans could be quieter but hey the movement of your mouse and clicking makes more noise than the fans on this Booster. If you are a gamer then you would definitely not hear the fans at all because you would probably have the speakers up pretty high or have headphones on.
For the week that I used the Booster, I some times had to turn off the fans because my palm was freezing cold. Yup, it can get cold especially if you work or play in an air-conditioned environment (in which case you don't need the cooling feature, but the wrist pad is still handy).
FINAL THOUGHTS
The Evercool Booster is probably not for everyone and every situation, but it will absolutely find a place for some gamers or enthusiasts. The designed to be compact and lightweight so it glides easily with your wrist and mouse. It will glide easily on almost any smooth surface that any optical mouse will work on. It is also portable enough to go with you on trips whether it's for business or pleasure (LAN parties anyone?). Overall I was very satisfied with the level of support the Booster provided my wrist and not to mention how cool it kept my palm. During the week of my testing, I didn't have a single moment where my palm was sweating while using the Booster. I would highly recommend the Evercool Booster Cool Wrist Pad to anyone looking for wrist support and cooling at the same time. It retails for around $15 USD at a lot of shops but you may be able to find it for a lot less online.