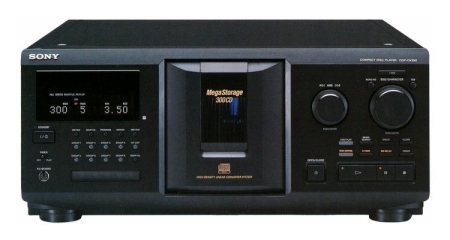 This CD Player is Wonderful!
Summary
Good price, light weight, good sound. Definitely get it.
Pros
Low price and light weight.
Cons
Takes under a minute to change CD's and start playing it.
This Sony CDP-CX300 CD player has drastic pros and cons. I paid about $250 for it and it can hold 300 CDs. If you save it to another one you can hold your 600 favorites (like anyone has that many they actually listen to). Now we have MP3 players to hold all our songs, but back then MP3 players were expensive so I stuck with this CD player.
PROS
Good price and lots of space; it is no more expensive than any other entry-level CD changer. The sound quality is good; it has kind of a bright characteristic to it, but I get that feeling from most changers which are under $600. It delivers a very accurate sound stage when connected to an external DAC by the optical connection (again, a bit bright though). Capacity; it holds 300 CDs. How many do you really need? Also, you can delete all of those tracks you hate on your CD's so they never get played again. You can also use a PS/2 keyboard to name your CDs. This player can also read CD-Text information if the CD has it. This is a plus because I always burn my CD's with Text.
CONS
Build-wise, this thing is a featherweight. It has a cheap plastic look to it, but it is pretty cheap so I guess that fits. Changing time; it takes about 30 to 60 seconds to change CD's located on opposite sides of the carousel. Very annoying; doesn't have an on-screen display that works with anything but Sony receivers; I really wish Sony would change this. I think it would be content from a convenience standpoint if it had an on-screen display of all titles with my Denon receiver. Cheap remote, but who really uses their players remote anyways.
FINAL THOUGHTS
I would definitely buy this thing again for $250. I think if Sony ever produces a 200 or 300 CD jukebox with the 1 feature (tray to just insert one CD and play) it would be a hit. Or if it would crossfade between songs and CD's, it would be nice.