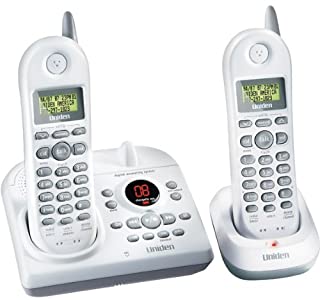 Good Phone for a Good Price!
Summary
The phone is great but the volume is not loud enough, but its decent.
Pros
Needs only one phone jack.
Cons
The volume is not loud enough even with the volume at max.
I bought this Uniden TRU 448-2 cordless phone for $129.99 from Target. And I like using it because this is the best phone I have ever had. I am not saying this is better than all other phones out in the market today, but the best I have had so far.
RANGE
With the 2.4 GHz range, it works all around the house and even all around the yard. This is a great phone if you like taking your phone with you (either inside or outside the house). Sometimes I like to go outside and talk and get some fresh air at the same time and I have never gotten disconnected with this phone.
Yes, we have very competitive pricing plans and accept a variety of formats. Please contact us for more details.
Yes, you can. Just use the contact us form to send us a message and we will consider reviewing the product. It does depend on a few factors such as product availability, funding, and time.
Please provide as much of the following information as possible:
Manufacturer Name
Manufacturers Website
Product Name
Product Model / Serial Number
A link to the product itself
Unfortunately, we do not accept user reviews at this time. But feel free to voice your opinion in the comments section of recent articles.
We do, however, have plans to implement this feature in the future.
Yes, please contact us for more details.
Please note that we test and review all products fairly and will not change our review and rating of products.
No, we do NOT sell anything on BayReviews. And we will never sell anything on BayReviews. We do, however, display ads that may direct you to other sites that probably do want to sell to you.
We buy products we review because we review what we own first.
We do, however, sometimes receive review samples but we still test and review everything fairly. When a review sample is provided by a partner, they cannot dictate how the review will turn out.
Our review and ratings are always based on our testing and experiences with the products.
All reviews on BayReviews are written by the editor-in-chief and our very knowledgeable staff writers and editors.
SOUND QUALITY
The sound quality is good, but the only problem with it is the volume. Even when you turn up the volume to maximum it is still not loud enough. So if you are in a noisy environment, you will have a hard time hearing. Other than that the quality is clear and without noise.
USAGE
Dialing and saving numbers is easy enough after you read the manual and get the hang of it. You can dial the number and when you press TALK that is when it dials. It has a Caller-ID list. When you want to save numbers from the Caller-ID list, you just press a button and it will be saved. It is that simple. The best thing is that it only needs one phone jack and both headsets work.
FINAL THOUGHTS
Overall this phone is great and if it wasn't for the volume control, it would have been the perfect phone. But I assume that the models later than this one should have this problem fixed.