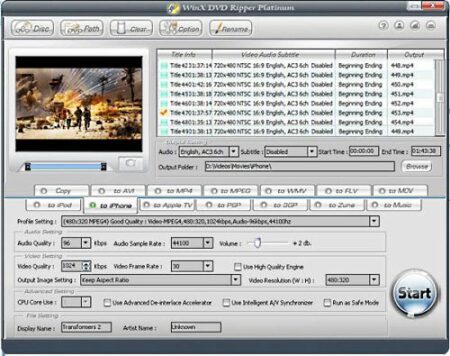 You like free stuff… right? Of course, you do! So we are holding our very first contest. That's right, we are giving away 10 licenses for WinX DVD Ripper Platinum v5.9. "WinX DVD Ripper Platinum can rip the content of DVDs to all popular video formats such as AVI, MOV, FLV, WMV, MPEG, MP4, 3GP, etc. What's more, it also owns the ability to rip different DVDs (including encrypted DVDs) to Sony PSP, Apple iPhone, iPod, iTouch, Apple TV, Zune, Mobile phone, etc." Yup, it will rip copyrighted DVDs without any special addon. We would like to thank our friends at Digiarty Software who were nice enough to give us 10 licenses to giveaway.  Winners announced–read more…
CONTEST HAS ENDED!
CONGRATULATIONS TO THE LUCKY WINNERS
Alex Lusakhpuryan
Raj Ram
Patrik Sullivan
Tom McLaughlin
Ed Thorn
Jonathan Lloyd
Karthy Paramananthan
Arvind Kumar
Larry Smith
Ravin Datt
---
READ OUR REVIEW WHILE YOU WAIT!
Please read everything (including the terms and conditions below) before entering!
When does it Start and End?
The giveaway contest starts today (03/08/2010) and will end at the end of the month (03/29/2010). At the end of the contest, we will pick 10 winners randomly and notify them via email. Winners have to respond within 3 days to receive the license key and download information. If no response is received, another winner will be selected. A list of all winners will be posted once all 10 winners are selected and confirmed.
How to Enter?
We will try to make this as simple as possible. Since we want to promote BayReviews and spread the word, simply follow all four steps below to enter :
Become our fan on Facebook – BayReviews on Facebook
Comment on this article (name, email, and Facebook id)!
That's It!
How to Comment?
Just click on "Write comment" at the bottom of this page. Make sure to include your name, email address, and Facebook id (don't forget your feedback) in the comment. To protect your privacy, we will not publish any comments related to this contest.
Other Information
This contest is open to every one of our readers. Also, note that your information will only be used for this contest and will never be shared with any third party. This is a software utility that you will be required to download so an Internet connection is required. A license key will be provided for the winners. The regular price for this software is $29.95, but you don't have to pay. BayReviews will not provide any kind of support for this software. You will need to contact Digiarty Software for support.
Good luck and have fun!
Yes, we have very competitive pricing plans and accept a variety of formats. Please contact us for more details.
Yes, you can. Just use the contact us form to send us a message and we will consider reviewing the product. It does depend on a few factors such as product availability, funding, and time.
Please provide as much of the following information as possible:
Manufacturer Name
Manufacturers Website
Product Name
Product Model / Serial Number
A link to the product itself
Unfortunately, we do not accept user reviews at this time. But feel free to voice your opinion in the comments section of recent articles.
We do, however, have plans to implement this feature in the future.
Yes, please contact us for more details.
Please note that we test and review all products fairly and will not change our review and rating of products.
No, we do NOT sell anything on BayReviews. And we will never sell anything on BayReviews. We do, however, display ads that may direct you to other sites that probably do want to sell to you.
We buy products we review because we review what we own first.
We do, however, sometimes receive review samples but we still test and review everything fairly. When a review sample is provided by a partner, they cannot dictate how the review will turn out.
Our review and ratings are always based on our testing and experiences with the products.
All reviews on BayReviews are written by the editor-in-chief and our very knowledgeable staff writers and editors.